From the Executive OFficer all the latest developmenta at the GFA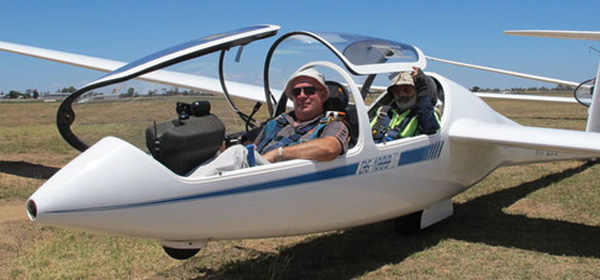 New GFA Board working well
We effectively have a new GFA Board, with all but one Regional Board member having changed at the AGM in October. The Board sets the policy and direction for the GFA.

The GFA Executive has not changed much in the past few years. It comprises the heads of the GFA departments plus the President and two Vice Presidents. The Executive is responsible for implementing the policies set by the Board.
If you open www.glidingaustralia.org and scroll to the bottom of the page, you can click on 'Contacts' where you will see the list of all GFA and Regional Officers. If you want to find their contact details (eMail/Phone) you need to look in Go Membership and click on the Green 'Reports' tile, then Customer Reports/Membership reports.
MOSP 1
The Manual of Standard Procedures (MoSP) has 4 sections, with MoSP1 detailing our Administrative Procedures. The Board has recently updated MoSP 1 and you can find it on the GFA web page under Member Area/Documents. It details roles and responsibilities of GFA officers, and provides details of GFA membership, Regional Associations and Clubs.
We expect that our move to Part 149 with CASA will require further changes to MoSP1 and the other parts of MoSP, so we anticipate a further update later in 2021.

Board/Executive meetings
The Board and Executive have not met face to face since April 2020, but have been planning a meeting in Melbourne at the end of March. With the recent lockdown and subsequent border issues, however, we have once again decided to delay a face to face meeting until later in the year. The Board has had many meetings via Zoom and these are working very well, and are certainly reducing meeting costs significantly. They also allow Board members to meet more regularly to work through specific topics.
Recent topics have included
GFA Strategic Plan. The Board requested support from John Blackburn AO, a GFA member from Canberra and Benalla. John has a depth of experience with regards to strategic plans and has provided advice to the Board. The Board met at the end of February and will meet again at the end of March to update and re-set its Strategic Plan. This will be promoted to members at that time.

GFA membership is a core focus for the board. Membership has been reducing progressively over the past 15 years and because we gave members 6 months free membership in mid-2020 we won't know the impact of Covid restrictions on our membership until the end of March. Different states have been impacted dependant on the amount of infection, so Victoria is by far the most affected, but we have seen some slowdown in most states. The good news is that many clubs reported lots of flying from November to January.

We are now providing a report to clubs to flag members who have not renewed their membership by the end of the month. If you don't renew on time you still have access to Go Membership, but you are not able to fly as pilot in command or receive instruction. We are suggesting to clubs that they contact members who have not renewed to advise them of this, as often it is just a mistake, but we don't want the member or the club impacted by an inadvertent failure to renew.

A member who does not renew their membership within two months of it falling due will be able to renew later, but their ratings and credentials will lapse and will need to be applied for again once they are a financial member. This can be avoided by selecting a different membership category, such as non-Flying Associate which lets you retain your ratings. There are also a number of payment options available.
GFA Office
The GFA staff have been working from home since April 2020. The staff have coped with this very well, and have continued to support members with enthusiasm. We have been hoping that they can come back to the office soon, but this was stalled with the recent lockdown in Victoria. We are now hoping that staff can return to the office in late March, but obviously we have no control over that. We will take the opportunity to update the office environment and facility during this time.
Competition schedule
Our competition season has been significantly reduced. While regional events are taking place, restrictions on interstate travel has meant most national events could not proceed. The Two-seat Nationals went ahead at Narromine in February but with only a small list of competitors. The combined Club and Multi-class Nationals will be held at Darling Downs in March, again with quite a small list of competitors, but it is good to see an event made available.

Our world teams are still planning to attend the delayed World Championship in Germany and France, although a few pilots have decided not to attend. The issues are the high airfare costs, the possibility of costly quarantine on return, and the possibility that flights may not be available to return back to Australia. The competition organisers are making positive comments but this appears dependent on successful vaccination programs.
Integrity courses and credentials
The Governance and Integrity committee of the GFA Board have been reviewing and updating our policies in relation to Complaints Handling, Harassment and Discrimination, Child Protection, and Ethical decision making. The Victorian Government has produced a Play by the Rules program aimed at sporting clubs which covers these topics and others.

GFA Board members have been completing short online training courses on these topics and are encouraging Club Committee and Club members to participate in these programs where they apply to your club. If you complete some of the training, you can apply for a Credential using the certificate of completion as evidence. You can see the full list and the links to the training courses in the Document library on the GFA webpage [Member area/Documents/AA Integrity].


Part 149
The GFA Board has agreed to apply to become a Part 149 Approved Self Administering Organisation (ASAO) under the Civil Aviation Safety Regulations. This will mean that GFA would share responsibility with CASA for managing our compliance with the Regulations. We have until the end of 2021 to have our application approved if we are to avoid having to pay significant CASA costs.

The Board has contracted Peter John to develop our Exposition/Application and he is well on his way to having a draft completed for Board review.
Integrated Training Program
The Operations Department and Soaring Development Panel have been working together on a significant update to GFA training resources with an initial focus on the GPC syllabus and training package. This will provide much more guidance on the training sequence and standards, with improved resources for use by Trainers (Instructors and Coaches) and for student pilots. It will also provide theory courses to support the training.

The updated manuals and logbook and courses will be made available to trainers at the end of March in order to seek feedback, and will then be trialled at a few clubs over the next six months before becoming the new standard.oming the new standard.