Great Works at Lasham!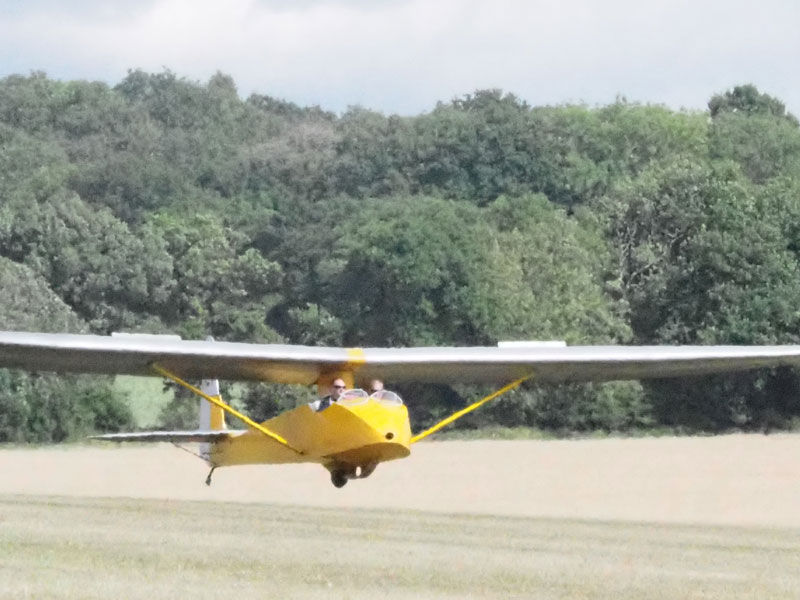 Simon Guttman pulls off another smooth landing in his T21
By Andrew Jarvis
Gliding sites in Britain come in all shapes and sizes, mostly rather small – and then there's Lasham, which is on a totally different scale from anywhere else. Lasham Gliding Society is an amalgamation of about six clubs operating on a large WW2 aerodrome, which was once home to many squadrons of Mosquitoes and Typhoons and so on.
Today, an active airliner maintenance operation, which somehow co-exists with the intense gliding, means the main runway is kept in perfect condition. Even entering the site is a little daunting – you have to speak the right words into a grey device resembling a filing cabinet at the checkpoint, and hopefully the striped pole will go up for you.
When I arrived on Sunday 2 August, I thought at first that a competition must be in progress – several million pounds worth of sleek white ships were already lined up on the launch grid on the runway. Apparently, this was just a normal Lasham Sunday. There also seemed to be far more gliders than pilots, but that's because the briefings are now done online.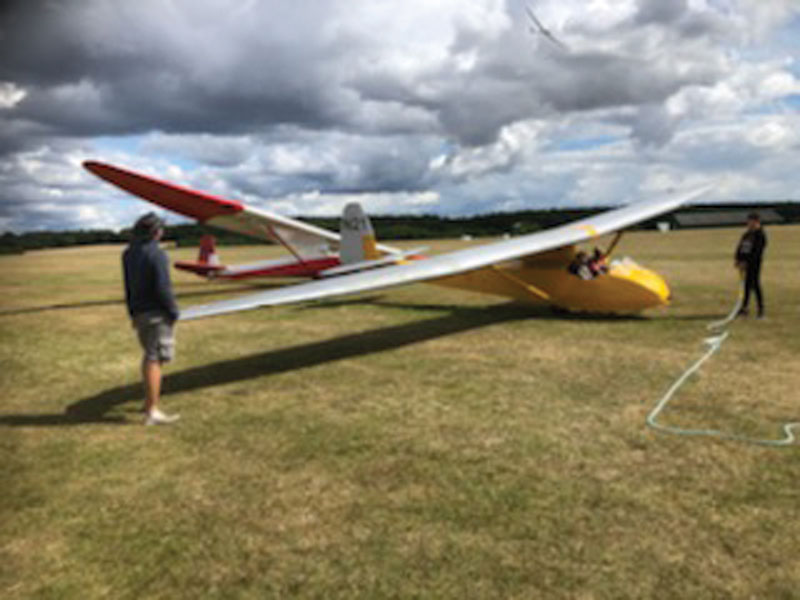 Great to see two T21s at the launchpoint
Airspace Grab

As you might have heard, Lasham Gliding Society has recently been dealt a very harsh blow, in fact, a 'double-whammy', by the imposition of an outrageous airspace grab – a private-jet superhighway. This now goes right down to ground level, just a mile or so east of the airfield boundary, so the almost empty business jets can cruise in to Farnborough in comfort.
Yes, that same Farnborough, once the very cradle of British aviation, and which later saw the greatest airshows on Earth, is now just a sort of garage for billionaire's air taxis. The double whammy was that Lasham's management felt they had to fight their legal corner at a Judicial Review, which, some would say, was inevitably lost, at enormous cost.
This airspace grab has had huge consequences for everyday flying at Lasham, and especially so for vintage gliding. From now on, every glider, except possibly the Slingsby Grasshopper that is considered incapable of leaving the circuit, must carry three electronic items – a radio, a transponder/Flarm device and a moving-map GPS device. Amazingly, the latter two have been cleverly grafted together and minimised in cost by Julian Ben-David, Gliding Heritage Centre Treasurer, so the resulting unit will cost under £50 while still meeting the statutory requirements of the CAA.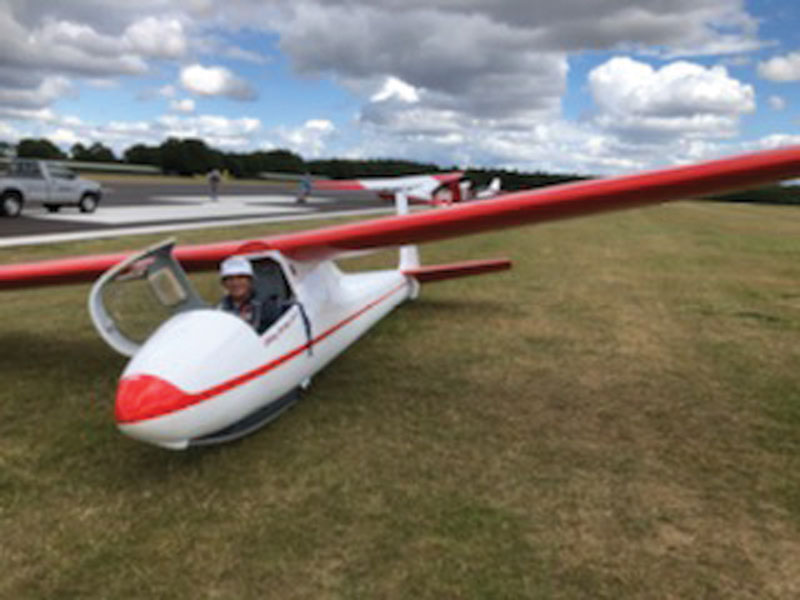 Andrew in the GHC Skylark 2
Building Programme
On arrival, I drove round the perimeter track to the remarkable 'club-within-a club', which is the GHC or Gliding Heritage Centre. Let me briefly update you about the GHC building programme. First, there was just one GHC hangar, which itself was a great achievement. This hangar was opened at the VGC International Rally in August 2013. It was immediately overflowing, so an identical second hangar was started, which was opened in 2018.
Now, the third hangar is going up, which will be a top-class workshop. There is an article on it in the current issue of VGC News, Number 159. The work and progress is amazing to behold. I have to single out Gary Pullen as the human dynamo, driving on a loyal band of workers, while putting in countless hours of toil himself.
After I had lifted a token few building blocks, we got out some gliders. Only a few people wanted to fly, so we just rolled out the GHC's beautiful Skylark 2, and two T21s. The weather was almost vintage, with a light westerly breeze, a fair amount of sunshine and a cloud base of around 3,500ft (QFE) – Lasham, uniquely in Southern England, is over 600ft above sea level.
Distinguished Visitor
Once the great white fleet had all departed, we almost had the field to ourselves. The huge local membership were still staying away in droves, for such is the hold that this virus still has on people. At one stage, only the CFI Colin Watt and myself were at the launch point.
During the day, a very distinguished visitor arrived and was delicately eased into a T21 – none other than VGC founder member Geoff Moore, also long time membership secretary. Geoff has made huge financial contributions to the GHC building programme. In fact, without him, the second hangar would have no floor.
Just a couple of background points. People inevitably confused the VGC with the GHC. They are quite separate entities, overlapping like a sort of Venn Diagram, but we will become more intertwined soon. Due to a generous legacy, the VGC has just enough funds to refurbish a WW2 building on the Lasham site. This will become the new VGC Archive Centre, not to be confused with the GHC Archive, under the expert care of David Williams. I'll be delighted to update you when this exciting project is more advanced.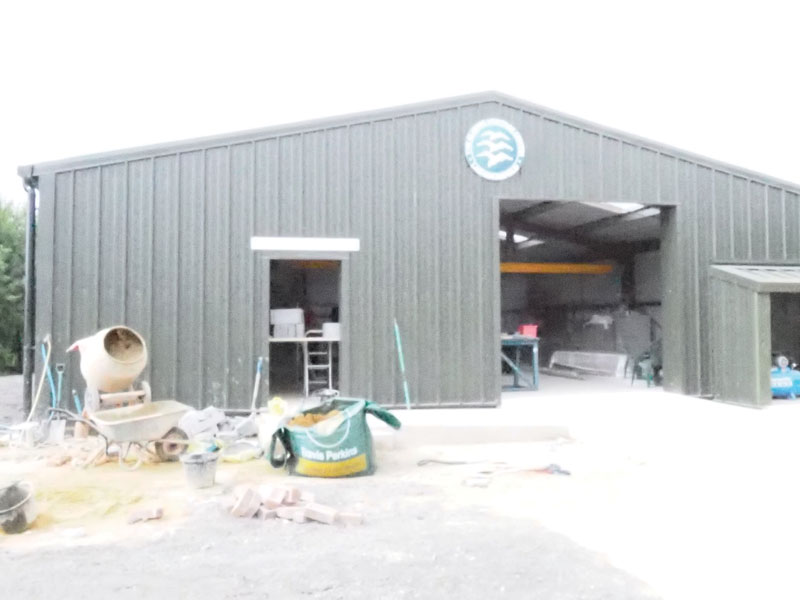 The new workshop under construction
Flying into the Future
Lastly, in view of the new, invisible 'scareway' on the very doorstep of the world's busiest gliding site, will we ever again hold a major VGC event at Lasham? Perhaps it's too early to say, but I have been wondering about the 2023 Rendezvous, with an emphasis on two-seaters. Then each glider could have a pilot and an Air Electronics Officer or AEO, as they had on the RAF's V-bombers. Well, it's just a thought.
So, those who came to Lasham on Sunday 2 August enjoyed a very fulfilling day. One always goes away knowing that the future of the Gliding Heritage Centre, with its unique collection of flyable historic gliders, is secure in the hands of the indomitable GHC team.