To place a classified ad please go to the online purchase event in GoMembership at THIS LINK . You will be able to enter all the necessary details, and upload a picture after paying for the ad. Note that all advertisements are now charged at a fixed price per month which includes a picture.
Ads will be placed on the GFA website for one month from the date of payment. Ads that are current at magazine deadline will also be published in next edition of Gliding Australia PDF and print versions.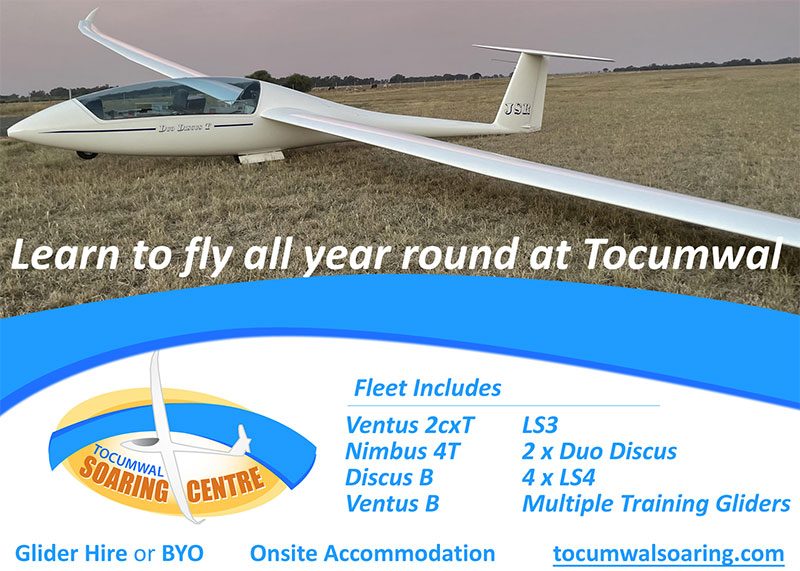 SINGLE SEATERS
VH-GGU Glasflugel Standard Libelle 201B, 2960 hours. LXNAV S7 vario, new instrument panel, near new harness. Form 2 October 2023. New tyres and tubes. Newly built trailer ramp for easy rigging. Recently flew in NSW State comps. Hangared at Boonah. Contact This email address is being protected from spambots. You need JavaScript enabled to view it. 0403679995. $12000
VH-XPM ASH31mi 21m Open Class motor glider.Finished in 2-component Acrylic paint. Spacious cockpit with leather interior. Tinted canopy. Steerable tail wheel. Why wait 3 years and pay far more when you can have superb performance now? Airframe hours 1327. Engine 56 hours of which 16 with new core. Form 2 valid to 1/9/2024 LX9000 with Flarm, Remote stick, Borgelt Vario, Winter ASI and Altimeter, Airpath compass, Radio Becker AR6201, Transponder Becker AR6401. Cobra trailer. $300,000 ono, Pam Kurstjens, 0429898872 This email address is being protected from spambots. You need JavaScript enabled to view it.


VH-GFY 1996 Discus B. Approx 350hrs since total rebuild, reprofile and new finish in PU by Maddog Composites. Open Vario flight computer with stick controller interfaced with Power Mouse flarm/IGC recorder. LX V7 vario, Nano recorder, Winter 57mm ASI,ALT and Vario. Full set of Kerry Covers. Cobra trailer. Nice handling, excellent performing glider in a very user-friendly, easy rigging set-up. Asking $75K ono. This email address is being protected from spambots. You need JavaScript enabled to view it. Phone 049047812
VH-FFR
• Schempp-Hirth Mini Nimbus HS7 VH-FFR
• 2343hrs 768 landings.
• Excellent condition.
• Second owner. No prangs.
• Fully refinished in 2 pack polyurethane by Peter Holmes. New blue tinted canopy fitted.
• Instruments include Zander SR 820 BE electronic and Winter mechanical varios, Dittell ATR 720, ASI, Altimeter.
• Instrument panel and cockpit vinyl linings replaced. Cockpit re-painted.
• Tow out gear in excellent condition.
• All AD's done.
• Trailer in good condition. Tinka manufacture.
• Arguably the best Mini Nimbus in Australia.
• Price $40,000 ono.
Contact Lyle at This email address is being protected from spambots. You need JavaScript enabled to view it. Phone 0410 536 052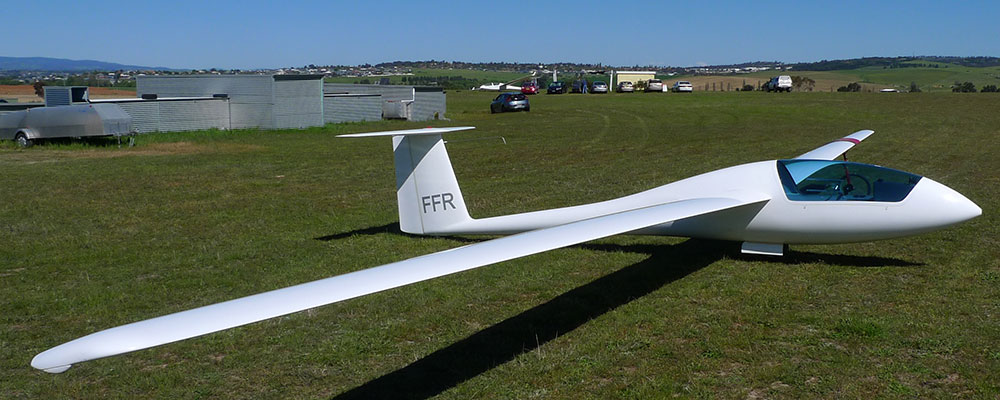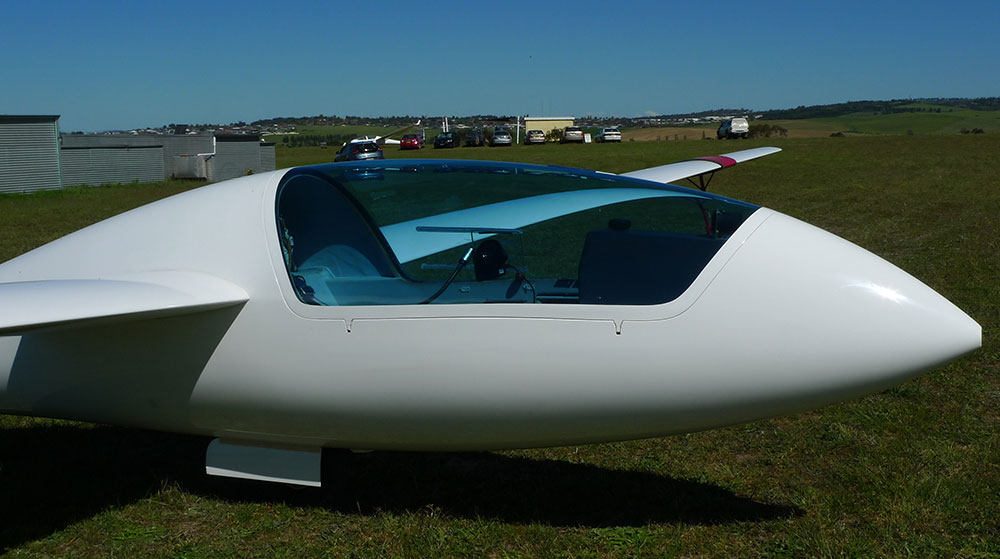 VH-GBX Libelle H201b 15/17m. Serial No. 346. Launches 999. Hours 1738. Form 2 just renewed, expires Oct 2024. Equipped with Flarm and Borgelt B 500 Vario. Mylar seals. Power outlet for phone or Oudie. (Oudie is optional).Parachute, recently packed, on condition Notes: B 500 displays wind, final glide plus bearing and distance to waypoints, audio tones for lift/sink and speed to fly. 17 m span increases best l/d by 10% and 1% at 90 knots. Overall increase in handicap, 2%. Recent maintenance performed by Lockwood Sailplanes. Enclosed trailer Hanger space subject to negotiation with Bendigo Gliding Club. Price $18,000. Contact Colin Campbell, 0428509461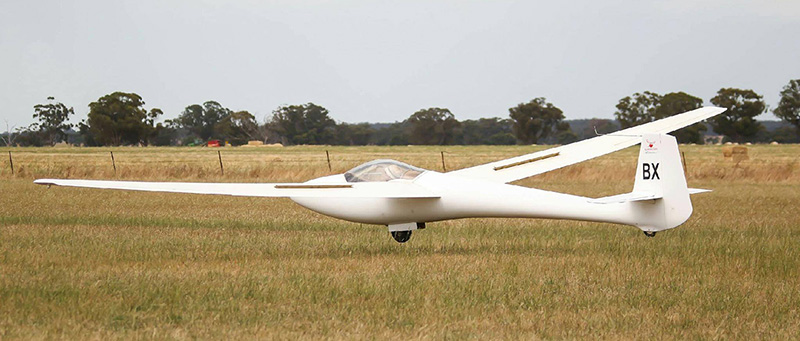 GWK Pik 20d 4202h 1709 landings
82 to 98kg cockpit weight.Since rebuild 1990 has done several 750 FAIs ,placed highly in state comps and done many long X/Cs each season.Basic instruments,chute, original Pic trailer.F2 9/24. $17000neg PH 0411475183
VH-UKT Jantar Std 2 SZD 48-1 VH-UKT 3,728 hours, 1,354 flights. Includes Borgelt B50 & B57 vario and flight data systems, Garmin III GPS, Microair 720 radio, winglets, tow out gear, aluminium clad steel frame trailer. Wing pins replaced at 3,000 hours (AD-304 Bulletin BE-037-89). Form 2 to 10/10/24 and test flown. $16,500. Allan Gartland 0417 094 557, email: This email address is being protected from spambots. You need JavaScript enabled to view it. Note: previous ad showed older paint scheme, below is current.
FQM Hornet It is time to pass on this lovely glider to its next custodian. This is a known performer over many years and the perfect Skyrace GP glider.
Total hours: 3850
Fresh form 2. Thompson style home built trailer
S100 and oudie included. Tow out gear
$18,000 This email address is being protected from spambots. You need JavaScript enabled to view it.
VH-FQG Ventus B 16m Carbon fibre wings Carbon fibre wings (reprofiled), removeable wing tips, water tanks fully serviceable, Oudie navigation, Vaulter variometer, oxygen equipped, dual batteries, trailer, dollies. 4247 hours, L/D 46:1. Glider is hangered at Benalla (VIC). Both interior (refurbished) and external are in very good condition. $55,000
Contact Bruce Cowan 0419 387 349
VH-GUN Std Austria VH-GUN for sale with Trailer. Total Hours 2166 Landings 1266. Aircraft stored assembled. $7000.00 or nearest offer.
Contact Gordon 0402 451561
VH-GES On behalf of SRGC this ASW15 is for sale. Form 2 valid to 25 September 2023. LX5000 vario/navigation and basic instruments plus Flarm. Trailer may need some cosmetic care. Tow-out gear and canopy dust cover. Good glider for a modest price of $14,500 Contact This email address is being protected from spambots. You need JavaScript enabled to view it. or 0434413963
VH-GNS Std Cirrus 75 recently completely refinished. Total time 1,820 hrs / 810 flights. Carbon fibre panel (new), Zeus 7.0 navigation with Era 80 vario / igc logger, Bohli vario, Air Control Display Altimeter (new), VHF radio, Airspeed indicator Winter (new), Power Mouse Flarm (new) and canopy cover. Solid box trailer. IMI tow out gear (new). Beautiful glider, ready to go racing. Price $36,000 for more information: This email address is being protected from spambots. You need JavaScript enabled to view it. or call 0434 413 963
GDZ Mistral C l5m
Dittel Radio LX Nav Flarm Borgelt B40 NO FORM2
Fixed Wheel, No Flaps, No Water.
37:1 Glide Ratio
1026Hrs 857 Landings
Parachute Pfeiffer Trailer 1 Man Rig
Limited Aerobatic - Loops, Spins, Stall Turn,
Lazy Eight. $20,000 ONO 0400133707
2 SEATERS
VH-VHI Grob 103 Twin 11 Acro Good condition current form 2 July 24, enclosed trailer refurbished
New harness flarm B700 vario with rear repeater vhf radio all ADs up to date
Selling as we have upgraded our 2 seat trainer
5320 hours 12200 landings $55,000 ono
Bundaberg Gliding Club Initial contact txt John 0417071157
MOTORGLIDERS & TUGS
ZIP Professionally built Shadowlite in South Africa and imported new in 2010.
The Whisper is an experimental 16m wing span aircraft.
Features are : a 6 cylinder Jabiru engine, Airmaster 3 position constant speed feathering propellor, a Dynon EFIS, new tyres and tubes, 27:1 Glide Ratio.
Airframe and engine have under 150 hours and the propellor under 70 hours.
$45,000 including tie down equipment, tools and some spares.
Bob Email This email address is being protected from spambots. You need JavaScript enabled to view it. or Phone 0414 670 320
2P Self-launching ARCUS M 2.0. Ultimate package, as-new condition, ready for immediate sale! The glider is in immaculate condition, located in Slovenia. Assistance with shipping and transport available. Glider: S/N 218 Built December 2019, First registration January 2020 TTSN 157 hrs Engine 18hrs Exterior 10/10 Interior 10/10 Painted in Polyurethane-Acryl Equipment: Blue-tinted racing canopy Nose wheel & steerable tail wheel Wing tank Arcus-M engine control with automatic extension retraction in the rear seat Airbatt Dual charger 2x 2x Transponder antenna Dolba BD1 Flarm antenna Dolba BD9 BWS bug wiper electrical Bug wiper wings for garages 2x Airspeed Winter 7FMS421 2x Altimeter Winter 4FGH20 Compass Airpath C2300 ELT ACK E04 inkl. Antenne RAM AV 100 Meißner Solar Unit 7a (4 modules) LiFePo4 Battery 12 V / 15 Ah Airbatt Dual charger 2x 2A LX9070PF ADSB with V8 Power Flarm with RFB option LX9070D with i8 LX remote stick with START Button Radio AR 6201,022 Transponder TRIG TT21 LX S10 vario Interior Gagula DELUX Installed Oxygen with two bottles and two separate MH EDS systems Arcus M - asking price 295.000 EUR (~490,000$AUD) Additional: Cobra Trailer for New model ARCUS M – composite version Asking price 15.000 EUR (~25,000$AUD) All ground handling included: https://soaringxx.com/product/soaringxx-tow-out-bar-heavy/ https://soaringxx.com/product/soaringxx-canopy-covers/ https://soaringxx.com/product/one-man-rigging-system-electric/ https://soaringxx.com/product/soaringxx-wingstand-giga/ https://soaringxx.com/product/soaringxx-wing-walker/ http://www.novak-wingcovers.eu/en/features/ Contact: This email address is being protected from spambots. You need JavaScript enabled to view it.
GEO Dimona H-36 Motorglider $72,000
Great condition, flies well and recently flown from Benalla to Burketown and return for the Morning Glory problem free. Limbach L2000 80hp engine. Hoffman 3 position prop.
Well maintained. Re-finished in 2000. New harness belts. 80 litre fuel tank. Second Australian owner. Form 2 due Jn 2024. Many spare parts including magneto, carburetor's, heads, cylinders, valves, push rod tubes, spark plugs, oil change kits, fuel pump kits many different gaskets, seals and small parts. Canopy cover and light all weather wing covers.
Year built – 1983
Airframe hours - 1700
Engine hours - 230
Photos and other information can be provided by contacting This email address is being protected from spambots. You need JavaScript enabled to view it.
VH- GUZ Schleicher ASK 21 Mi Glider 2-seater, Self-launching, Dual engine controls. Cobra Glider trailer included. Approx 300 hours & 50 engine hours $170,000 For more information contact Trevor This email address is being protected from spambots. You need JavaScript enabled to view it.om
VH VTT ventus 2cm Sn 98 2000
With all tow out and rigging gear Clamshell trailer duel axal glass top With solar panal inderpendant suspention
Aircraft: new gel coat all ads & mods New shoot natinal 425 & gadringer harness exsprestions of intrest till 30 Aug. Tracey Tabart , This email address is being protected from spambots. You need JavaScript enabled to view it. Phone 0428133243
VH-SCL Piper Pawnee PA25-160 Tug for sale TTIS 7257 Currently operated as glider tug by the Soaring Club of Tasmania. Good condition overall. Engine Lycoming 0-320 160HP on condition. Available September 2023 dependent on delivery of replacement tug. $50,000
Contact: Stephen Ross 0447 518223 This email address is being protected from spambots. You need JavaScript enabled to view it.
VH - ZHX Distar Sundancer 13/15
2 seat motor glider, LSA approval by GFA, 6 years old, engine 90 hours, form 2 included, had a terrific time flying the morning glory with Ian McPhee September 2018, have to sell because of health reason, reduced to $100,000 ono Heinz Zehnder tel 0400 347 412 This email address is being protected from spambots. You need JavaScript enabled to view it.
VH NTT ASK21Mi. Same owners since new. Very good condition throughout. Airframe 2,100hrs; motor 76hrs; Form 2 to Jan 24. Based in Boonah. No trailer but can deliver on east coast. Reduced to $110,000. Contact Rob 0427314788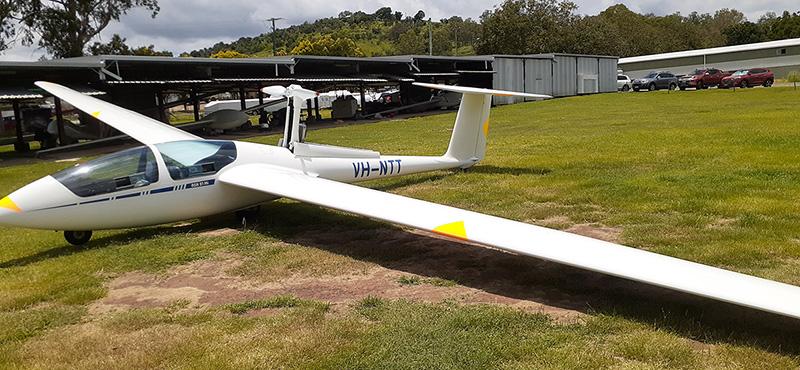 VH-GNM - LS4a TOP Motor Glider. 2,389 hrs 747 landings 71 hrs engine&prop.
Aircraft in Good Condition. MH portable EDS oxy. National 425 chute. Covers
Fuselage refinished with Prestic 2381 in 1989. Wings refinished with Ferro in 1990.
Aircraft always hangared. Private owner.
Enclosed Trailer. Tow out gear.
Contact Ron Brock This email address is being protected from spambots. You need JavaScript enabled to view it. $52,000 ONO
VH-GVQ H36 Dimona
Complete airframe (No motor or prop) 2400hrs TT
Airframe requires complete refinishing with some fuselage sections already primed.
Canopy has minor cracking but serviceable
Undercarriage bow requires minor repair.
Airbrake torque tube AD completed on one wing.
All fuselage control rods removed, inspected and repainted.
Located Sydney Offers invited
Contact Col This email address is being protected from spambots. You need JavaScript enabled to view it.
VH-YBE ASH25 self launching Motor Glider
It's your choice, use a tug or launch yourself
25m and 26.5m options very good condition
3330 hours, 1300 landings Motor Rotax 505A 147 hours
Accessories and parts inc. Full set of Jaxida covers, solar panels on engine doors, spare engine with muffler and much more Anschau Trailer
Contact Dieter, preferred contact by email,
This email address is being protected from spambots. You need JavaScript enabled to view it. or phone 0428 860 160
INSTRUMENTS & EQUIPMENT

LX9000, V5 vario, remote stick and EW IGC micro recorder for sale. The LX9000 also has the flarm installed and the V5 and EW recorder are all used. The remote stick is new / unused and still in wrap and box.
All are in good working condition, no faults and looking for a new home. Happy to supply more pictures including all instruments working the day they were removed (1 week ago) Needs a new home $3600 David Holmes This email address is being protected from spambots. You need JavaScript enabled to view it. Phone 0439734646


Flight Computers Now Available
Darling Downs Soaring Club (DDSC) recently upgraded its XC fleet with OpenVario flight computers (built inhouse) running XCSoar. DDSC is now offering these complete flight computers for sale (to clubs and individuals); assuming there is enough interest from the gliding community to warrant another production run.

For more information and to register your interest below. YOU MUST REGISTER AS THE UNITS WILL BE MADED-TO-ORDER.
https://shorturl.at/sAIKM
Wingtip Wheels
• 52mm ground clearance with aerodynamic profile to minimise drag
• Safer for wing-drops - reduced yaw from wingtip drag
• The housing is shaped at installation to suit any wing profile and attached with Sikaflex
• Tough wheels, sealed bearings and strong axles are easily replaced if needed.
• Supplied with comprehensive installation recommendations.
www.gliderwheels.net Email This email address is being protected from spambots. You need JavaScript enabled to view it. Phone: 61437377744