To place a classified ad please go to the online purchase event in GoMembership at THIS LINK . You will be able to enter all the necessary details, and upload a picture after paying for the ad. Note that all advertisements are now charged at a fixed price per month which includes a picture.
Ads will be placed on the GFA website for one month from the date of payment. Ads that are current at magazine deadline will also be published in next edition of Gliding Australia PDF and print versions.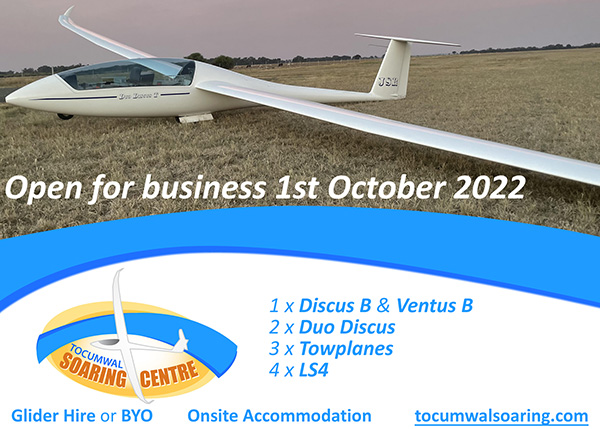 WANTED
GLIDER
After the sudden loss of my glider I now find myself looking for another one
Ideally It will have good performance (big wings again would be nice)
a turbo or self launch, flaps, paint or gel in very good condition
maybe without trailer ,I already have quite a nice one of those
And the hardest requirement It must fit within the budget set out by my good wife !
Another option might be shared glider ownership I have a hangar at Boonah SE qld which has room for a large span glider
Boonah has year-round soaring with good access to the downs for thermal, Local winter wave and awesome north south convergence

Call me 0407402083 ,email me, mike @goldcoastsailmakers.com.au
Let me know what you have I need a glider of my own to fly again soon !
Wanted Ozflarm in good order. Email Bill at This email address is being protected from spambots. You need JavaScript enabled to view it.
Seeking good quality enclosed trailer (cobra would be great) but not essential to fit jantar std 2 no rust . Call Jim 0448661060
SINGLE SEATERS
VH-UF Discus A. 3,140 hours and 858 landings. Pilot weight from 67 kg to 110 kg. 190 litres of water, in wings and tail tank. M&H winglets. Blue tint canopy. Near new slim Thomas parachute, MH oxygen system. Nice steel frame, aluminium clad trailor. Beverley Soaring Society, Beverley, WA. Paul Rose - 0427 345 560. PRICE REDUCTION $44,000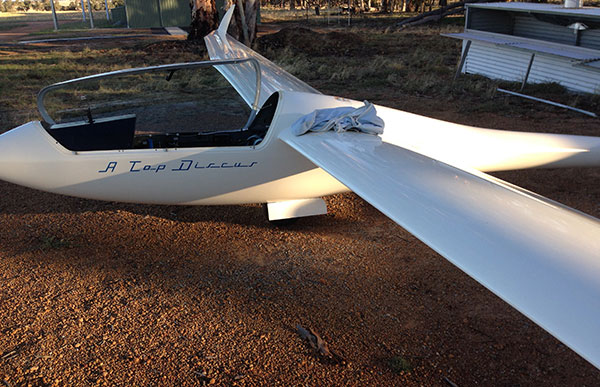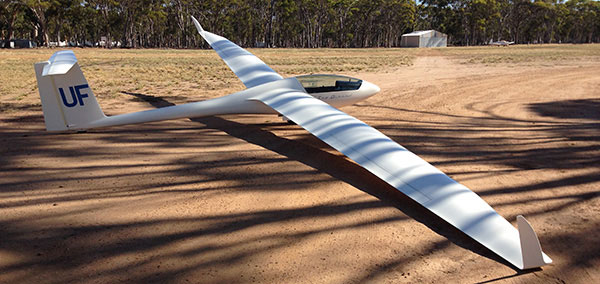 VH-GSU Standard Libelle 201B
New instrument panel. Full covers, all set up and tow out gear. Registered nsw trailer - no leaks
Nothing to do. just go flying Contact Richard 0417 682 947 or email This email address is being protected from spambots. You need JavaScript enabled to view it.
Price $17000.00
VH-HDM LS6b
3452 hours, 1089 landings. Blue tinted canopy. PU finish over gelcoat. Wide instrument panel
Vaulter vario, Ozflarm, Becker AR4201 radio, Lx Nano2 with power supply LiFePo4 10Ah battery in Dittel battery box
Integrated Tost tail wheel, Softie parachute, Tow-out gear. Nice steel frame, aluminium clad trailer, Always hangared
Current Form 2, Next life extension at 6000 hours ,Min pilot + trim ballast 75kg; max cockpit load 109kg
This email address is being protected from spambots. You need JavaScript enabled to view it. Phone 0402917703
VH-GAD Schempp-Hirth Ventus a, serial no 9, manufactured 1980. Carbon fibre wing, 1,397hrs, 481 launches. ASI, ALT, Compass, Cambridge 301/302 Vario Nav. Sage vario and averager. Becker radio. New MH O2 bottle + regulator. Mini OZ FLARM, Oudie 2. Blue tinted canopy, Tail wheel, approved winglets. Wing and tailplane covers. Gelcoat refinished at various stages during lifetime. Enclosed Aluminium/steel frame dual axle trailer. Tow out gear. Pilot weight 68-96kg. Will sell with new Form 2. At Bacchus Marsh Vic. $45,000 negotiable. Contact Richard 0457366799 or email This email address is being protected from spambots. You need JavaScript enabled to view it.
Ventus 3F s.n 128FS Brand New Ventus 3F "Sport" (racing fuselage) with FES sustainer system. This is a very unfortunate sale. New 2021 and only flown once in Germany for it's initial check flight. Registered in NZ as ZK-GBE. 18m wings, finished in PU acrylic paint system with red high vis. graphics. LX Zeus 5.5 with Vario Era 80 with Eagle ADS-B Flarm (NZ) – special "green" canopy – tip wheels – custom leather cockpit – LiFePo4 10 a/h tail battery & charger. FES discharger. Becker 6201 coms with Air Control com/altimeter display. Trig TT22 txdr with TN72 ADS-B Out. Flap and MOP2 sensors. Bug-wipers and Sotecc Flarm LED warning system. Two litre aluminium oxygen bottle with MH EDS. IMI tow-out bar (heavy duty) – IMI tail dolly with One Man Rigging system – Cobra wing wheel. Vertigo covers – heavy duty, hangar and dust types. Cobra trailer, aluminium top, SL Kit and all extras for V3F. All equipment new.
Contact in Australia is Grant Nelson 0417843444


MOTORGLIDERS
VH-UIM Pilatus B4 PC11 AF, fully aerobatic, motorised.
Serial number 316.Manufactured 1978.
628 hours, 263 landings.
Motor, Konig SC 430G, 37 hours. Konig folding prop, 32 hours.
All logs and manuals. New custom open trailer.
$25,000. Can be viewed Melbourne.
John 0422897193
This email address is being protected from spambots. You need JavaScript enabled to view it.
VH-GVQ H36 Dimona
Complete airframe (No motor or prop) 2400hrs TT
Airframe requires complete refinishing with some fuselage sections already primed.
Canopy has minor cracking but serviceable
Undercarriage bow requires minor repair.
Airbrake torque tube AD completed on one wing.
All fuselage control rods removed, inspected and repainted.
Located Sydney Offers invited
Contact Col This email address is being protected from spambots. You need JavaScript enabled to view it.
VH NQU ASK21Mi 2014
TT Airframe 110.27 hrs TT Engine 19.93 hrs
Cobra trailer, Rigging gear, Tow out gear
Recent form 2 inspection. Excellent condition $165,000
Contact Richard for any additional information.
Mobile 0418121492
VH-ZAD Pik20E located at Boonah, Qld. Glider and trailer in very good condition. Glider maintained by Roger Bond. 798 landings and 2046 hours flight time, 241 hours engine time. Form2 due September 2022. Price of $41,000 includes many engine spares now very difficult to find.
All enquiries to This email address is being protected from spambots. You need JavaScript enabled to view it. or 0403464695
ZK-GUP DG 800-B Serial number 8-150B74
Built 4/12/98 1,187 airframe hours, 340 launches, 139 engine hours.
18 and 15m winglets.
Instrumentation includes Becker radio, Soft Com headset, Terra transponder, Clear Nav system installed 2020, Oudie moving map, FlarmView, Tost disc brake, Mountain High oxygen gear.
Glider comes with Cobra trailer, ground handling gear, one man rigging gear, two canopy covers, full set of outdoor covers (only used in hanger), charging can be either 230v or solar. Owned eight years, great glider.
Price 130,000 USD, contact Mark Aldridge +64 274 508 505 This email address is being protected from spambots. You need JavaScript enabled to view it.

VH-YBE ASH25 self launching Motor Glider
It's your choice, use a tug or launch yourself
25m and 26.5m options very good condition
3330 hours, 1300 landings Motor Rotax 505A 147 hours
Accessories and parts inc. Full set of Jaxida covers, solar panels on engine doors, spare engine with muffler and much more Anschau Trailer
Contact Dieter, preferred contact by email,
This email address is being protected from spambots. You need JavaScript enabled to view it. or phone 0428 860 160
INSTRUMENTS & EQUIPMENT

Cambridge GPS & Lnav System for sale complete with all instruments and (non IGC) logger.
Very reliable and good condition. Wiring harness included.
$250 - ONO plus freight from Melbourne.
Contact Iain
This email address is being protected from spambots. You need JavaScript enabled to view it.
Phone 0416021583
Avionics package: Becker Mode S transponder single block unit BXP 6401-1-
(01) plus wiring harness for connection to a ACK Technologies Model A-30.5
Altitude Digitiser plus installation and operational manuals for both units.
Total package in first rate condition having done less than 300 hrs since new.
Less than half price at Euro 2000 or near offer + freight or AUD$ equivalent
Contact This email address is being protected from spambots. You need JavaScript enabled to view it.
2 Drum Winch set up for 8mm rope. 390 cubic inch V8 fair condition. $3,000
Contact Trevor 0400348711
Wingtip Wheels
• 52mm ground clearance with aerodynamic profile to minimise drag
• Safer for wing-drops - reduced yaw from wingtip drag
• The housing is shaped at installation to suit any wing profile and attached with Sikaflex
• Tough wheels, sealed bearings and strong axles are easily replaced if needed.
• Supplied with comprehensive installation recommendations.
www.gliderwheels.net Email This email address is being protected from spambots. You need JavaScript enabled to view it. Phone: 61437377744