QLD State
Championships 2022
24 Sept – 2 Oct 2022
Soaring Club (Gliding Club),
Contact Jenny Thompson This email address is being protected from spambots. You need JavaScript enabled to view it.
Entries are now open bit.ly/3TnvMqy
Narromine Cup
20 – 26 November 2022
Narromine

Contact Beryl Hartley on email This email address is being protected from spambots. You need JavaScript enabled to view it. for futher details
Orange Week


16 - 20 November 2022
Waikerie Gliding Club

Entries are now available. Please go to waikerieglidingclub.com.au
Australian Nationals


AusGlide 2022 - Pre World Gliding Championships
27 Nov – 10 Dec 2022
Narromine
Narromine Gliding Club is hosting the 2022 Standard, 15 Meter and Club Class National Gliding Championships at Narromine Airfield. This competition attracts 100% selection points for the Australian Team to compete at the World Gliding Championships Narromine 2-16 December 2023.

As it is the Pre-Worlds event for the 2023 World Gliding Championships it will also attract many international competition pilots.

Entries are now open, click on this link narromineglidingclub.com.au/AusGlide/AusGlide2022.html to go to the Comp website and register.

The competition will comprise three classes. An Unballasted Club class and Ballasted Standard & 15m Classes. (same format as WGC Narromine). It will be run in accordance with the GFA National Competition Rules and will employ the GFA National Handicaps for Ballasted and Unballasted gliders as appropriate. The highest placed pilots in each class will be eligible for selection for the Australian National Team at the WGC Narromine 2023.

Practice Day is Sunday 27 November 2022 with the first Competition Day on Monday 28 November 2022.


JoeyGlide 2023


Lake Keepit Soaring Club
11-18th December 2022

Contact: This email address is being protected from spambots. You need JavaScript enabled to view it.
Skyrace GP


2 - 8 January 2023

Skyrace GP event to be held in Corowa
Event organiser Nick Gilbert
Website : skyrace.com.au
Sailplane Grand Prix Australia - Gawler


2 - 8 January 2023
Entries to SGP Australia which will be held at Gawler 2 - 8 January 2023 are now invited. australia23.sgp.aero
Open 18 Mtr & Sports National Championships
10 - 21 January 2023
Waikerie Gliding Club
Entries are now available. Please go to waikerieglidingclub.com.au
Vintage Gliders Rally SA
14 January 2023
Millicent Airport
The Vintage Gliders Australia annual rally will be held at Millicent South Australia from January 7th. to the 14th. at the Millicent Gliding Club, Mt.Burr Rd. Millicent
JR (John Marshall. President Vintage Gliders Australia) This email address is being protected from spambots. You need JavaScript enabled to view it.


20 M Two Seater National Championships
Corowa
10 - 21 January 2023
Corowa Airport
Contact Keith Gateley email This email address is being protected from spambots. You need JavaScript enabled to view it.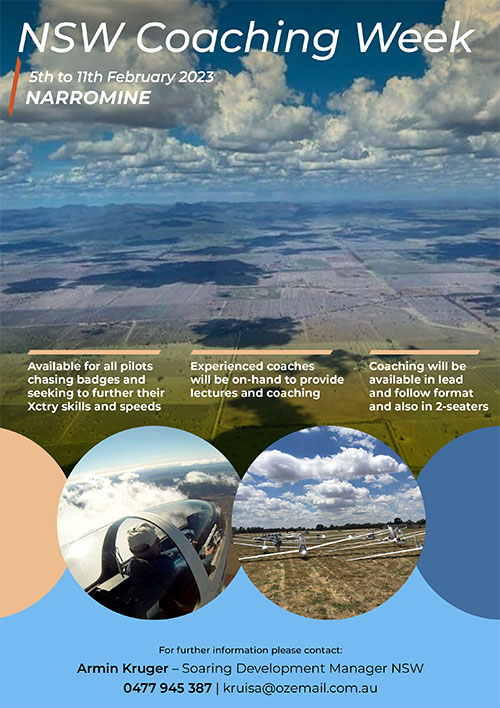 World Gliding Championships Narromine
Standard, 15 M, Club Classes
2-16 December 2023
Narromine was the venue for the 2015 Junior World Championship, which was very successful, flying on 10 out of a possible 11 contest days. It was the venue where Australian glider pilot Matthew Scutter became World Champion in Standard Class. Narromine Gliding Club is honoured to be selected by the IGC and we look forward to hosting an amazing gliding competition.
If you would like to be a part of the organisation and running of this World Championship Competition please go to the Contact Us page and tell us about yourself and how you can help.
wgc2023.com.au

CLICK HERE TO REGISTER YOUR INTEREST TO ASSIST
GFA Calendar
send event details to the GFA Secretariat at This email address is being protected from spambots. You need JavaScript enabled to view it.
to be included in the online calendar and here at Gliding Australia Magazine