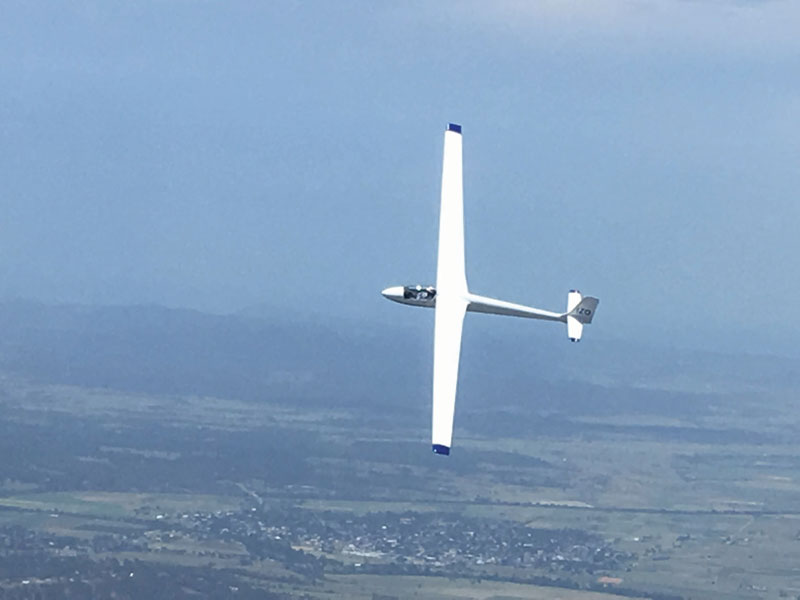 Part of the fun of owning a vintage glider is the sense of history that comes with the aircraft. My brother Andrew and I certainly experienced that when we discovered a fascinating story about our Dart 17R and its original owner, Frederick Anthony Gaze DFC, OAM.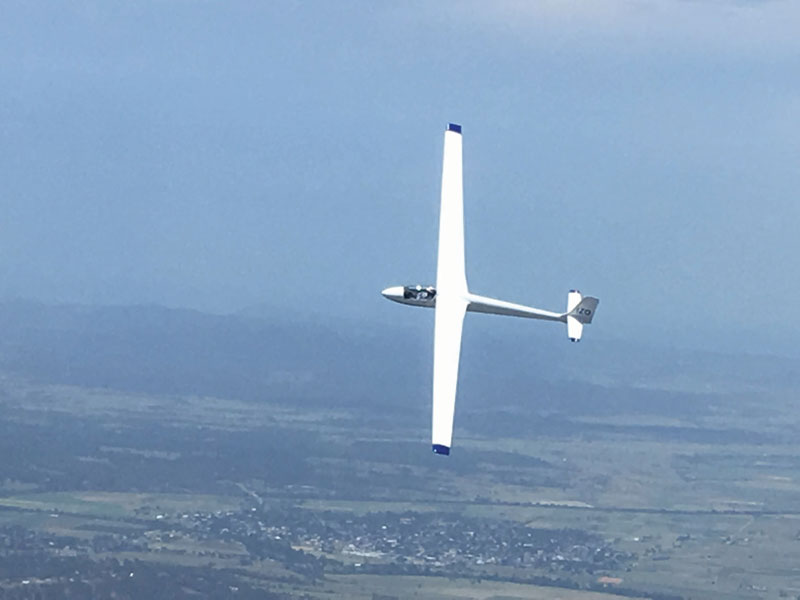 Dart VH-IZO in the air (Paul Dickson)
By Paul Dickson - Hunter Valley Gliding Club
Andrew and I already share a LS3 but felt it would be good to have another glider so that we weren't fighting over the LS3 on those really great days when we both wanted to fly. When deciding on a new glider we thought it would be fun to own a vintage glider but one with enough performance to take on longer cross country flights. When VH-IZO, a Slingsby T51 Dart 17R, came up for sale in 2018 with only three previous owners and 316hrs total time, it seemed like the ideal glider. After an inspection, we snapped it up.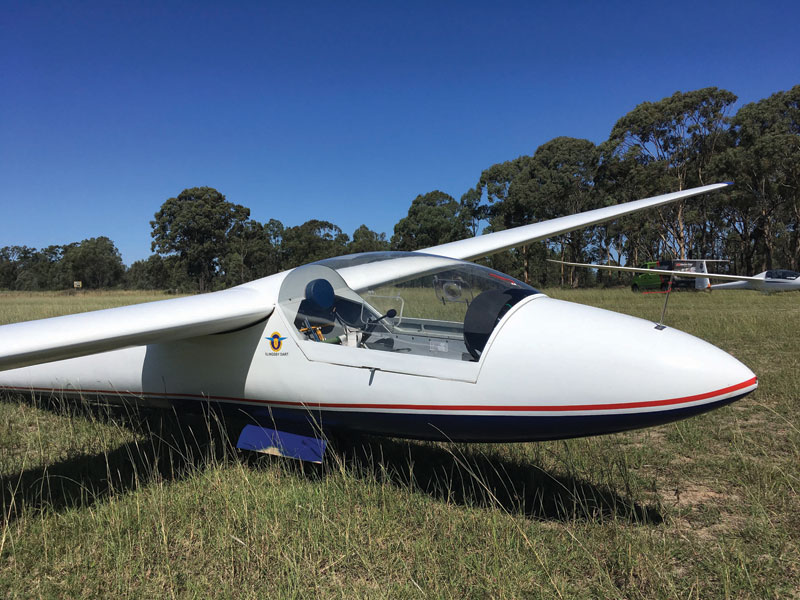 Dart VH-IZO (Paul Dickson)
Manufactured in 1966, the Dart – Slingsby No. 1523 – was still in very good condition, but was overdue for a 50-year survey when we bought it. With the enthusiasm of new owners, we jumped into the survey to make sure that she was as in as good a condition as we thought.
Thorough Investigation
Although the Dart came with its original log book, we were a little suspicious of the low hours and thought that there may have been another log book issued when the glider was shipped to Australia in the 1970s. We began a thorough investigation. The two previous owners were still in Australia and involved in gliding and were able to confirm that there were no other log books.
One of these previous owners had undertaken the 20-year survey and re-fabric, sharing a wealth of knowledge about the condition of the Dart through his work. His work showed that the low number of hours recorded was genuine as he had owned the glider for 12 years and never flown it.
From here our attention turned to the original owner which is shown in the log book as T Gaze Esq. with an address in Ross-on-Wye, Herefordshire UK.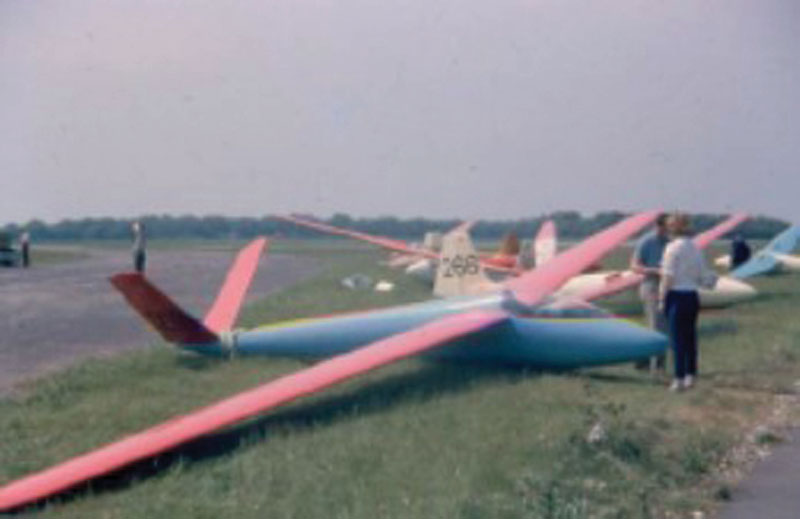 Tony's Standard Austria (Bristol and Gloucestershire Gliding Club)
Not knowing where to begin, we started by Googling the address in the log book with the thought of investigating nearby gliding clubs. We were somewhat startled to see that Caradoc Court was a lavish country estate in Ross-on-Wye and not your average glider pilot's house. This led to the intriguing question, "Who was Tony Gaze and how did he end up with our Dart?"
RAF Days
Tony Gaze was born in Melbourne, Australia in 1920 and was studying at Cambridge University at the outbreak of WWII. Tony joined the RAF in 1940 and, after initial training, flew Spitfires in several squadrons for the remainder of the war. He flew a total of 488 missions and was awarded the Distinguished Flying Cross on three separate occasions, one of only 47 people during the war who were awarded the DFC three times.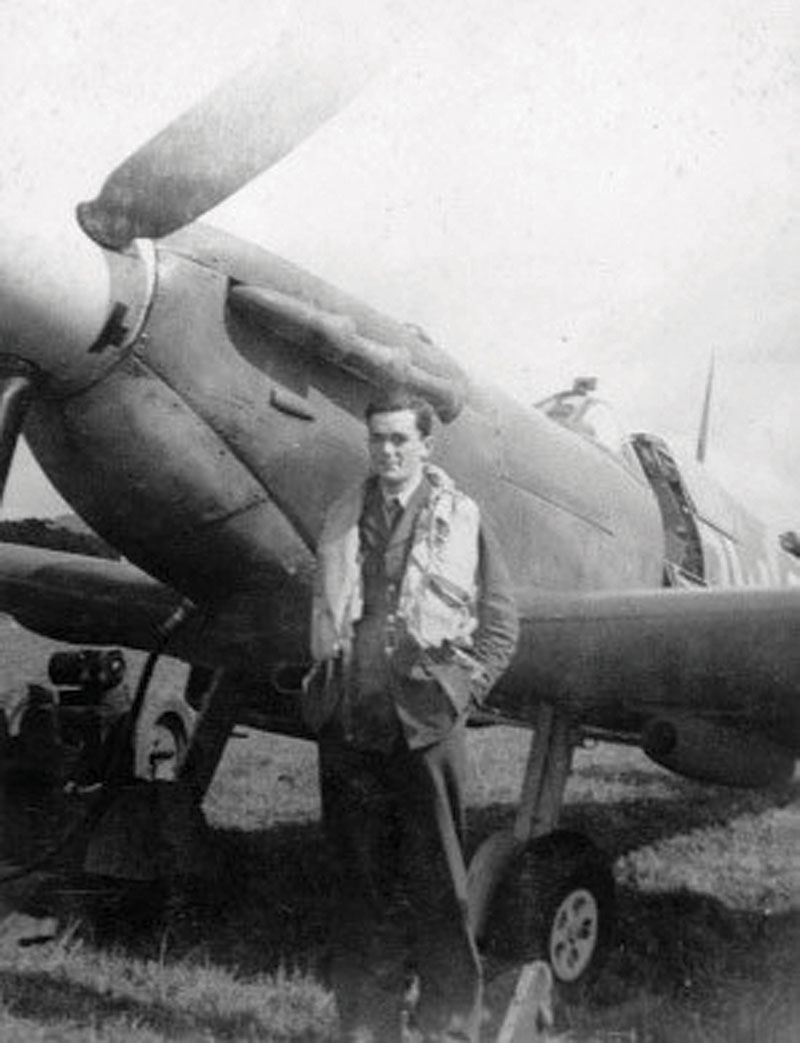 Tony Gaze and his Spitfire (The Australian Spitfire Association)
Among Tony's exploits during the war are being shot down over France, and managing to escape across the Pyrenees with the help of the French Resistance, and becoming the first Australian to shoot down a jet aircraft when he claimed a Messerschmitt Me 262 on 14 February 1945.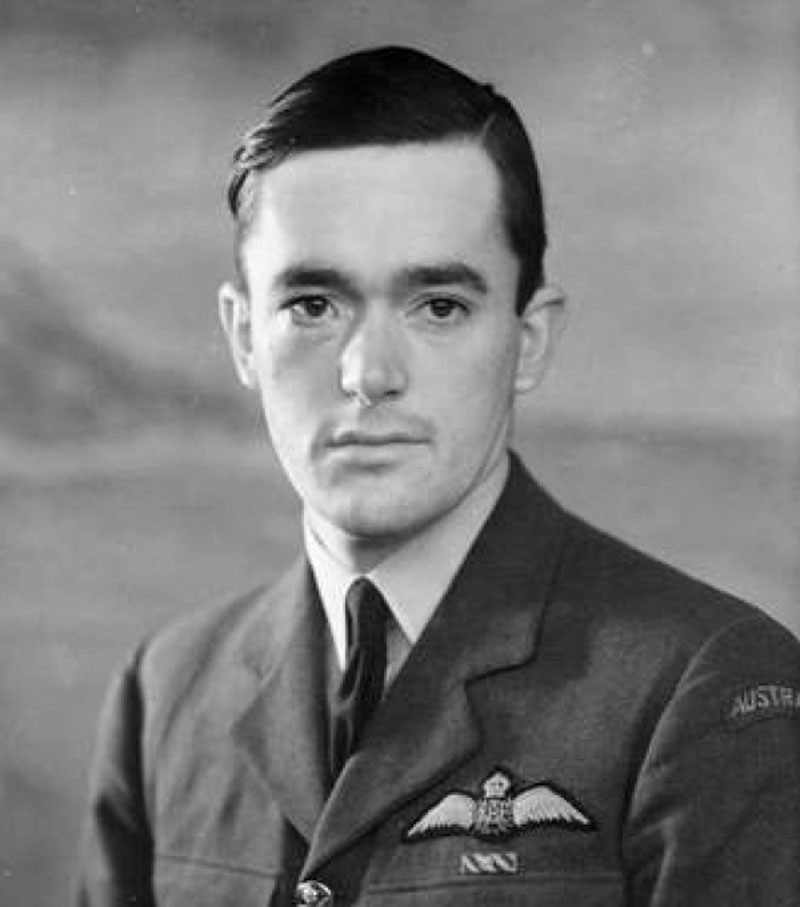 Frederick Anthony 'Tony' Gaze DFC, OAM (The Australian Spitfire Association)
While posted at 610 Squadron, Tony and fellow pilots blew off steam by driving high speed laps of the perimeter road at RAF Westhampnett. Tony later suggested to the landowner, the Duke of Richmond and Gordon, better known as Freddie March, that the circuit would be a good racing track. Acting on this suggestion, March opened the Goodwood Circuit in 1948. To this day, the Tony Gaze Trophy for pre-1959 racing cars, is held annually at held at Goodwood.
Competitive Racing
Tony's pre-war interest in racing cars took off in earnest at the conclusion of the war and after leaving the RAF, he returned to Australia, bringing his HWM-Alta racing car with him, and started racing on the Rob Roy Hillclimb outside Melbourne. Tony married Kay Wakefield in 1949 and moved back to the to the UK when Kay inherited Caradoc Court from her father.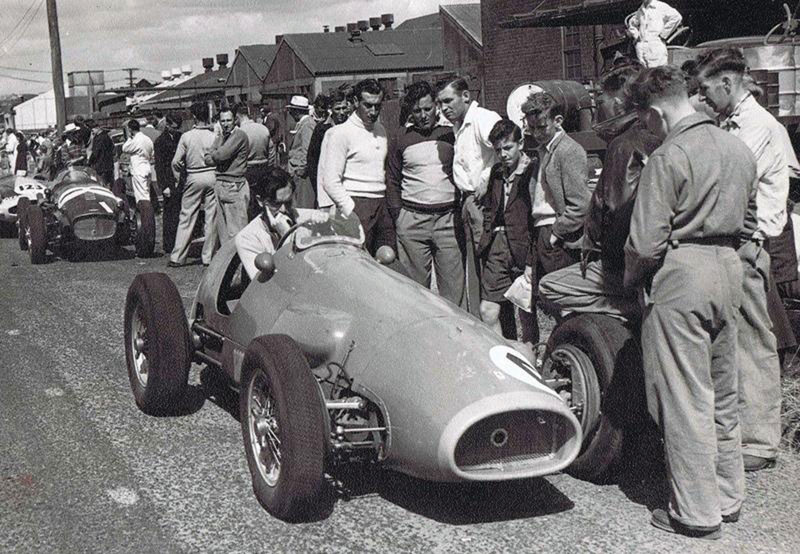 Tony Gaze (TonyGaze.com)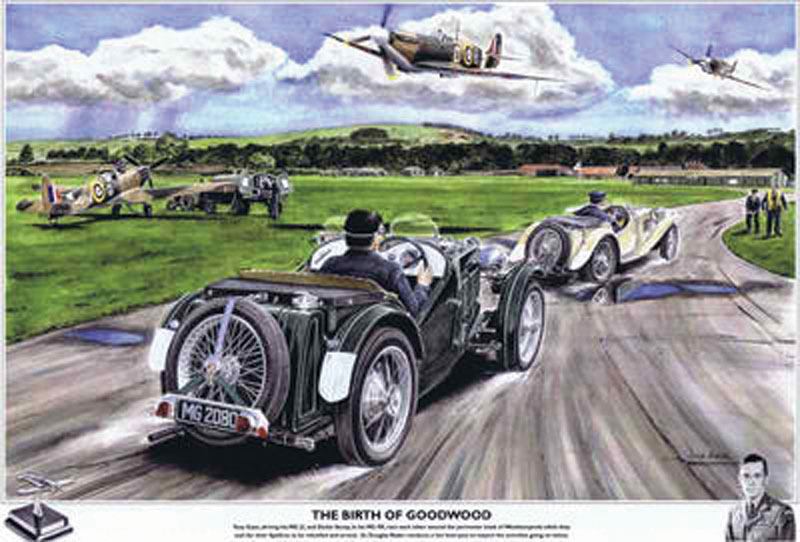 The Birth of Goodwood (Painting by Mike Harbar)
Tony raced the Alta at multiple events across Europe and in 1952 became the first Australian to race in a F1 event, the Belgian Grand Prix. Tony later bought the ex Ascari Ferrari 500, which he raced in Australia, New Zealand and Europe. Tony' best racing racing performance was when he came second to Stirling Moss in the 1956 New Zealand Grand Prix. Tony was awarded the Order of Australia Medal in 2006 for his services to the sport of motor racing.
Gliding Fascination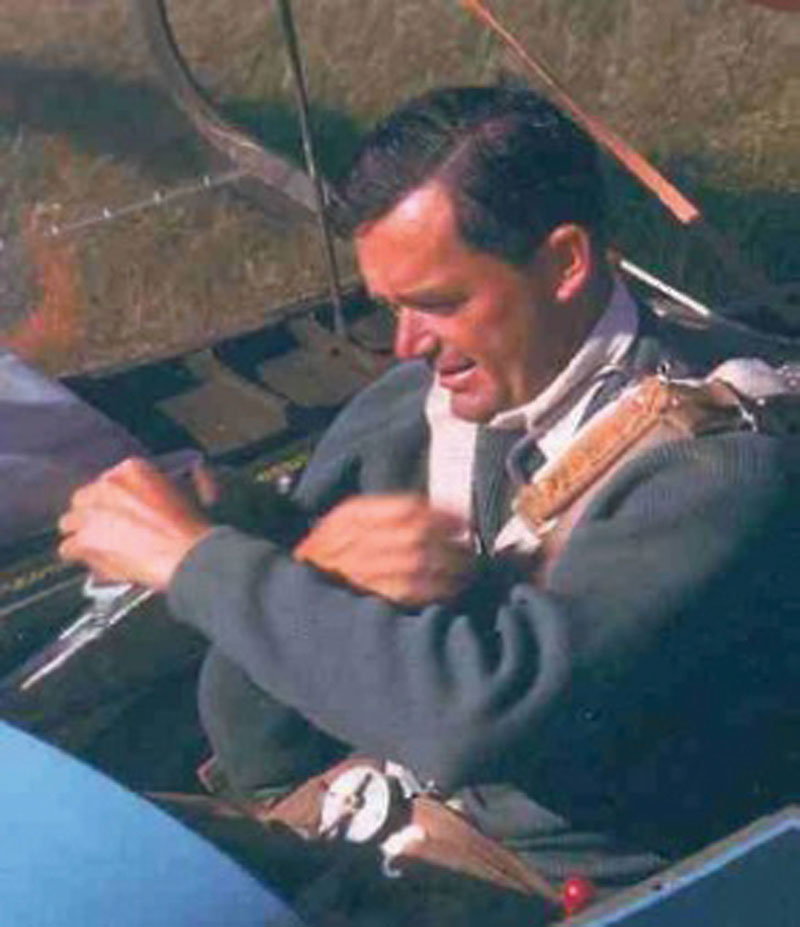 Tony Gaze preparing for launch, BGGC (Bristol and Gloucestershire Gliding Club)
When Tony's competitive racing career was coming to a close, he had a chance conversation with Prince Bira of Thailand, who was also a racing driver and glider pilot, and he took up gliding in the late 1950s. Tony became a member of the Bristol and Gloucestershire Gliding Club (BGGC) at Nympsfield and was heavily involved with the club.
During his time at the BGGC Tony owned several gliders including a Slingsby Eagle 3 (BGA No. 863, Tail No. 97), a Ka6 (BGA No. 1027, Tail No. 210) and a Standard Austria (BGA No 1129, Tail No. 210) before be bought the Dart (BGA No. 1318, Tail No 210) in 1966. One notable item is that all of Tony's gliders had the same paint scheme, a blue fuselage with red wings.
The competitive spirit obviously never left Tony as, during his time in gliding, he set several UK national records in his Eagle and flew many competitions. Tony's UK two-seater gliding records include speed around a 200km triangle @ 43.6kph in April 1960 and the goal and return distance of 277km in May 1961. Tony also won the BGGC Cyril Unwins Cup for Best Distance in 1959 and 1962. The highlight of Tony's gliding accomplishments was when he represented Australia at the 1960 World Competition in Cologne, flying a Skylark 3B and placed 14th overall in the Open Class.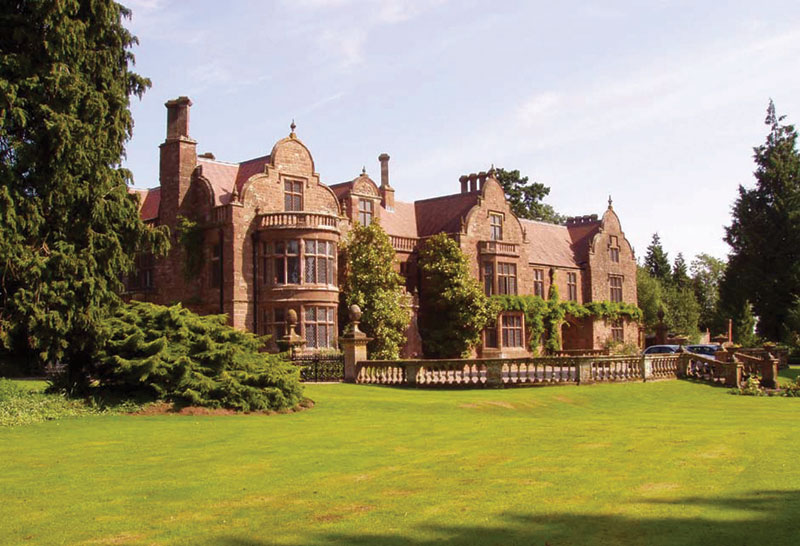 Caradoc Court, Ross-on-Wye, Herefordshire (Wye Valley News)
After Kay died, Tony moved back to Australia in 1978 and brought the Dart with him. Tony settled at a farm that he named Goodwood in rural Victoria and continued to be involved in motor racing and gliding. Tony continued to fly the Dart from Tocumwal, including a 500km out and return.
Tony died on 29th July 2013 at the age of 93 and at his memorial service in Geelong, the Temora Aviation Museum paid a stunning tribute to Tony with the flypast of a Spitfire MkVIII.
Man of Many Firsts
Tony Gaze DFC OAM had an amazing flying career and life and was a man of many firsts -
... He was the first Australian to shoot down a jet aircraft in combat
... the first Australian to fly a jet aircraft in combat
... the first Allied airman to land an aircraft in Europe after D Day (well apart from the gliders!)
... the first Australian to drive in a F1 Championship race
... the first Australian to own the Slingsby Dart 17R, works No. 1523
It is a privilege to keep the memory of Tony Gaze alive by continuing to fly his 1966 Slingsby Dart 17R.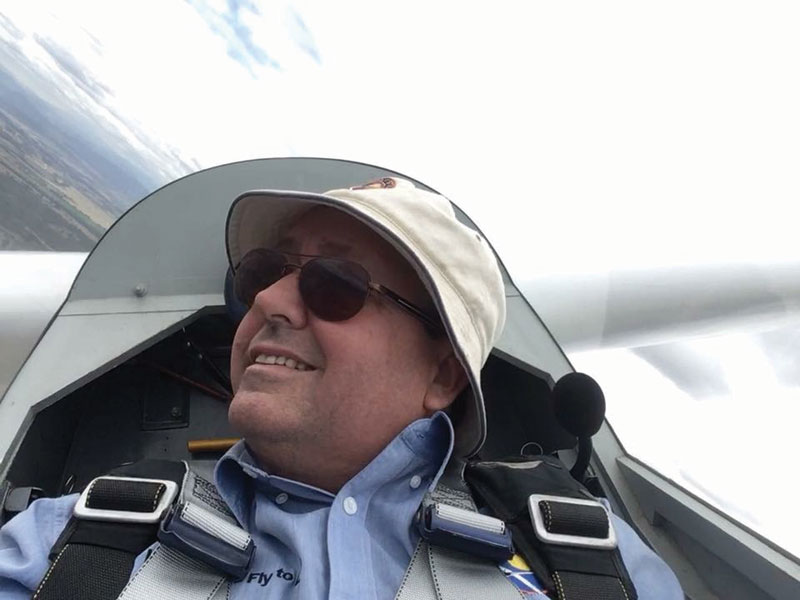 Paul Dickson flying the Dart