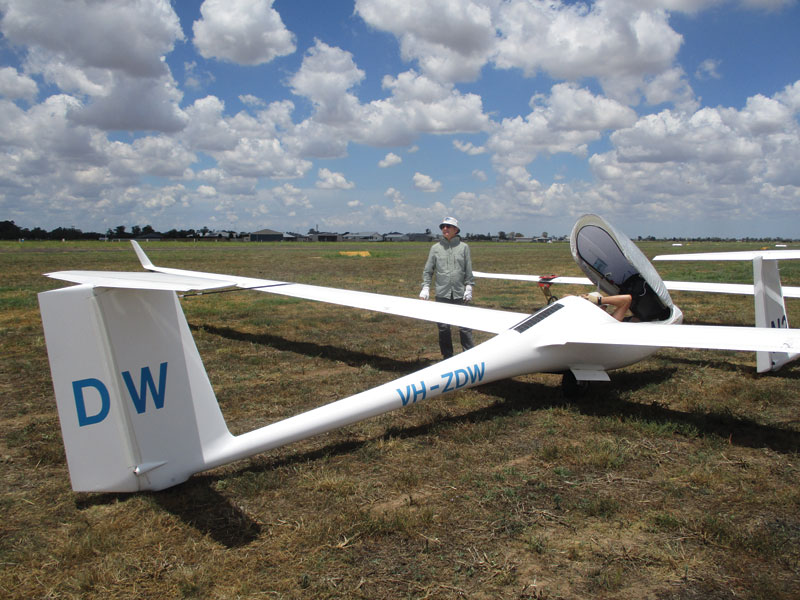 The first Narromine Cup was held in 1998 by Beryl Hartley and Chris Stephens as a way of introducing pilots to competition flying in a friendly, low pressure environment. It is not actually a competition and no tasks are set. Pilots decide their own tasks each day. As Beryl said, 'We are our own task setters.' The winner of the Cup is the pilot with the top average OLC score from their best three flights of the week.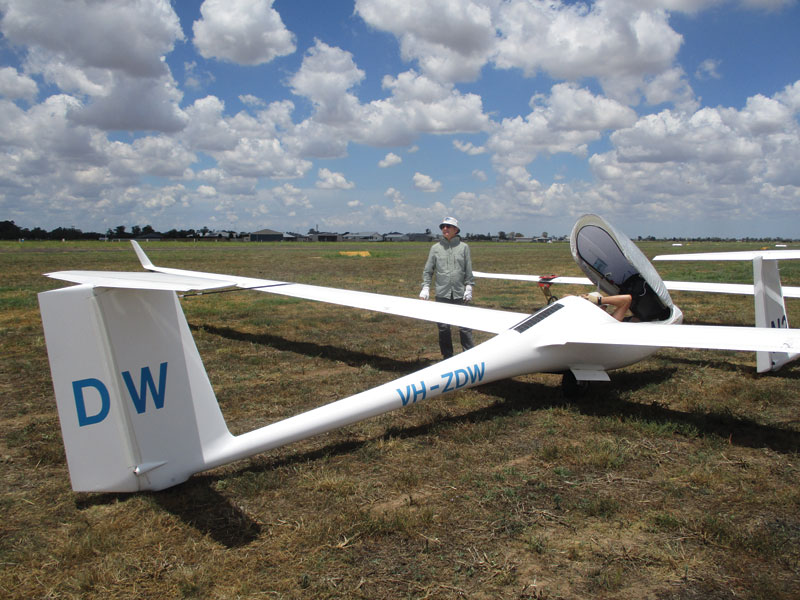 By Sean Young
Over the years, many famous names in Australian gliding have won the Cup, including John Buchanan, James Cooper, Bill Hatfield, Gerrit Kurstjens and Terry Belair, who has won more times than any other pilot.
In a normal year, overseas tug pilots, coaches and helpers are available to help run Cup Week but, due to the COVID crisis, no overseas pilots are visiting Narromine this year. As a result, the event was run thanks to the enormous effort of Beryl and Arnie Hartley, various family members and Narromine club members pitching as much as they were able. The week was, as always, expertly organised and featured great facilities and catering.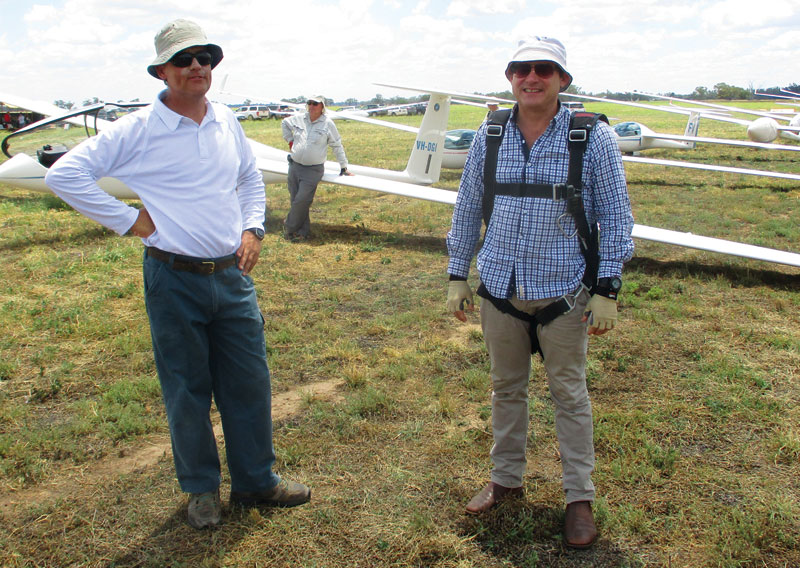 Arie van Spronssen from Hunter Valley GC with Tim Duty who flew his first 300km and first 500km during the week.
Morning Presentations
A weather and operations briefing is held each morning. For the last few years Ed Marel, who also flies his ASH 31, has given comprehensive and excellent daily weather briefings. Fortunately, this year he had some terrific soaring weather to tell us about.
Before briefing, presentations are given on various aspects of gliding and safety. This year we had very interesting talks by Richard Frawley, Terry Cubley and Mick Webster from Hunter Valley GC. Mick was very busy this year not only coaching but also helping out with tugging. Graham from Central Coast GC also generously donated his time, tugging all week.
Normally, pilots from Victoria and Queensland and other states have made the trip to fly at Cup Week. This year, due to travel restrictions, the only two interstate pilots were John Orton and Terry Cubley, who missed the first weekend and drove up from Benalla on Monday morning when the border between NSW and Victoria was opened for the first time in months.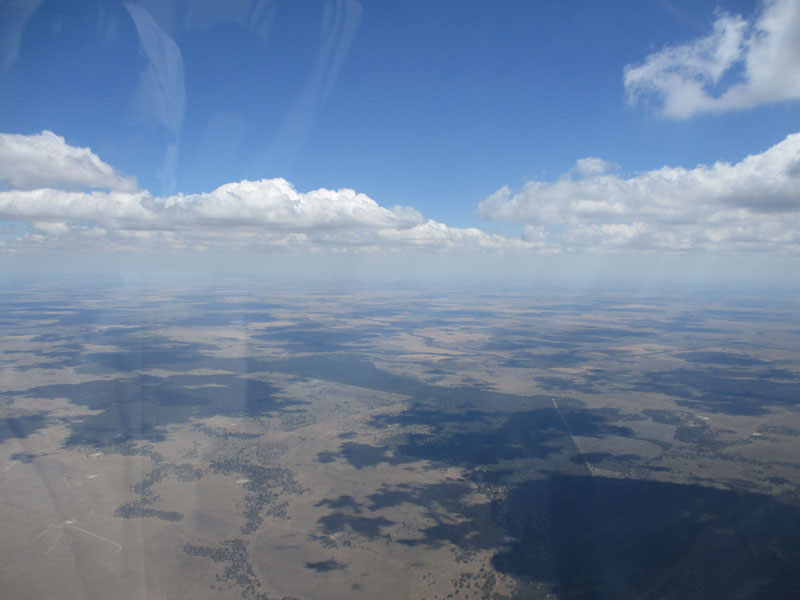 Badge Flights
Several pilots from Southern Cross, Bathurst, Hunter Valley and Central Coast gliding clubs attended. Cup Week is always a great opportunity for coaching and for pilots to achieve badge flights, and this year was no exception.

Tim Duty from Bathurst SC had attended a coaching week that Armin Kruger held earlier in November at Narromine. During that week, Tim gained his Silver C and went on to earn his Gold 300km and Diamond 500km distances during Cup Week. Dominique Brassier also from Bathurst achieved her Gold distance and Diamond goal flying 365 km. Justin Sinclair from Southern Cross also gained his 500km Diamond Distance Uday Singh from Southern Cross GC flew his first 5 hours to complete his Silver C. Shawn Armitage Hunter Valley GC and Melysha Turnbull Southern Cross flew their first cross country flights.
(All subject to verification).

The weather during the week was dominated by a slow moving trough with a blocking high in the Tasman. There were three no fly days and four terrific cross country soaring days and one challenging day punctuated by a band of rain showers.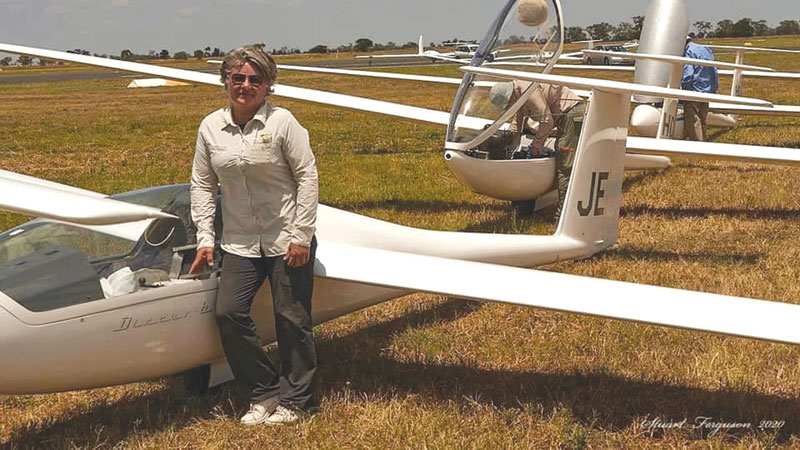 Dominique Brassier also from Bathurst achieved her Gold distance and Diamond goal flying 365 km. Photo by Stuart Ferguson
Top Performances
On Saturday, Ian de Ferranti from Bathurst flew 554km at 123 kph in his Ventus 2cM 18m. On Tuesday, the next flying day, Ian again led the field flying 561km at 105 kph. On Wednesday, Terry Cubley had the highest scoring flight, flying 698km at 133 kph in his Ventus 2cT 18m.
On Thursday Terry flew 829km at 122 kph, gaining the highest score for the day. John Orton flew 775km in his ASG 29 18m while Ian was pushed into 3rd position flying 702 km. Arie van Spronssen from Hunter Valley, who always flies well at the Cup, had another good day flying 549km in his DG 200/17. What a great gliding day it was.
On Friday Terry again earned the top score, flying 678km at 116 kph. Terry said, 'We went south to Lake Cargelligo where the forecast was blue to 7,500ft, which is alright. It was actually blue to 4,500ft. Turning north to Nymagee, conditions were quite good. When I got back to Narromine there was a magnificent street so I thought I'd have to take that, and added another 150km. It was wonderful.'
With this flight, Terry secured the top OLC scoring position for the week and added his first Narromine Cup, which he gets to take home and keep, to his trophy collection.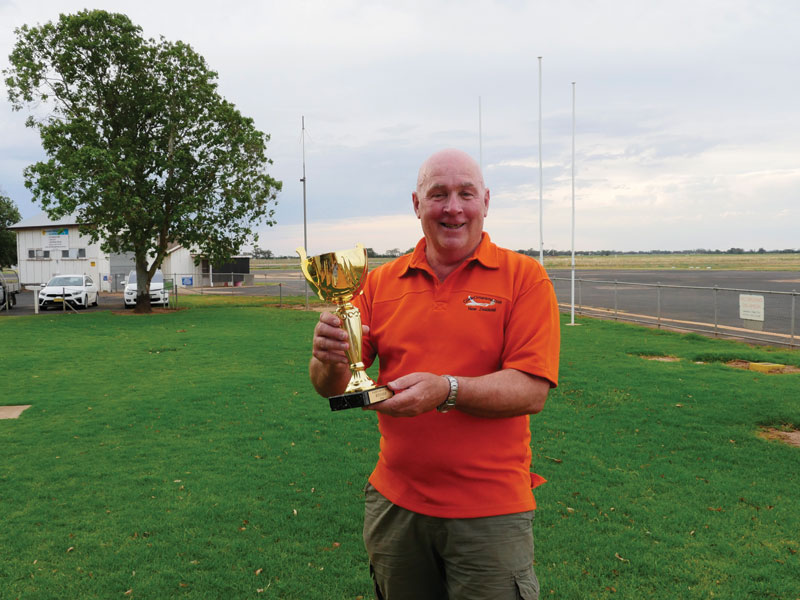 Terry Cubley flew the Narromine Cup for the first time and won the trophy.
Bountiful Year
I have been flying Cup Week since 2007. I missed last year due to the challenging smoke and dust caused by the terrible drought. This year it was an awe-inspiring sight to fly over the vast wheat belt covered in newly cropped paddocks, with many areas full of wheat still to be gathered in. All over the region, mountains of wheat are piled up outside full silos at the storage facilities in all the towns around Narromine.
Lines of roadtrains were waiting to offload their golden cargo and headers were working furiously to bring in the best crop for many years – and not just wheat, but also chick peas, lupins and other crops. The whole region was bustling with activity. It was wonderful to experience after several extremely dry years.
.
I can't wait for Narromine Cup 2021 which, as always, will take place the last week of November.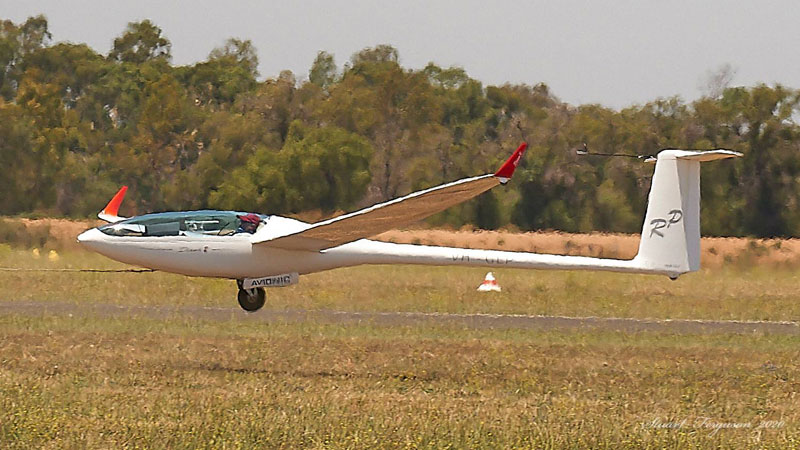 RabjitPhelan in his Diana 2.
Photo by Stuart Ferguson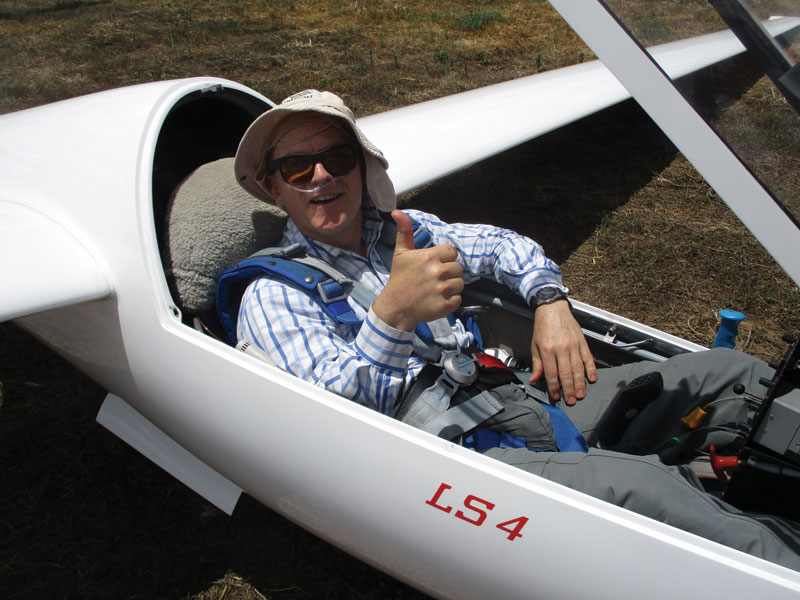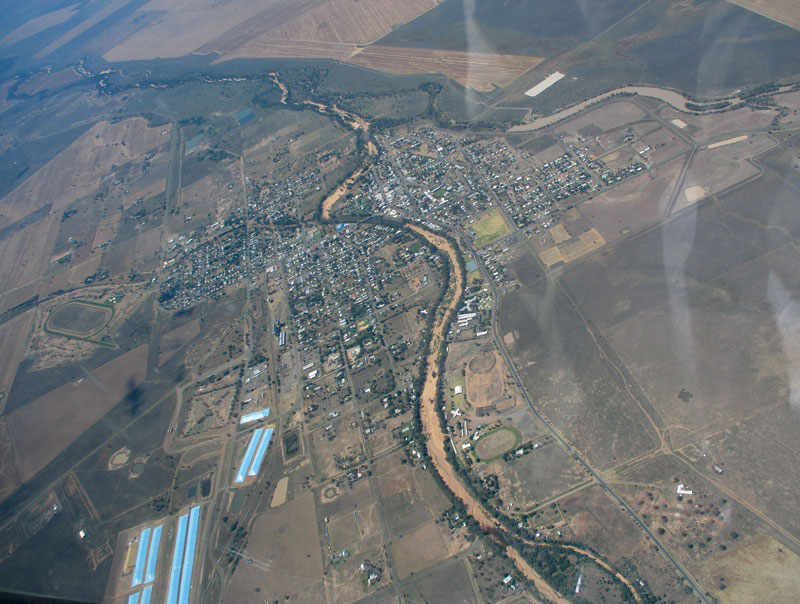 Coonamble with some water in the river and surrounded by wheat.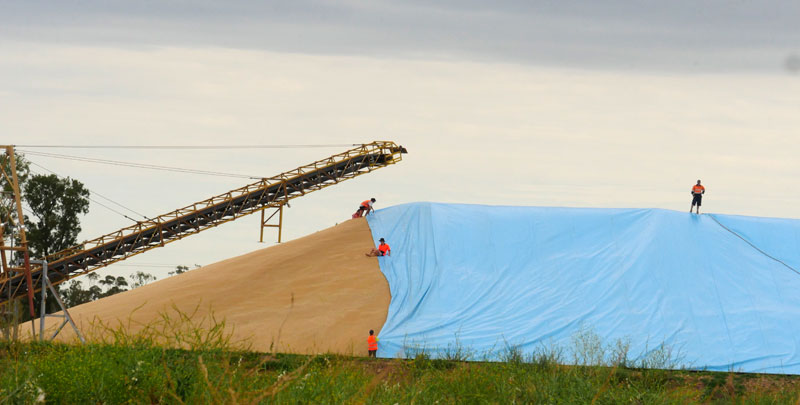 One of many wheat mountains at Narromine.