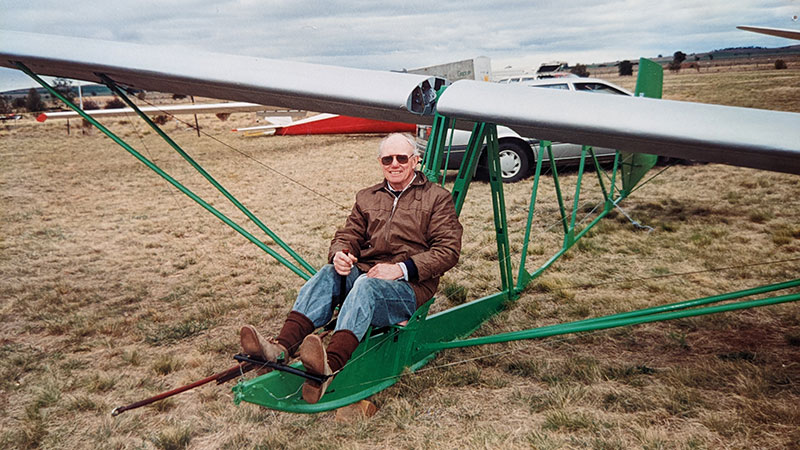 Alan about to fly the restored Primary at a Vintage Glider Rally.
6 June 1924 – 12 March 2022
by Ruth Patching
Alan Patching was involved in all aspects of gliding for almost 80 years and is renowned worldwide for the outstanding contributions he made to the sport for so many years. The significance of his contributions have been recognised by the many awards he received. The Lilienthal Medal in 2006 (the highest International Award in Gliding) and Member of the Order of Australia, AM, in 1994 for services to gliding are just two of many.

Alan was a much-loved family man. He is survived by two daughters, Margaret and Rosemary, and daughter-in-law Ruth, widow of his son Ian. He was pre-deceased by his wife Lorna and sons Geoffrey and Ian. He has six grandchildren and five great-grandchildren. Lorna, Geoff and Ian were all very involved in various aspects of gliding, and Ruth and his grandson Tighe continue that family tradition.

Christened Claude Alan, but preferring to be known as Alan, he grew up on the family farm at Queenscliff, the eldest of four boys. During his childhood, flying was not the everyday, common thing it is today and it fascinated Alan. He built model aircraft in his spare time – the closest a boy in his circumstances could get to being airborne.

He studied mechanical and electrical engineering at Gordon Institute and, when he graduated in 1942, was sent by Manpower to build planes for the war effort at Commonwealth Aircraft Corporation (CAC). Alan was very disappointed, as he had hoped to join the RAAF to become a pilot, but apparently there was a surfeit of officer pilots at that time. Through such serendipity began Alan's involvement in gliding.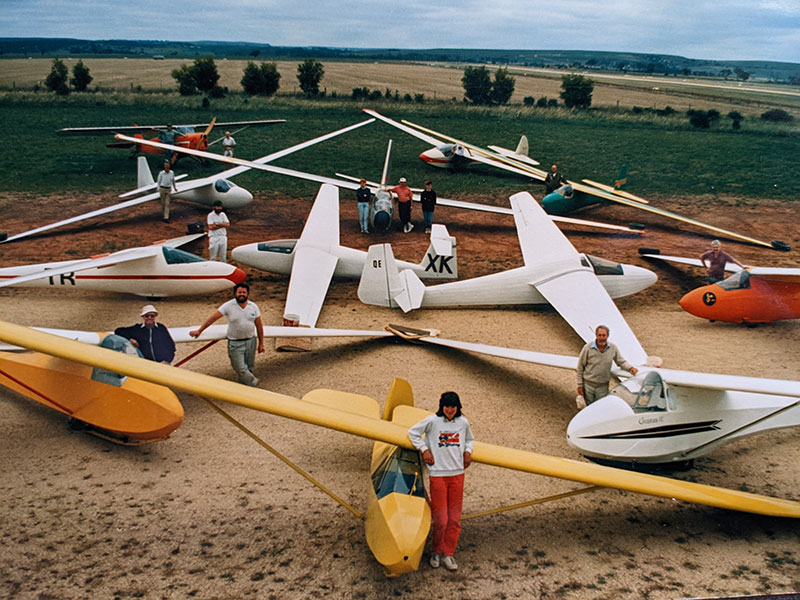 2013 VGA Rally Bordertown - on the left, Alan and Ian standing with the Golden Eagle.
The Birth of VMFG
At CAC, Alan worked with a number of other frustrated, would-be pilots. In their spare time, a small group of them built a Primary glider, using wings found at the factory as the starting point. One colleague, his life-long friend Geoff Richardson, had already built a glider called the Golden Eagle, and another friend had a winch. After discussions, a gliding club was formed, the Victorian Motorless Flight Group (VMFG), in 1944. At this stage, besides building, repairing and flying gliders, Alan built three VHF radios for the club to improve communication between the winch operator and the pilot. This is just a small example of Alan's wide-ranging skills, interest in safety and life-long contribution to his club and gliding in general.

VMFG continues to this day, now known as Melbourne Gliding Club (MGC). Alan was no ordinary member, contributing in numerous ways. He was Instructor and Tug Pilot for many years, President from 1968 to 1969 and 1972 to 1973, and Chair of Operations Panel from 1978 to 1988. Besides these official positions, he was always generous with his time and expertise. In the early days, until the club acquired facilities, Alan's home was frequently used for glider repairs and meetings. Nostalgic memories are strong of the camaraderie of those times, not least because of the excellent snacks and meals served by Lorna to the multitudes.

In recognition of his long and commendable contributions, Alan was made a Life Member.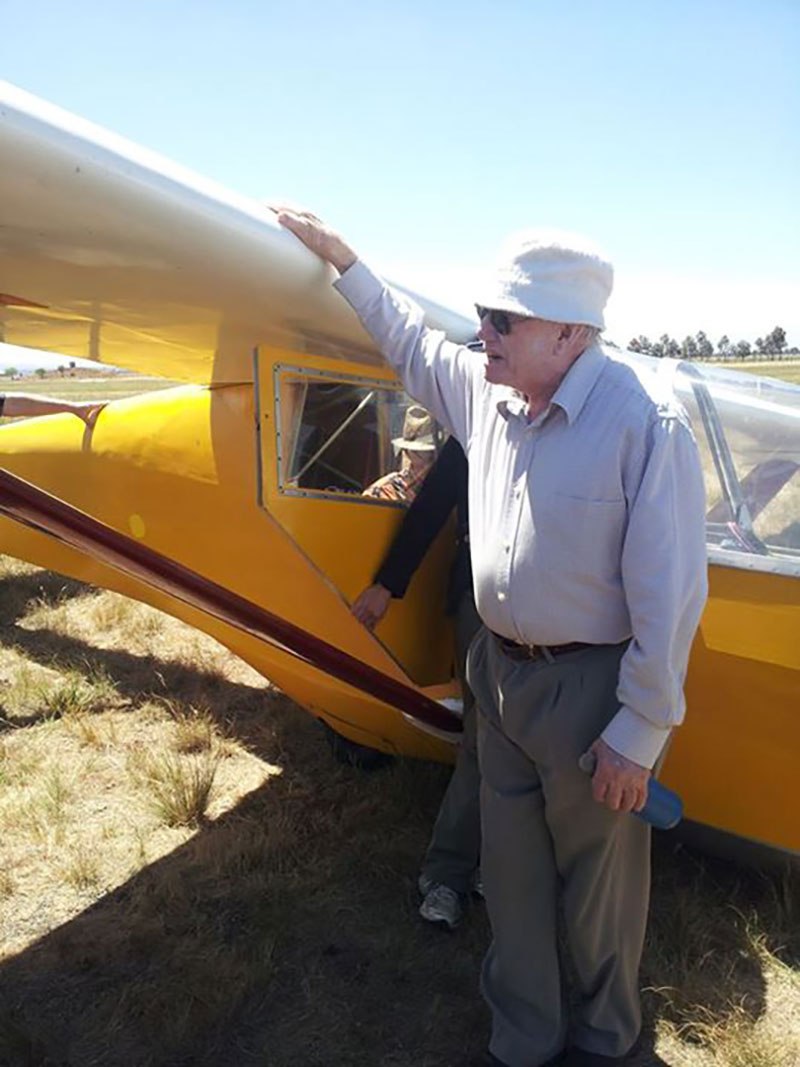 Alan tested the Zephyrus at ARL in 2014 - still flying.
The Birth of GFA
By 1949, with many disparate gliding operations all around Australia, the Department of Civil Aviation (DCA) decided gliding needed to be controlled. This was the impetus for the Gliding Federation of Australia to be formed, to have a voice of authority to speak with DCA, and Alan was present at its inception. DCA approved Geoff Richardson's existing system for aircraft building, maintenance, repair and inspection as interim National Standards for implementation Australia-wide.

Additionally, a nationwide pilot training program had to be devised. As no systematic program existed, the National Gliding School was formed. Alan participated for all its 16 years, initially as a staff member and then as Director. It convened at Gawler, SA, for two weeks in January every year to develop and continuously refine the Instructors' Handbook, Airworthiness, Repair and Maintenance Manuals and the GFA Manual of Standard Procedures for operating a gliding club. The DCA, and its successors, has approved gliding to operate this way ever since. After 16 years, each State took over the training role.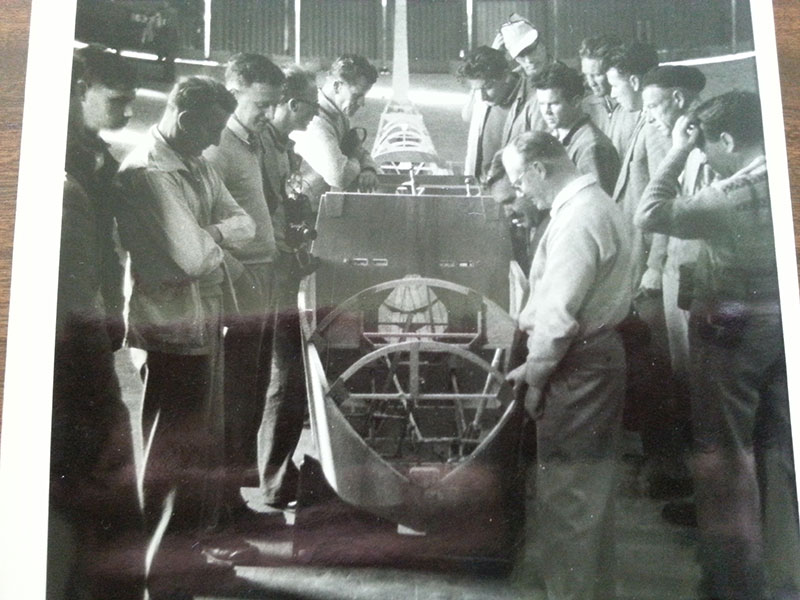 Alan and some mates stand around a wooden fuselage under construction. Alan is at the front-right, smiling as usual.
Profession and Passion Intertwine
Alan's work and flying passion were intricately connected. Alan worked at Aeronautical Research Laboratories (ARL), from 1945 until his retirement in 1984, contributing to a number of projects of international significance. As a professional aeronautical engineer, Alan specialised in researching aircraft fatigue and he passed on this expertise through investigations into the safety of gliders and pioneering work on fatigue in modern gliders.

Because of his early life on the farm and his education, Alan was one of those remarkable people who was technically gifted and also well-grounded and practical. He could, and would, explain complex engineering phenomena in everyday terms to anyone, all mixed with lots of his irrepressible humour at the little ironies this brings up. Alans' deep knowledge was not just book learning, but well integrated into a cohesive and complete understanding and wisdom about the people involved.

From the view of history, perhaps Alan's most important career highlight was his work on the F-111C fighter bomber, with his posting to Fort Worth in the USA for two years from 1970 and membership in the F-111 Scientific Advisory Panel. In 1968, a catastrophic early failure of an F-111 wing attachment beam had occurred during fatigue testing at General Dynamics in Fort Worth, Texas, and in the following year a USAF F-111 lost a wing in flight due to fatigue cracks growing beyond the critical length.

The result was that all 24 aircraft produced for the RAAF were put into storage in a hangar at the plant for almost five years before the first aircraft were eventually retrofitted, accepted and ferried to Australia. Without Alan's strong technical understanding and experience of fatigue of high strength metals, and his integrity to speak truth to power, the RAAF may have cancelled the purchase of this remarkable strategic defence asset, which the RAAF operated for the next 37 years.

Alan scientifically and technically advised the RAAF, Department of Defence and government on all of these matters, which were world-leading in the field of aeronautics and, of course, classified at the time. Malcolm Fraser was Defence Minister and wanted to cancel the acquisition project, but Alan and his RAAF colleague, WGCDR Tony Dietz, also posted to Fort Worth, assured Fraser no unsolvable technical issues remained to justify that cancellation.

Alan was the right expert to be sent on that F-111 posting due to his long history of engineering research on several earlier RAAF types – WWII Mosquito and Boomerang fighters, and the later Vampire jet fighter – and his posting to the Royal Aircraft Establishment (RAE) in Farnborough UK from 1950-52, to gain hands on experience with fatigue testing of both civil and military airframes.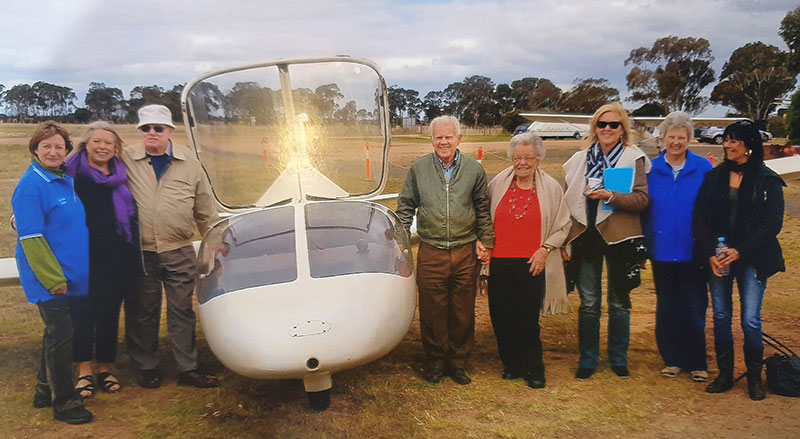 The Patching and Schneider families with the Platypus glider.
Fatigue Testing
Another important project was the fatigue life testing of war surplus Mustang wings, where 222 wings were tested over 12 years to 1962. This program remains the largest number of identical airframe sections ever tested in the world and the basic data for many fatigue life estimation theories even today. Although research scientists Alf Payne, JY Mann and Bill Johnston drove the theoretical and statistical analysis, Alan was the practical engineer in charge of the hydraulic rig and the airframe specimens.

Apart from fatigue testing and advising on the fatigue life management of military and civil airframes, Alan was one of two members from Structures Division of the ARL Accident Investigation Panel for many years. Their role was to travel promptly to the site of a crashed aircraft, conduct observations and analysis before evidence dissipated, then recover important pieces back to the laboratory at ARL Fishermans Bend for more detailed inspection and analysis.

For several years until the finance administrators objected, he had an unlimited government voucher for international and domestic travel to any destination. The panel was instrumental in improving safety for Australian aviation and ushered in the adoption of airframe fatigue as a new field of aeronautical science following the crashes of a Stinson in 1945 and a Viscount in 1968.

From about 1953 onwards, the Australian-developed Jindivik target drone, as well as the remotely- piloted Meteor and Canberra aircraft, were used in the development of anti-aircraft missiles. Alan and the other member from Structures Division were called upon to locate and investigate the wreckage of downed targets on the vast Woomera Test Range.

This role, on behalf of the UK/AUS joint project to develop long-range weapons, became more complicated by the requirements to not only determine the causes of the aircraft crash, but also to assess the vulnerability of the targets and the lethality of the missiles. The Jindiviks were not always brought down by missiles. At one stage, several were lost due to rear fuselage and tailplane flutter, as established by the investigation team.

Personally, Alan regarded the investigation of an accident to a RAAF Sabre near Williamtown, NSW, as the technical highlight of his career. In this case, the pilot had ejected, but did not survive due to a range of factors that allowed his helmet to strike the canopy frame during ejection. The investigation resulted in changes to ejection sequencing to prevent recurrence of this type of tragedy.

Other areas of overlap between Alan's gliding and professional careers were the static and fatigue testing of many glider airframes at ARL, including the Olympia, Zephyrus and Golden Eagle. His research led to the early recognition of the potential for fatigue failure in Blanik gliders.

He was founder and Program Manager of the Janus glider fatigue test at Royal Melbourne Institute of Technology (RMIT) from 1985-1992. With great contributions by Anne Loh, Robert Dorning, Professor Lincoln Wood and others, Alan kept that test going against enormous difficulties and on the smell of an oily rag as far as funding goes. Ultimately, the test provided the necessary data to double the fatigue life limit on gliders around the world from 6,000 to 12,000 flying hours, where it remains today.

International Connections and OSTIV
Importantly, after the posting to RAE in 1950, Alan assiduously maintained and visited annually a network of friends, colleagues and collaborators around the world to collectively advance gliding as much as Defence aeronautical research.

One of the avenues for that networking was serving as the Australian delegate to OSTIV, 1965 – 1996, as an OSTIV Board member 1985 -1999 and as a member of OSTIV Sailplane Development Panel (SDP) 1976 – 1996. Such was his legendary status for his annual trips to OSTIV congresses and defence aeronautical visits, that the ARL newsletter of August 1978 includes four paragraphs about Alan's six-week 'busman's holiday' to France, England, Germany and Thailand, listing 12 visits to aircraft manufacturers, regulators, research institutes and foreign air forces.

His great friendships and the trust built up with RAAF engineers, pilots and glider pilots around the world was extraordinary, but soundly based on competence and humanity. A famous German glider design engineer, Gerhard Waibel, would always address Alan as 'Herr Professor', a friendly acknowledgement of Alan's technical skills.

At OSTIV, Alan was also Chairman of the Crashworthiness Working Group of the SDP, setting up stronger requirements to minimise injuries and fatalities during crashes, using practical methods such as stronger cockpits and memory foam cushioning. That working group was dormant for at least 15 years, but met again on 11 March 2022, the day before Alan died.

Alan's first OSTIV paper was presented to the 1970 Congress held in Alpine, Texas while he was posted not far away in Fort Worth. It was a summary of the procedures he had helped develop for proof loading gliders after they reached 20 years in service to prove they were safe enough to keep flying, albeit with reduced operating limits. These were the very procedures he had instituted with the GFA in his role as Chief Technical Officer, Airworthiness. This, and other contributions, led to the development of the certification standards used for gliders all around the world today, CS-22.

The OSTIV Training and Safety Panel also benefitted from Alans's expertise in gliding operations, training and training of instructors. At the 1976 OSTIV congress in Rayskala, Finland, Alan presented another paper 'Instructional Techniques for Glider Instructors', co-authored with Geoff Strickland and based on his work at the National Gliding School in Australia. In fact, Alan authored and co-authored 14 papers on gliding, with the emphasis on fatigue matters.

Alan's enormous contributions to OSTIV were recognised when he was made a Board Member and, later, an Honorary Member.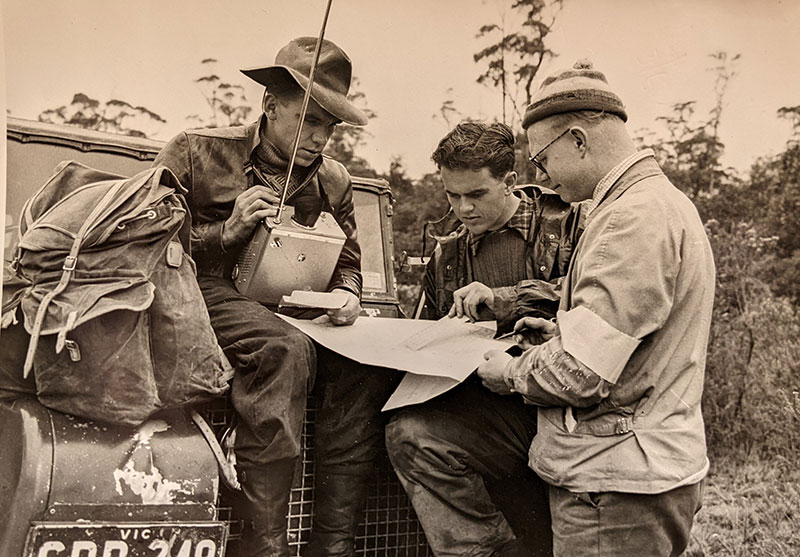 Alan's work in the Accident Investigation Panel.
The Pilot
Alan's first flight was on 28 December 1944. His log book notes that it was an instructional flight of 2 ½ minutes, Percy Pratt instructor, in a PRATT 2-seater at Belmont Common, Geelong. Thereafter all his training was in the Primary. He received his A and B Certificates in 1951, C Certificate in 1952, Silver Badge in 1961, Gold Badge and a Diamond for Goal in 1962 (Benalla-Echuca-Tocumwal-Benalla – 188 km) and another Diamond for Distance in 1975 (Bacchus-Dimboola-Bacchus – 509 km). By today's standards these times and distances are not remarkable, but for wooden gliders they are very noteworthy.

Alan was a skilful pilot, flying at all the National Championships from the first one at Tocumwal until his secondment to the USA, often finishing in the top three. He was the reserve pilot for the Argentina World Competition in 1963.
While in Texas Alan took up powered flying (legally), and did little gliding. After returning to Australia Alan found that the techniques for fast flying had moved on and so, instead of competing, he became involved in the running of various competitions, including two World Gliding Competitions: Waikerie in 1974 as Technical Assistant and Benalla in 1987 as Technical Services Director. Throughout the 1980s and 1990s he was variously an organiser, scrutineer, task setter or tug pilot at National Championships.

Alan consulted and collaborated with Edmund and Harry Schneider, designers and builders of many unique Australian gliders such as the Kangaroo, Wallaby and Kookaburra and was part of the small syndicate to enable the production of the Platypus, the final glider that Harry produced. Over his lifetime Alan piloted 140 different glider types and 35 powered aircraft and was a wonderful source of knowledge for others to tap into.

Always aware of safety, Alan elected to stop flying solo in 2008 at the age of 84 but continued to fly dual as often as his health allowed. His grandson Tighe was pilot-in-charge for a dual flight in 2014, but notes that that was in name only and that his grandfather still 'had it'. Alan had his last glider flight on 13 June 2016 at Bacchus Marsh, the home of his beloved club.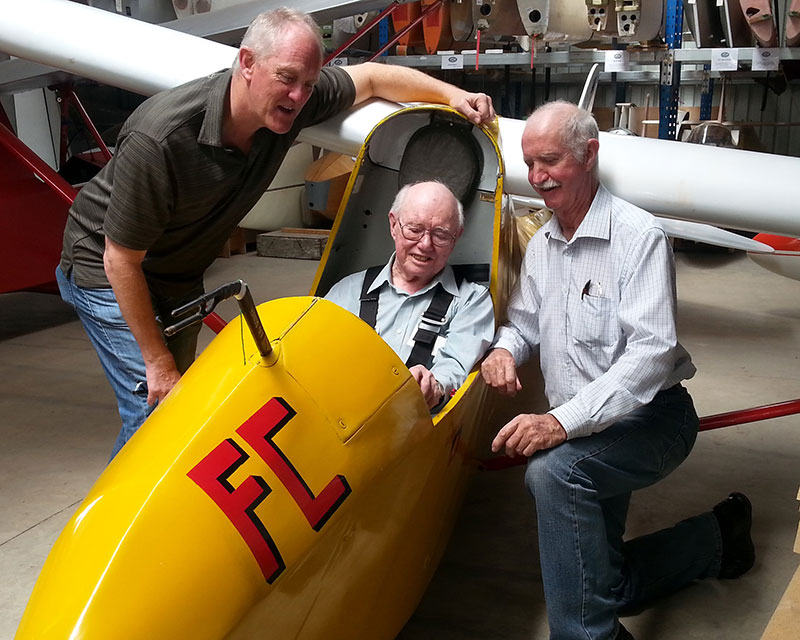 Alan in the Golden Eagle on the occassion of donating it to the Australian Gliding Museum in 2016 with David Goldsmith (right)
Vintage Gliders Australia
Alan, along with other pilots from Victoria, WA and NSW, attended a rally organised by Kevin Sedgman, Leo Boin, Cleve Gandy and Martin Simons at Blanchetown, South Australia over the weekend of 15 and 16 October 1977. It was the formation of the Vintage Glider Association of Australia (now Vintage Gliders Australia), an important part of the world-wide interest in preservation of the fun and history of old wood and fabric gliders.

Alan attended many of the European annual rallies of the International Vintage Glider Club, where up to 110 vintage gliders and 350 enthusiasts re-invent the past. He and John Ashford took Geoff Richardson's Golden Eagle to the International Vintage Sailplane Meet at Elmira, New York State in 2000, an enormous logistical enterprise. The Golden Eagle, a beautiful gull winged sailplane, had first flown in September 1937. Geoff Richardson willed the Golden Eagle to Alan, who continued to fly it occasionally until he donated it to the Gliding Museum in 2016.

For more information about VGA go to vintageglidersaustralia.org.au

The Australian Gliding Museum
From 1992 Alan was involved in supervising the restoration of a number of wooden airframes to either static or flying condition, giving seminars on the fatigue of structures and timber repairs and providing an advisory role to the GFA in regard to the airworthiness of the fleet of older aircraft.

In 1999, this work led to the founding of the Australian Gliding Museum, spearheaded by Alan and the Barton brothers, Jim and Graham, in order to preserve the many vintage gliders that were being abandoned. The Museum is located at Bacchus Marsh airfield and has rescued 60 gliders and restored 20 of them to display condition. Alan was Foundation President, later Honorary Vice-President and a Life Member. This is the largest gliding museum in Australia and internationally. Importantly, the Museum provides regular training courses for the repair of wood and fabric aircraft – skills that are in scarce supply. Alan ran many of those training workshops for many years. For more information about the museum go to victoriancollections.net.au/organisations/australian-gliding-museum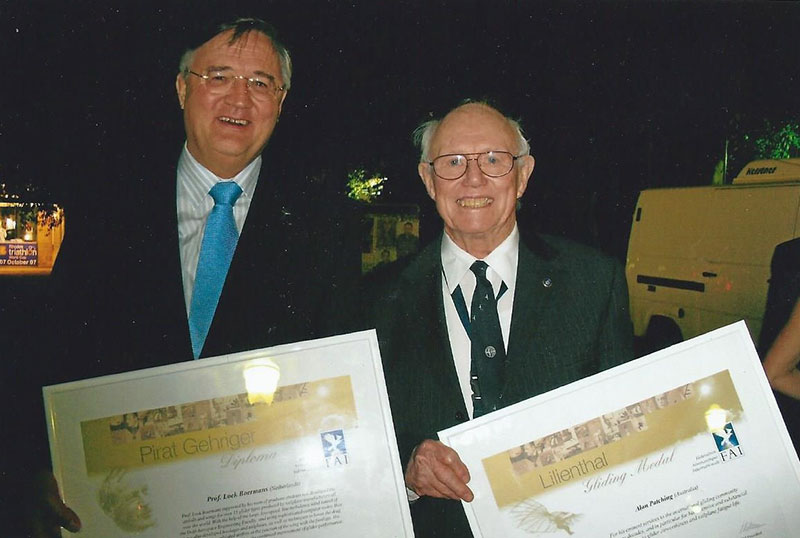 Alan received the Lilienthal Medal in 1996.
AWARDS
Order of Australia AM, Australia Day 1994
Alan's great friend and fellow tug pilot at VMFG, Geoff Newlands, supported by other gliding enthusiasts, nominated Alan for this award, citing his services to gliding for the previous five decades.

Lilienthal Gliding Medal, 2006
The vast breadth and depth of Alan's intellectual leadership of gliding in Australia and around the world is summarised in the citation for the Lilienthal Gliding Medal from the Federation Aeronautique International (FAI), the highest award worldwide for gliding. The award is given for a particularly remarkable performance in gliding, or eminent services to gliding over a long period of time, for someone who is still an active glider pilot.

The award recognises Alan's tireless work over seven decades, from the technical to the operational, training, administration of gliding clubs and national associations, across to the regulatory delegation that gliding still enjoys in Australia today. Only two other Australians have been awarded this medal: Wally Wallington in 1984, who literally wrote the definitive textbook on gliding meteorology, and Ingo Renner in 1988 after winning four world championships. For the full text of GFA's recommendation of Alan for the Lilienthal Medal, go to fai.org/search?search_phrase=LILIENTHAL+MEDAL

Alan saw the world of gliding evolve from simple wood and fabric gliders, only capable of brief flights, through to sophisticated aircraft with long wingspans and high performance as a result of advanced manufacturing technology, including fibreglass and carbon fibre construction. As his chosen sport, Alan gave it his all, putting his efforts into club matters, and then at the State, National and International levels.

In this, he followed the example of his uncle, Julius (Judy) Patching AO OBE, whose sporting life started as a sprinter and hurdler and ended as an administrator at the Olympic level. Both men had the rare capacity to communicate in a warm and down to earth fashion even while delivering unwelcome news, and Alan is renowned for his good humour and ready smile.

Few people in gliding have contributed or achieved as much as Alan did during his life. His achievements are near uncountable, with an incomplete list of his accomplishments, awards and roles including:
International
Lilienthal Medal recipient 2006, the highest international award in gliding
OSTIV (International Scientific and Technical Soaring Organisation):
Australian Representative 1965-1996
Chairman of the Sub Committee For Crash Worthiness
Member International Sailplane Development Panel 1976-1996
Member of the Board 1985-1999 and later, an Honorary Member
World Gliding Championships: Technical Assistant, 1974, Waikerie; Technical Services Director, 1987, Benalla;
lProgram Manager, Janus glider fatigue test at Royal Melbourne Institute of Technology (RMIT) from 1985-1992
Australian
Member of the Order of Australia, AM, for services to gliding, 1994
Life Member of the Gliding Federation of Australia (GFA)
W.P. Iggulden Award recipient, 1981 (GFA's highest award)
Staff member and then Director of the National Gliding School (for standardisation of gliding across Australia) 1949-1965.
Founding member, President and Life Member of Australian Vintage Glider Association
Throughout the 1980s and '90s a scrutineer, organiser, tow pilot or task setter at National Championships
GFA Technical Liaison Officer 1962-70 and 1973-82
Instructor at wooden glider repair workshops
Founding member, President, Honorary Vice-President and Life Member of Australian Gliding Museum
Honorary Vice-President of the Aviation Historical Society
State and Local
Founding member, President in 1973, '72, '69 and '68 and Life Member of VMFG (now Melbourne Gliding Club)
GFA Councillor for Victoria 1985-86, 1978-81 and 1960-63
President of the Victorian Soaring Association
Chairman of Western Region Sporting Aviation Group
Chairman of VMFG Operations Panel 1978-88
lTest Pilot for the Zephyrus
Instructor and Tug pilot for many years
lOver 140 glider types and over 35 powered aircraft types flown
If you would like to hear Alan speak about his life in an interview by Geoffrey Robinson for the National Archives, go to nla.gov.au/nla.obj-219756190/listen