To place a classified ad please go to the online purchase event in GoMembership at THIS LINK . You will be able to enter all the necessary details, and upload a picture after paying for the ad. Note that all advertisements are now charged at a fixed price per month which includes a picture.
Ads will be placed on the GFA website for one month from the date of payment. Ads that are current at magazine deadline will also be published in next edition of Gliding Australia PDF and print versions.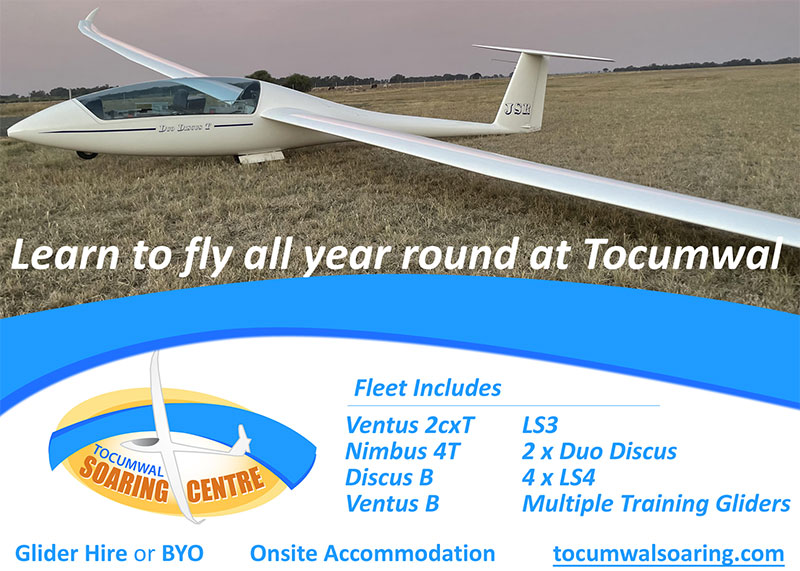 SINGLE SEATERS
VH-UKTT Jantar Std 2 SZD 48-1 3,725 hours, 1353 flights. Wing pins replaced at 3,000 hours (AD-304 Bulletin BE-037-89). Includes Borgelt B50 & B57 flight data systems, Flarm Mini-Box incl. logger, Microair 720 radio, winglets, tow out gear, aluminium clad steel frame trailer. Form 2 completed. $18,000. Allan Gartland 0417 094 557, This email address is being protected from spambots. You need JavaScript enabled to view it.
VH-XFF 1966 Schleicher Ka6cr, Serial number 6560, 3010 hours, 3281 launches. Form 2 until January 2024. Next 10 year survey due Sept 2025. Fully documented history. 100 kg cockpit load.
Simply the nicest k6 in Australia, with no upcoming maintenance. Stripped to bare wood in 2011, recovered in accordance with Randolph ceconite system, and resprayed yellow and white in aviation polyurethane. In 2015 further restoration by Peter Raphael, including rebuilding rear fuselage, removing all metal components, cracktesting and respraying, wing and tailplace spiggots and all bearings replaced.
New harness, main wheel tyre, and tasman electric vario. Supplied with open cockpit, interchangeable tailwheel, wing-covers, tow-out and ground handling gear.
Excellent condition enclosed trailer, Fully refurbished in 2014 to comply with import requirements (Vehicle Standards Bulletin #1). Well set up with tilting drawbar, internal lights, and rigging fittings. Would suit any 15m glider.
A really lovely little glider, which climbs amazingly, and has done flights of 460 km in recent years. It's a wrench to sell it, but I'm simply not flying it enough. Location Raywood Vic. Further photos available. $10,000 ONO. Andy,This email address is being protected from spambots. You need JavaScript enabled to view it.Phone 0477384341
FQM Hornet It is time to pass on this lovely glider to its next custodian. This is a known performer over many years and the perfect Skyrace GP glider.
Total hours: 3850
Fresh form 2. Thompson style home built trailer
S100 and oudie included. Tow out gear
$18,000 This email address is being protected from spambots. You need JavaScript enabled to view it.
VH-FQG Ventus B 16m Carbon fibre wings Carbon fibre wings (reprofiled), removeable wing tips, water tanks fully serviceable, Oudie navigation, Vaulter variometer, oxygen equipped, dual batteries, trailer, dollies. 4247 hours, L/D 46:1. Glider is hangered at Benalla (VIC). Both interior (refurbished) and external are in very good condition. $55,000
Contact Bruce Cowan 0419 387 349
VH-GUN Std Austria VH-GUN for sale with Trailer. Total Hours 2166 Landings 1266. Aircraft stored assembled. $7000.00 or nearest offer.
Contact Gordon 0402 451561
VH-GES On behalf of SRGC this ASW15 is for sale. Form 2 valid to 25 September 2023. LX5000 vario/navigation and basic instruments plus Flarm. Trailer may need some cosmetic care. Tow-out gear and canopy dust cover. Good glider for a modest price of $14,500 Contact This email address is being protected from spambots. You need JavaScript enabled to view it. or 0434413963
VH-GNS Std Cirrus 75 recently completely refinished. Total time 1,820 hrs / 810 flights. Carbon fibre panel (new), Zeus 7.0 navigation with Era 80 vario / igc logger, Bohli vario, Air Control Display Altimeter (new), VHF radio, Airspeed indicator Winter (new), Power Mouse Flarm (new) and canopy cover. Solid box trailer. IMI tow out gear (new). Beautiful glider, ready to go racing. Price $36,000 for more information: This email address is being protected from spambots. You need JavaScript enabled to view it. or call 0434 413 963
PW5 VH-GLN (Bendigo Gliding Club)
TTSN 720 hrs, fully intact with no accident history but presently not airworthy due to gelcoat failure. Cheap project aircraft. Comes with a trailer in good condition. Located at Raywood Victoria. Please contact the President Trevor Phillips at This email address is being protected from spambots. You need JavaScript enabled to view it..au with any expressions of interest or offers and Gerry Elliott at This email address is being protected from spambots. You need JavaScript enabled to view it. for any further aircraft details.
GDZ Mistral C l5m
Dittel Radio LX Nav Flarm Borgelt B40 NO FORM2
Fixed Wheel, No Flaps, No Water.
37:1 Glide Ratio
1026Hrs 857 Landings
Parachute Pfeiffer Trailer 1 Man Rig
Limited Aerobatic - Loops, Spins, Stall Turn,
Lazy Eight. $20,000 ONO 0400133707
2 SEATERS
VH-IKU Twin Astir I
The acclaimed 'Twin'. This Twin has safely and reliably soared the Riverland and Murray for over 40 years, being a reliable workhorse for multiple operators. Now offered for sale as excess to requirements.

Good condition and well maintained. External finish is excellent/very good, cockpits more dated. Aircraft overall presents well.
The aircraft has 750hrs TIS remaining before retirement (11,250hrs TT). No major maintenance items expected before retirement - buy and fly.
Basic instruments including FLARM and radio, full tow-out gear. No trailer. Delivery may be available by negotiation.

This is a rare opportunity to get glass two-seat capability under $20k. Ab initio train, coach cross-country or fly independently with buddies. Good ROI when flying AEFs.
Aircraft is currently flying regularly however will need to give up its hangar space soon. Contact This email address is being protected from spambots. You need JavaScript enabled to view it.
MOTORGLIDERS & TUGS
VH VTT ventus 2cm Sn 98 2000
With all tow out and rigging gear Clamshell trailer duel axal glass top With solar panal inderpendant suspention
Aircraft: new gel coat all ads & mods New shoot natinal 425 & gadringer harness exsprestions of intrest till 30 Aug. Tracey Tabart , This email address is being protected from spambots. You need JavaScript enabled to view it. Phone 0428133243
VH-SCL Piper Pawnee PA25-160 Tug for sale TTIS 7257 Currently operated as glider tug by the Soaring Club of Tasmania. Good condition overall. Engine Lycoming 0-320 160HP on condition. Available September 2023 dependent on delivery of replacement tug. $50,000
Contact: Stephen Ross 0447 518223 This email address is being protected from spambots. You need JavaScript enabled to view it.
VH - ZHX Distar Sundancer 13/15
2 seat motor glider, LSA approval by GFA, 6 years old, engine 90 hours, form 2 included, had a terrific time flying the morning glory with Ian McPhee September 2018, have to sell because of health reason, reduced to $100,000 ono Heinz Zehnder tel 0400 347 412 This email address is being protected from spambots. You need JavaScript enabled to view it.
VH NTT ASK21Mi. Same owners since new. Very good condition throughout. Airframe 2,100hrs; motor 76hrs; Form 2 to Jan 24. Based in Boonah. No trailer but can deliver on east coast. Reduced to $110,000. Contact Rob 0427314788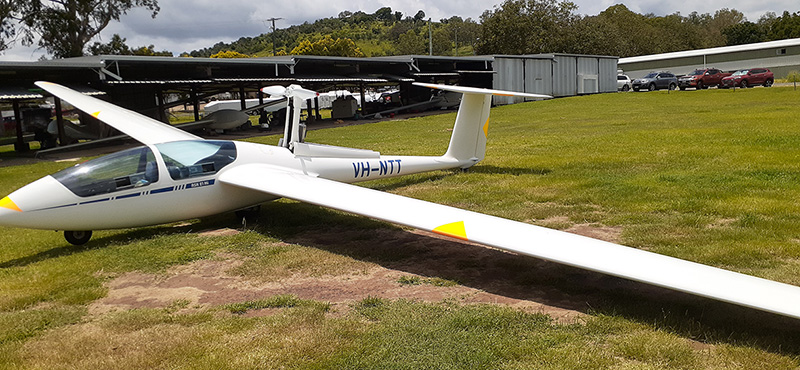 VH-GNM - LS4a TOP Motor Glider. 2,389 hrs 747 landings 71 hrs engine&prop.
Aircraft in Good Condition. MH portable EDS oxy. National 425 chute. Covers
Fuselage refinished with Prestic 2381 in 1989. Wings refinished with Ferro in 1990.
Aircraft always hangared. Private owner.
Enclosed Trailer. Tow out gear.
Contact Ron Brock This email address is being protected from spambots. You need JavaScript enabled to view it. $52,000 ONO
VH-GVQ H36 Dimona
Complete airframe (No motor or prop) 2400hrs TT
Airframe requires complete refinishing with some fuselage sections already primed.
Canopy has minor cracking but serviceable
Undercarriage bow requires minor repair.
Airbrake torque tube AD completed on one wing.
All fuselage control rods removed, inspected and repainted.
Located Sydney Offers invited
Contact Col This email address is being protected from spambots. You need JavaScript enabled to view it.
VH-YBE ASH25 self launching Motor Glider
It's your choice, use a tug or launch yourself
25m and 26.5m options very good condition
3330 hours, 1300 landings Motor Rotax 505A 147 hours
Accessories and parts inc. Full set of Jaxida covers, solar panels on engine doors, spare engine with muffler and much more Anschau Trailer
Contact Dieter, preferred contact by email,
This email address is being protected from spambots. You need JavaScript enabled to view it. or phone 0428 860 160
INSTRUMENTS & EQUIPMENT

LX9000, V5 vario, remote stick and EW IGC micro recorder for sale. The LX9000 also has the flarm installed and the V5 and EW recorder are all used. The remote stick is new / unused and still in wrap and box.
All are in good working condition, no faults and looking for a new home. Happy to supply more pictures including all instruments working the day they were removed (1 week ago) Needs a new home $3600 David Holmes This email address is being protected from spambots. You need JavaScript enabled to view it. Phone 0439734646


Flight Computers Now Available
Darling Downs Soaring Club (DDSC) recently upgraded its XC fleet with OpenVario flight computers (built inhouse) running XCSoar. DDSC is now offering these complete flight computers for sale (to clubs and individuals); assuming there is enough interest from the gliding community to warrant another production run.

For more information and to register your interest below. YOU MUST REGISTER AS THE UNITS WILL BE MADED-TO-ORDER.
https://shorturl.at/sAIKM
Wingtip Wheels
• 52mm ground clearance with aerodynamic profile to minimise drag
• Safer for wing-drops - reduced yaw from wingtip drag
• The housing is shaped at installation to suit any wing profile and attached with Sikaflex
• Tough wheels, sealed bearings and strong axles are easily replaced if needed.
• Supplied with comprehensive installation recommendations.
www.gliderwheels.net Email This email address is being protected from spambots. You need JavaScript enabled to view it. Phone: 61437377744