To place a classified ad please go to the online purchase event in GoMembership at THIS LINK . You will be able to enter all the necessary details, and upload a picture after paying for the ad. Note that all advertisements are now charged at a fixed price per month which includes a picture.
Ads will be placed on the GFA website for one month from the date of payment. Ads that are current at magazine deadline will also be published in next edition of Gliding Australia PDF and print versions.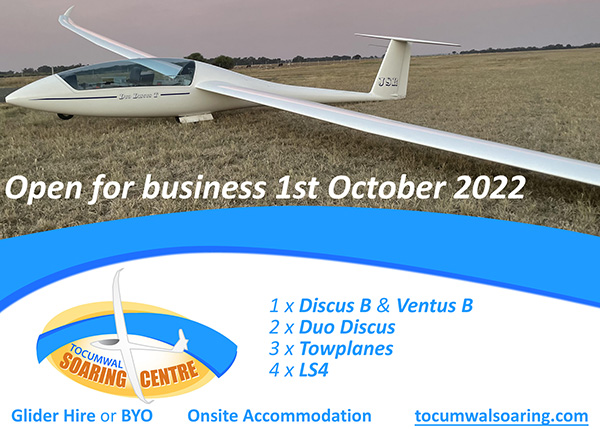 WANTED
TO BUY, LEASE OR CROSS-HIRE
TWO SEATER FOR CLUB TRAINING AND MEMBER FLIGHTS
Caboolture Gliding Club is looking for workable and affordable alternatives to its ageing fleet of metal trainers.
We are seeking to buy or, if necessary, lease an appropriate two seater such as ASK-21, G-103 or similar (not a Twin Astir as we already have one).
If you have a glider in club or private operation which could suit our requirements, please contact 0412 374 477 or This email address is being protected from spambots. You need JavaScript enabled to view it.
GLIDER
After the sudden loss of my glider I now find myself looking for another one. Ideally it will have good performance (big wings again would be nice) a turbo or self launch, flaps, paint or gel in very good condition maybe without trailer. I already have quite a nice one of those. And the hardest requirement It must fit within the budget set out by my good wife! Another option might be shared glider ownership. I have a hangar at Boonah SE QLD which has room for a large span glider. Boonah has year-round soaring with good access to the downs for thermal, local winter wave and awesome north south convergence.
Call me 0407402083 ,email me, mike @goldcoastsailmakers.com.au
Let me know what you have I need a glider of my own to fly again soon !
Wanted Ozflarm in good order. Email Bill at This email address is being protected from spambots. You need JavaScript enabled to view it.
Seeking good quality enclosed trailer (cobra would be great) but not essential to fit jantar std 2 no rust . Call Jim 0448661060
SINGLE SEATERS
VH-GES On behalf of SRGC this ASW15 is for sale. Form 2 valid to 25 September 2023. LX5000 vario/navigation and basic instruments plus Flarm. Trailer may need some cosmetic care. Tow-out gear and canopy dust cover. Good glider for a modest price of $14,500 Contact This email address is being protected from spambots. You need JavaScript enabled to view it. or 0434413963
VH-GUF Discus A. 3,140 hours and 858 landings. Pilot weight from 67 kg to 110 kg. 190 litres of water, in wings and tail tank. M&H winglets. Blue tint canopy. Near new slim Thomas parachute, MH oxygen system. Nice steel frame, aluminium clad trailor. Beverley Soaring Society, Beverley, WA. Paul Rose - 0427 345 560. PRICE REDUCTION $40,000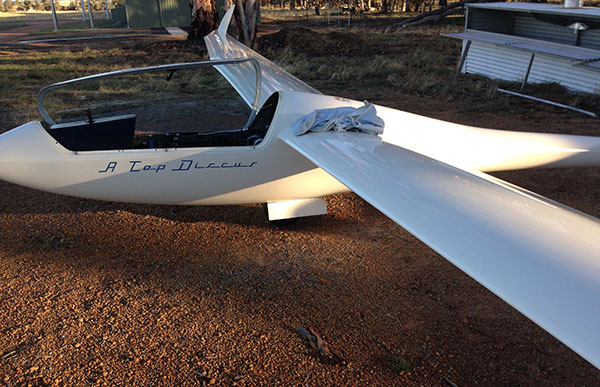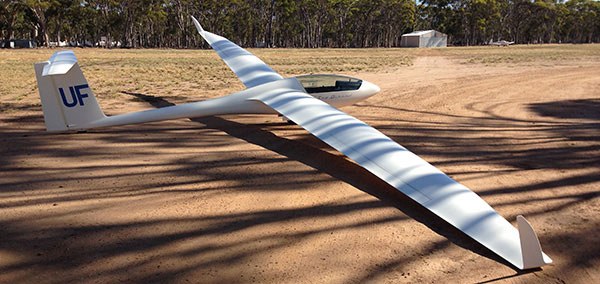 VH-GNS Std Cirrus 75 recently completely refinished. Total time 1,820 hrs / 810 flights. Carbon fibre panel (new), Zeus 7.0 navigation with Era 80 vario / igc logger, Bohli vario, Air Control Display Altimeter (new), VHF radio, Airspeed indicator Winter (new), Power Mouse Flarm (new) and canopy cover. Solid box trailer. IMI tow out gear (new). Beautiful glider, ready to go racing. Price $36,000 for more information: This email address is being protected from spambots. You need JavaScript enabled to view it. or call 0434 413 963
PW5 VH-GLN (Bendigo Gliding Club)
TTSN 720 hrs, fully intact with no accident history but presently not airworthy due to gelcoat failure. Cheap project aircraft. Comes with a trailer in good condition. Located at Raywood Victoria. Please contact the President Trevor Phillips at This email address is being protected from spambots. You need JavaScript enabled to view it..au with any expressions of interest or offers and Gerry Elliott at This email address is being protected from spambots. You need JavaScript enabled to view it. for any further aircraft details.
VH GYL JS1B SN27 with jet sustainer. LX9000. Evo winglets. One owner since new October 2011. 1407 hours. 369 landings. Cobra trailer. Hangar at Lake Keepit available for sale to purchaser. Contact Jay Anderson This email address is being protected from spambots. You need JavaScript enabled to view it. 0418676696
GDZ Mistral C l5m
Dittel Radio LX Nav Flarm Borgelt B40 NO FORM2
Fixed Wheel, No Flaps, No Water.
37:1 Glide Ratio
1026Hrs 857 Landings
Parachute Pfeiffer Trailer 1 Man Rig
Limited Aerobatic - Loops, Spins, Stall Turn,
Lazy Eight. $20,000 ONO 0400133707
VH-IUS Nimbus 2 , 776 Landings, 2026 total hours, Flarm, Borgelt B50, Mountain High Oxy with large AL 682 cylinder, tow out gear, rigging aid and trailer. Hangared at Bendigo Gliding Club. Can send more pictures on request. $18000
Frank 0427485520 email: This email address is being protected from spambots. You need JavaScript enabled to view it.
VH-GIN Discus B just completely re finished to highest standard and including
parachute, trailer, flarm, towing out gear,
hangared at benalla call Rob Bottomley 0493582910/447799696748 email This email address is being protected from spambots. You need JavaScript enabled to view it. $55000
VH-GSU Standard Libelle 201B
New instrument panel. Full covers, all set up and tow out gear. Registered nsw trailer - no leaks
Nothing to do. Just go flying Contact Richard 0417 682 947 or email This email address is being protected from spambots. You need JavaScript enabled to view it.
Price $17000
VH-GAD Schempp-Hirth Ventus a, serial no 9, manufactured 1980. Carbon fibre wing, 1,397hrs, 481 launches. ASI, ALT, Compass, Cambridge 301/302 Vario Nav. Sage vario and averager. Becker radio. New MH O2 bottle + regulator. Mini OZ FLARM, Oudie 2. Blue tinted canopy, Tail wheel, approved winglets. Wing and tailplane covers. Gelcoat refinished at various stages during lifetime. Enclosed Aluminium/steel frame dual axle trailer. Tow out gear. Pilot weight 68-96kg. Will sell with new Form 2. At Bacchus Marsh Vic. $45,000 negotiable. Contact Richard 0457366799 or email This email address is being protected from spambots. You need JavaScript enabled to view it.
MOTORGLIDERS
VH-GNM - LS4a TOP Motor Glider. 2,389 hrs 747 landings 71 hrs engine&prop.
Aircraft in Good Condition. MH portable EDS oxy. National 425 chute. Covers
Fuselage refinished with Prestic 2381 in 1989. Wings refinished with Ferro in 1990.
Aircraft always hangared. Private owner.
Enclosed Trailer. Tow out gear.
Contact Ron Brock This email address is being protected from spambots. You need JavaScript enabled to view it. $52,000 ONO
Registration VH-ZHX Distar Sundancer 13/15
2 seat motor glider, LSA approval by GFA, 6 years old, engine 90 hours, form 2 included, had a terrific time flying the morning glory with Ian McPhee September 2017, have to sell because of health reason, $115'000 ono Phone Heinz 0400347412 Email This email address is being protected from spambots. You need JavaScript enabled to view it.
VH-UIM Pilatus B4 PC11 AF, fully aerobatic, motorised.
Serial number 316.Manufactured 1978.
628 hours, 263 landings.
Motor, Konig SC 430G, 37 hours. Konig folding prop, 32 hours.
All logs and manuals. New custom open trailer.
$25,000. Can be viewed Melbourne.
John 0422897193
This email address is being protected from spambots. You need JavaScript enabled to view it.
VH-GVQ H36 Dimona
Complete airframe (No motor or prop) 2400hrs TT
Airframe requires complete refinishing with some fuselage sections already primed.
Canopy has minor cracking but serviceable
Undercarriage bow requires minor repair.
Airbrake torque tube AD completed on one wing.
All fuselage control rods removed, inspected and repainted.
Located Sydney Offers invited
Contact Col This email address is being protected from spambots. You need JavaScript enabled to view it.
VH-YBE ASH25 self launching Motor Glider
It's your choice, use a tug or launch yourself
25m and 26.5m options very good condition
3330 hours, 1300 landings Motor Rotax 505A 147 hours
Accessories and parts inc. Full set of Jaxida covers, solar panels on engine doors, spare engine with muffler and much more Anschau Trailer
Contact Dieter, preferred contact by email,
This email address is being protected from spambots. You need JavaScript enabled to view it. or phone 0428 860 160
INSTRUMENTS & EQUIPMENT

Avionics package: Becker Mode S transponder single block unit BXP 6401-1-
(01) plus wiring harness for connection to a ACK Technologies Model A-30.5
Altitude Digitiser plus installation and operational manuals for both units.
Total package in first rate condition having done less than 300 hrs since new.
Less than half price at Euro 2000 or near offer + freight or AUD$ equivalent
Contact This email address is being protected from spambots. You need JavaScript enabled to view it.
Wingtip Wheels
• 52mm ground clearance with aerodynamic profile to minimise drag
• Safer for wing-drops - reduced yaw from wingtip drag
• The housing is shaped at installation to suit any wing profile and attached with Sikaflex
• Tough wheels, sealed bearings and strong axles are easily replaced if needed.
• Supplied with comprehensive installation recommendations.
www.gliderwheels.net Email This email address is being protected from spambots. You need JavaScript enabled to view it. Phone: 61437377744