South Gippsland Gliding Club operates at Leongatha Aerodrome with a fleet of four gliders – two Twin Astir and two Astir CS. Our club is a VSA Accredited Youth Gliding club and we have a number of junior pilots. In the first two weeks of April we sent two of our junior members solo, both age 15.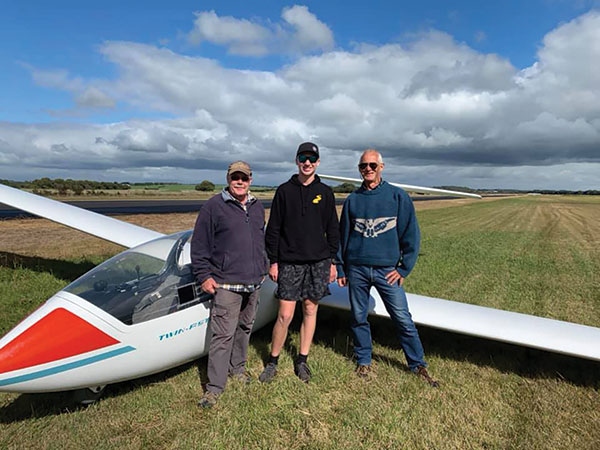 Hamish Scothern (centre) after first solo with instructors Kevin Owen and Ian Shadbolt.

James Spencer is from Leongatha South and Hamish Scothern comes from Wattle Bank.
We incorporated the use of our two seat simulator into their training during our wetter months, which aided in their progress. The simulator was built with funding assistance from VSA and technical assistance from Alby James of GCV.

Having keen young members gives the club a breath of fresh air and they are all very integral to our club. We have asked Hamish, James and Josiah, who is age 14, to put their experiences into words, below.
Hamish Scothern
"My name is Hamish and I am 15 years old. I am a recent scholarship holder at the South Gippsland Gliding Club, and I also sit on the club committee as the junior member. In this role, I represent the other junior members of the club by speaking on their behalf at meetings. I can't even begin to say how much I love and enjoy gliding. The fact that I am able to fly still blows my mind. Gliding makes me realise that I am able to do whatever I put my mind to, even if at first, I don't think I can.

"I have made many close mates within the club, both junior and senior members. I see my instructors as mentors both in flying and in life and I know that I could talk to them about anything I might need, not only in the air, but on the ground as well.

"There is always something to do at the hangar to help out, and everyone is so friendly and willing to teach and pass on their knowledge of how things are done. This sharing of knowledge enables us junior members to also teach others who might be new to gliding. The overall environment of the club is very welcoming and you always feel respected, seen and valued as a part of the whole 'team.' I always feel like I get so much from club days, not only regarding my flying skills and knowledge, but also from the time spent with all the people I meet and learn from."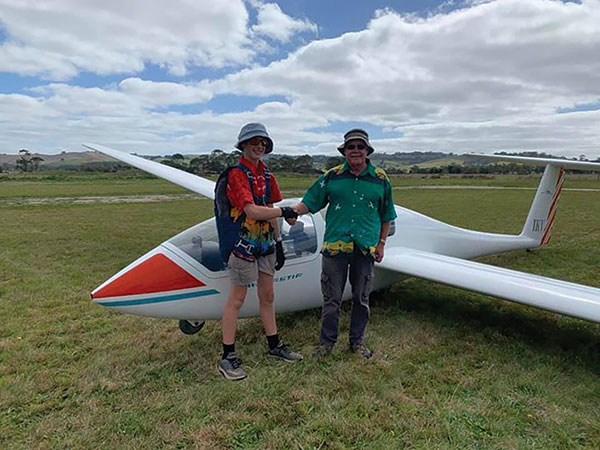 Instructor Kevin Owen congratulates James Spencer after his first solo.
James Spencer
"I'm James Spencer. I am 15 years old and a junior member in the South Gippsland Gliding Club. I have just completed my first solo flight and it was the biggest thrill. I have been training under great instructors, Kevin (Kiwi) Owen and Max Speedy. Currently I am working on my A certificate and have three out of the required five solo flights to go. One of my check flights must have the altimeter and airspeed covered up.

"I got into gliding after attending the Avalon Airshow in 2019 with my dad and grandad. I was lucky enough to get a ticket on an F/A 18F Super Hornet simulator. The instructor supervising the simulator trains fighter pilots. He advised that a great way to get into flying is to start with gliding. The club has built a simulator in the hangar. It is made out of an old K7 glider that the club once flew. After the club finished building the simulator, Hamish and myself started our training. Previously to the simulator, I had only started doing upper air work in the Twin Astir. The simulator helped me out immensely when we started flying again. I was doing most of the flying and some of the landings.

"My future ambitions include something related to flying such as the Air Force, agriculture, even aerobatic flights or competitions. There are many opportunities for my future. I want to buy an aeroplane one day, and tow gliders up, explore and go on holidays to places I've never been before. The coolest thing I have done in a glider so far would have to be a loop. I have always wanted to feel positive and negative g-force and when I did the loop, it was the best feeling when I got to experience it. Even after I have achieved my aeroplane licences, I would to still love to continue gliding as it was the start of my flying passion."
Josiah Wells
"I am Josiah Wells and I joined the South Gippsland Gliding Club this summer with my dad. I have enjoyed gliding from my first flight, because of the amazing view from Inverloch and Phillip Island to Wilson's Prom, as well as feeling in control of the glider. I have had 20 flights and logged just over six hours, and I am currently working towards being able to fly solo. The club is fantastic. It's great to hear the adults share stories and advice, and they're always so kind and willing to help you. I learn so much every day at the gliding club and during school I often find myself studying the cloud base. I would definitely recommend gliding to anyone who wants a fun challenge."