by Terry Cubley
PHOTOS: Gary Brasher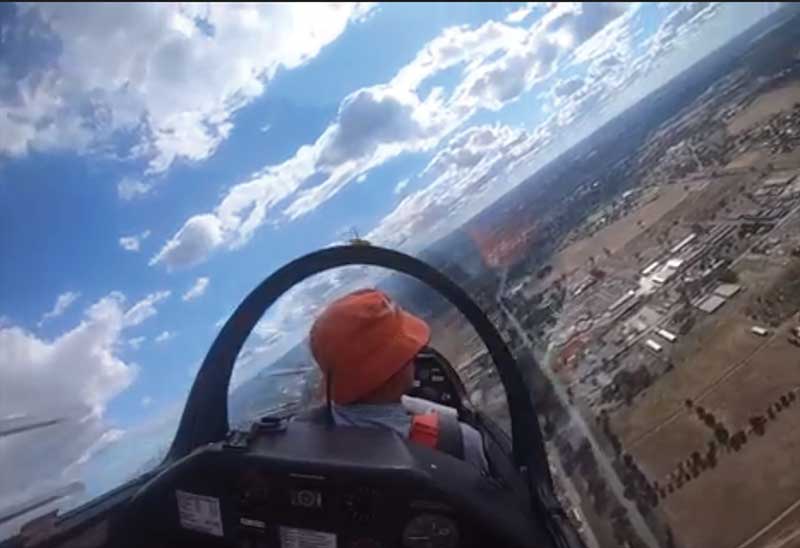 Barriers to the running of the Victorian State Championships have been numerous, with Covid restrictions and a La Niña Weather pattern predominant among them. Benalla offered both a State Championships and National Championships, back to back, though of course, the possibility of a National Championship continues to be a concern due to new Covid variants and the fact that some state governments are just not prepared to open their borders.
However, once Victoria's lockdowns were removed, there was no reason to limit the State Championships.
GCV formed a management group to run the event, with a brand new Championships Director Shaun Driscoll and a very experienced Safety Manager and weather/tasking and scoring group. The organisers decided to run the event as a Grand Prix style race, based on the Skyrace Formula 1 model. Nick Gilbert and his Skyrace team were happy to help and even managed to adjust the scoring details to accommodate the changes we needed.
The major changes were to ensure that all pilots had an opportunity to score points each day, with 1 point for starting, 1 point for finishing and 1 point for every competition that they won. The winner earned an extra bonus point. This meant that anyone who attended went home with points, and even those who outlanded were scored based on the distance flown. This approach worked quite well and the pilots quickly learned how to best manage their flights.

The Skyrace event has a series of trackers, one for each pilot, which provided details of their tasks and even calculated their score when they finished and automatically uploaded it to the scoring page – very simple.
We ended up with 27 aircraft flying for the week across three classes – Club, 15m/Std and Open/18m. This included five 2-seat gliders with two ASK21Mi, a Duo, a DG1000 and a Janus. Three pilots attended from NSW, including Joris Vainius from Lithuania.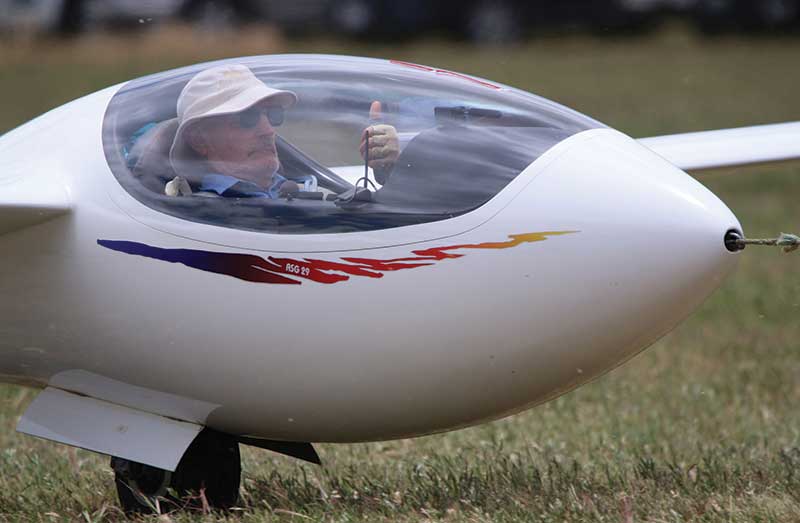 John Orton won Open/18m Class in his ASG29 18m.
Results
The competition was close at the top with John Orton in Open/18m hanging on to win by 1 point over Joris Vainius, and Geoff Brown 3rd. Similarly Matt Gage won Std/15m from Mike Durrant by 1 point with Daniel Summers 3rd. Club Class was a little more open, having been impacted by a few outlandings among some front runners, but Dave Meredith won with consistently high results, followed by Jack Hart 2nd and Grant Heaney 3rd.
Feedback indicated that the handicaps applied appeared to treat the different gliders fairly, meaning an equal opportunity for all. In this format, the task distance is adjusted based on the glider handicap, with high performing gliders turning at the set turnpoints within 500m, while the lower performance gliders could turn at a larger distance, up to 5 to 8km. One pilot was heard commenting that he had to overtake the ASK21 on each leg.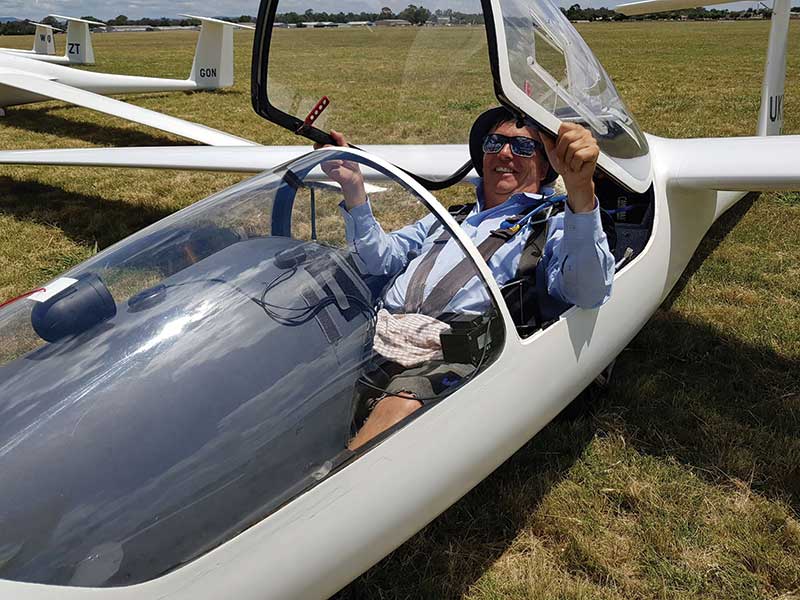 Grant Heaney took 3rd position in Club Class in his Jantar 2.
Benalla Weather
Benalla had a good opportunity for cu in December and, given the wet year in NSW, we had cu on every day.
We were impacted by a high pressure system to the east that forced strong southerly winds over the contest area. The standard expectation is that when we get southerly winds, hardly anyone goes flying. They had no choice in the comp and, despite the southerly on three of the set tasks, some good flights were had. Four tasks were set for each class, with distances of 140-300km for Club Class, 180km-370km for 15m Class, and 220-480km for Open/18m.
Getting Started
Benalla has three Pawnee towplanes, and a Callair was also brought in from Tocumwal Soaring Centre. The E-Tug was certainly the best performer, but the long runways at Benalla handled all tug/glider combinations, and launching was completed easily within an hour.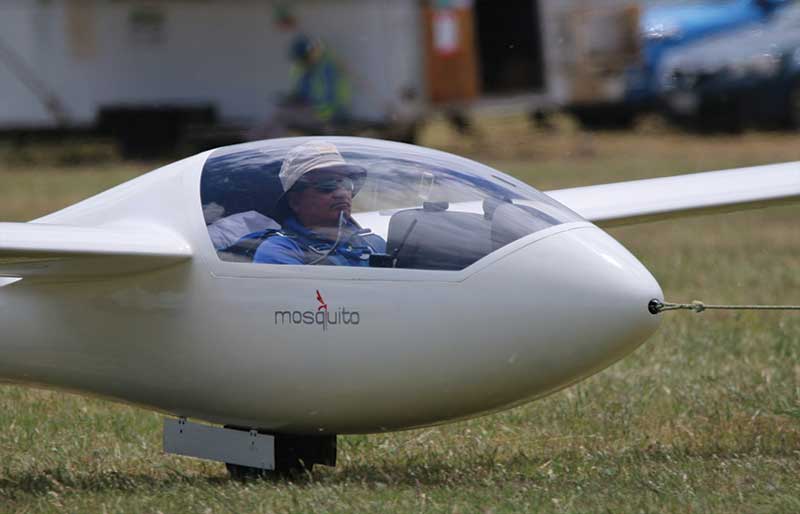 Jack Hart took 2nd place in Club Class flying his Mosquito.

The practice day on the Saturday looked rather poor, and the weather did not even achieve its mediocre promises. Many pilots had not experienced the Grand Prix format before, so a few practiced the start, but for most that was the end of their endeavour.

The Open/18m Class headed out on task with thermals up to 3,600ft (3,000ft AGL). They were able to practice gaggle flying in the 20kt southerly wind. The wind and the low altitude won the battle, with a few engines starting up, a couple of outlandings and a few limping home after one or two turnpoints. Kerrie Claffey won having covered 120km.
At the Start Gate
Cumulus at 5,000 to 6,000ft started as overcast but progressively broke up to a nice afternoon on Day 1.

The challenge with the Grand Prix start is that the time for starting is set by the CD. So even though you think that the weather will improve later on, when the start gate opens you must head out on task. This helps develop skills at low level thermalling and pushing on from 3,000ft, but it does completely remove the start games found at normal comps, where no one will start until the gun pilots start.
As some over-development appeared in certain areas early on, pilots had to work their way through the streets. The early gaggles separated and it was left to individual decisions. Heading south to the finish, a few different options emerged, and those making the right decisions were rewarded by 6 to 7kt climbs.

It was a great final glide as pilots converged and pushed to beat others home with only 10-30 seconds between finishers – that is, other than Joris who arrived home 10 minutes earlier than the opposition. The majority were pleased that the place scoring system meant that he was only 1 point better off than the next pilot, whether the time difference was 1 second or 10 minutes.
Steve Jinks in Club Class had a problem with his canopy clear vision on the practice day and did not fly. On Day 1 he missed an early thermal and ended up on the ground 35km north, having to watch the gaggles struggle away and head home while he waited for the trailer.

Grant Heaney won his first competition day in his first competition – a good start. Matt Gage had not been flying much, but flew a borrowed Discus into 1st place in 15m/Std class, just ahead of Mike Durrant.


Best Weather
Day 2 certainly brought the best weather for the comp, with 5-6kt climbs to 6,000ft. The irrigation country to the NW was a little softer but still worked quite well. 20kt SW winds made the trip home a little tricky, but we were helped by some nice cloud streets.

John Orton had the best flight in Open Class with 126kph. Mike Durrant took 1st place at 105kph in 15m/Std. Bernie Sizer just beat Jack Hart with 98kph. The result was many happy smiling faces.
Light Winds
Though not quite as good, there was little wind to worry about on Day 3, and cu to 5,500ft. First leg was to the northeast, but the edge of the cumulus field kept pilots well west of track until they were north of the Murray. The irrigation heading south then decreased the thermal strength, but a nice cloud street gave many gliders some good support.
John Orton and Geoff Brown were leading the way home in Open Class, but Joris followed the cloud street well south until he had enough for final glide and quietly cruised past John and Geoff in the past few kilometres, winning by 10 seconds.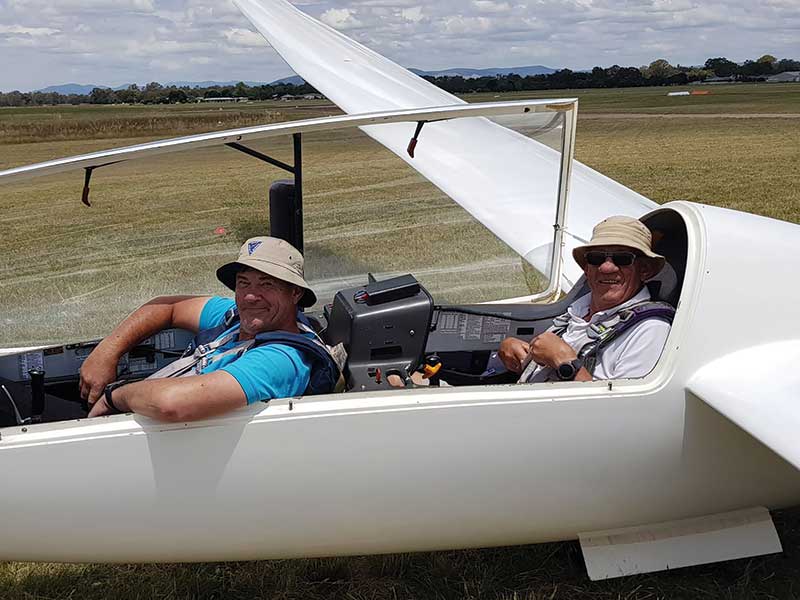 Father and son team Peter and Justin Gray flew a Duo Discus in 18m/Open Class.

Club Class were the first to start, when the weather was a little tricky. Bernie Sizer had a low start and headed off on track, only to find a paddock 7km on track – very disappointing at any time. Dave Meredith won the day, which helped his overall position.

Mike Durrant won 15m Class at 110kph, but three others landed out. Scorer Neil Campbell placed 3rd in his ASW24, achieving his best result.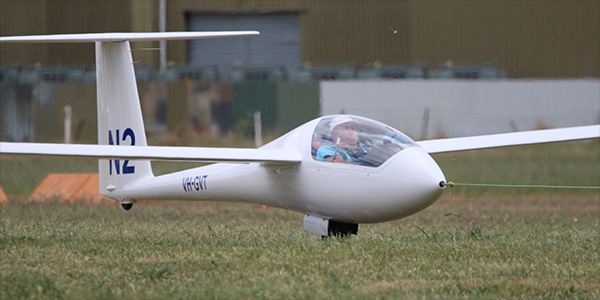 ABOVE: Terry Cubley flew in Open/18m Class in his Ventus 2CX 18m.
False Promise
The final Day 4 came with a really positive weather prediction of strong climbs, but was in the blue for half of the course – over the irrigation, of course.
Thermals in the blue were rather broken and weak, although a few pilots managed to pick some nice climbs. Heights achieved were 5,000ft south of the Murray, but once in the cu they quickly rose to 7,000ft and 5 to 6kts.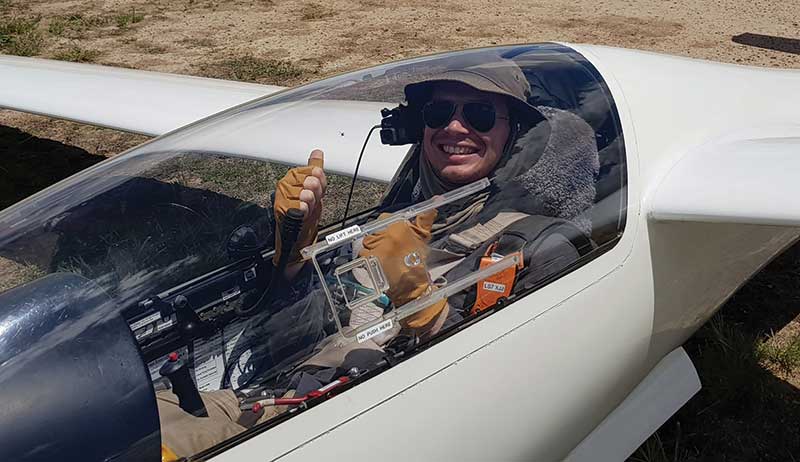 Ryan Driscoll flew in 15m/Standard Class.
Final results
Scores were tight going into the last day. In Open/18m Class, John Orton needed to win, which he did, receiving some help from Geoff Brown who came 2nd, moving Joris down to 3rd for the day. This broke the possible dead heat that would have resulted had Joris come home 2nd.

The situation was the same in 15m Class where Matt Gage won and Bruce Cowan sneaked into 2nd place due to a start penalty issued to Mike Durrant, meaning that Matt was 1st overall and Mike 2nd.
In Club Class, Dave Meredith also suffered a start height penalty of 61 seconds which lost him 1st place for the day, taken by Rolf Buelter and Hamid Nazari in the Janus, with Mark Goodley in 3rd. Jack Hart managed 5th for the day, leaving Dave Meredith in the lead overall.

A short pilots' meeting took place prior to the last day, which concluded that a majority of pilots viewed the format for the comp favourably, so we may well see this format again. The VSA President presented the main prizes for each placegetter, plus copious bottles of wine for the placegetters and many of the helpers. In addition, each champion received a prize of $500 from VSA.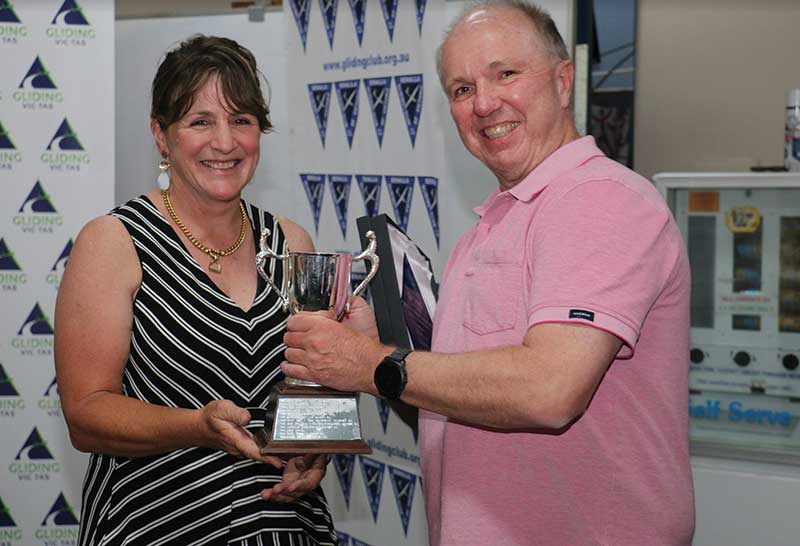 David Meredith receiving the Champions Cup for winning Club Class.
VSA State Championships - Benalla
5 - 11 December 2021
Club Class
1 David Jantar Standard 2
2 Jack Hart Mosquito
3 Grant Heaney Jantar Standard 2

Standard Class
1 Matt Gage Discus CS
2 Mike Durrant LS-8 15m
3 Daniel Summers LS-3
Open / 18m class
1 John Orton ASG-29 18m
2 Joris Vainius ASG-29 18m
3 Geoff Brown JS-1 18m

Full results and tracking replays at livegliding.com