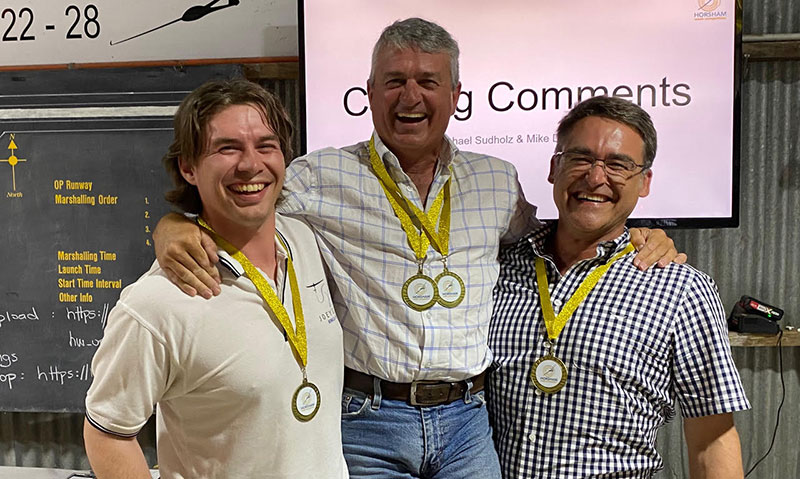 By Michael Hogan
The 57th Horsham Week was flown from 4 to 11 February, and while it may not be the longest running competition to take place consecutively in the one location, it can't be far off.
The event was well attended once again, with 31 entrants in three classes – Club, Standard/15 Meter and Open/18 Meter. Club Class was the largest of these with 16 entrants, with the remainder of the pilots evenly split between the other two classes.

Horsham Week takes place at the next level down from a National Competition, with a fun, relaxed atmosphere and achievable tasks. Mainly AATs are held for the Club competitors, but some racing tasks are included for the other classes.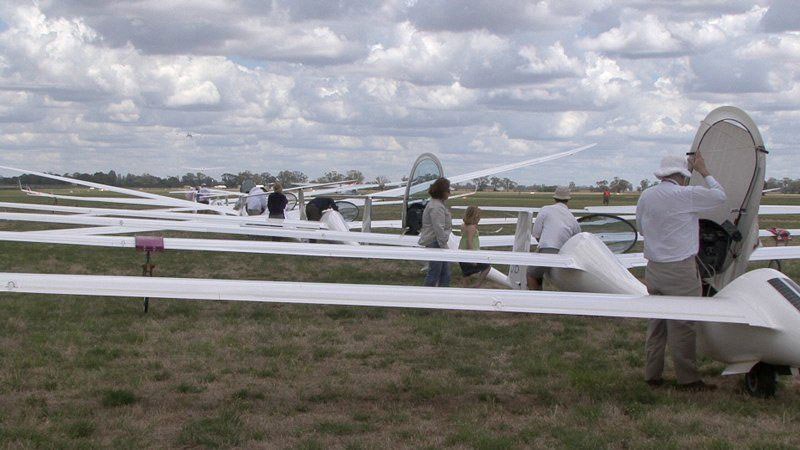 A Pilot's-Eye View
For those who have not been to Horsham, the L-shaped airfield is very flat and is surrounded by very flat paddocks. Planning for cable breaks, or a messed up final glide, presents no problems. As the Club has over 30 tow ropes, every competitor gets a rope and hooks up prior to launch, which means a very quick launch with less tired ground crew.
Everything about the competition seems to be familiar and no hassle. A strong emphasis is placed on safety and, should any indiscretion occur, competitors are spoken to in a constructive manner. But issues rarely happen, as pilots leave each briefing clear as to what is expected of them each day.

The weather was OK this year, but not spectacular – until the last day! The few days prior to the week were cold. People were reaching for more layers and finding out where the heating was in their accommodation. But the trend was for warming weather and we managed five competition days with only one day, the third day, cancelled on the grid.
Class Winners
The last day was spectacular with 10,000ft or higher cumulus. A clever task was set to make the best of the day and some fast speeds were achieved. Ryan Driscoll achieved an off the stick speed of 160 kph, but this was reduced to 145 kph after he came in 10 minutes under time.

Dominant pilots Ryan Hart in Open/18 Meter Class and Jack Hart in Club Class each won several days, and went on to win in their respective classes. However, the winner in Standard/15 Meter was not decided until the last day. Gordon Trollip led up until the last day but Neil Campbell, who had been there or thereabouts for most of the week, had a great last day to pip Gordon into second place.

Horsham Week remains a standout competition. Friendly, well organised and held each year at the same time, it opens each year on the first weekend in February. Do yourself a favour and mark it down in your calendar now.
57th Horsham Week
4 - 11 february 2023
Club Class
1 Jack Hart Bendigo Gliding Club ASW20B WL 4,260
2 David Meredith Geelong Gliding Club Jantar Std 2 4,031
3 Terry Cubley Gliding Club of Victoria Mosquito 4,030
OPEN/18M class
1 Ryan Driscoll Gliding Club Of Victoria Nimbus 3T 3,767
2 John Orton Gliding Club of Victoria ASG 29 18m 3,759
3 Ulrich Buelter Aero Club Emmerich LS 8T 18m 3,531
15M / STANDARD class
1 Neil Campbell Gliding Club of Victoria ASW 24 WL 3,570
2 Gordon Trollip Bendigo Gliding Club LS 6 3,472
3 Graham Adams Gliding Club of Victoria Ventus bT 3,291
Full results at soaringspot.com
bit.ly/3EGRD6v