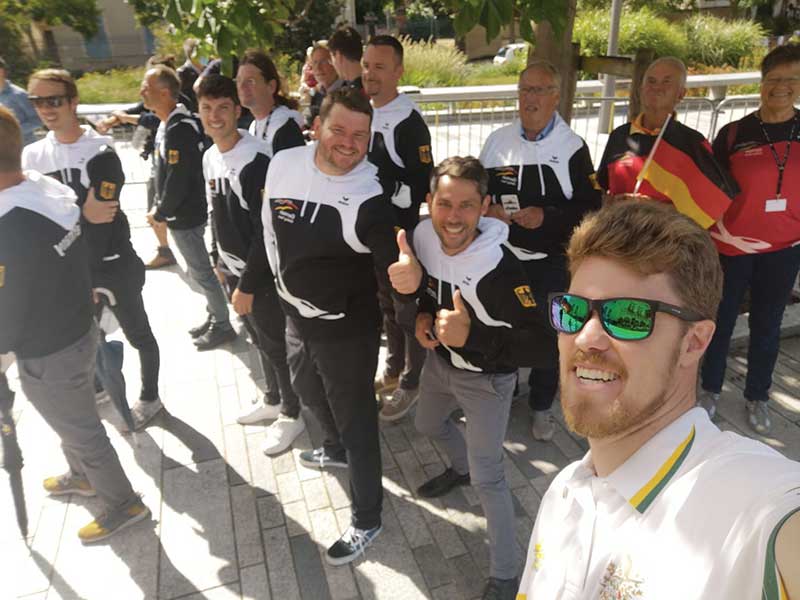 By Matthew Scutter
After a time when many national and international gliding championships were postponed or cancelled due to the COVID-19 pandemic, the 36th World Gliding Championships in Club, Standard and 15m Classes took place at Montluçon, France.
Overcoming difficulties at every turn, Matthew Scutter battled his way from Queensland to Europe and competed in the contest. Below is how the story unfolded in his own words and how the former Junior World Gliding Champion fought his way onto the World Championship podium in 15m Class.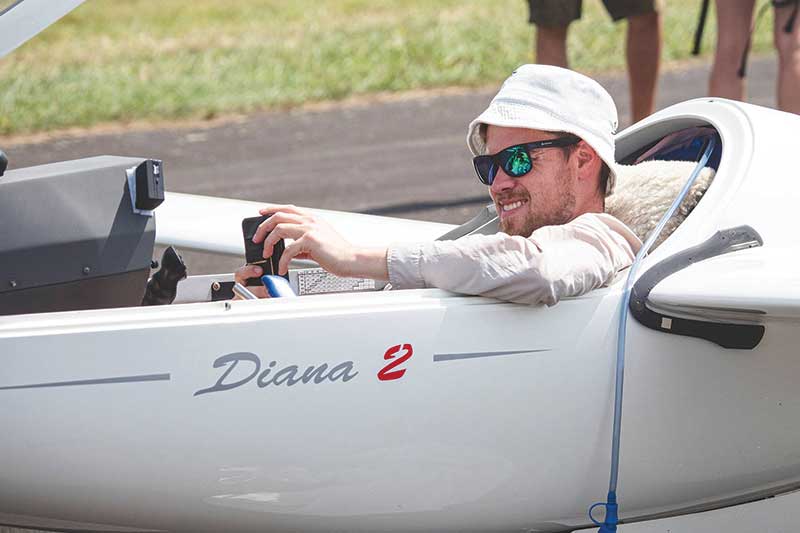 Bound for Europe
European pilots often complain about how expensive and challenging it is to get to Worlds in Australia, USA or South Africa, at which point I usually choose from a selection of novelty miniature violins to start playing, because Australians have to make that trip 9 years out of 10.
The difficulties of this trip to Montluçon began long ago and have affected everyone to varying degrees. Due to COVID, Australia closed its borders inbound and outbound, meaning I had to grovel to the government for permission to leave the country, and for an early vaccination. Thanks to the Gliding Federation of Australia for facilitating the references to make that happen!
The next challenge was to find flights that could get me to Europe without an extensive or expensive quarantine period. I needed to get to the UK to collect my camper van, head to Germany to pick up all my assorted gliding paraphernalia, then get into France to collect a glider and fly the championships.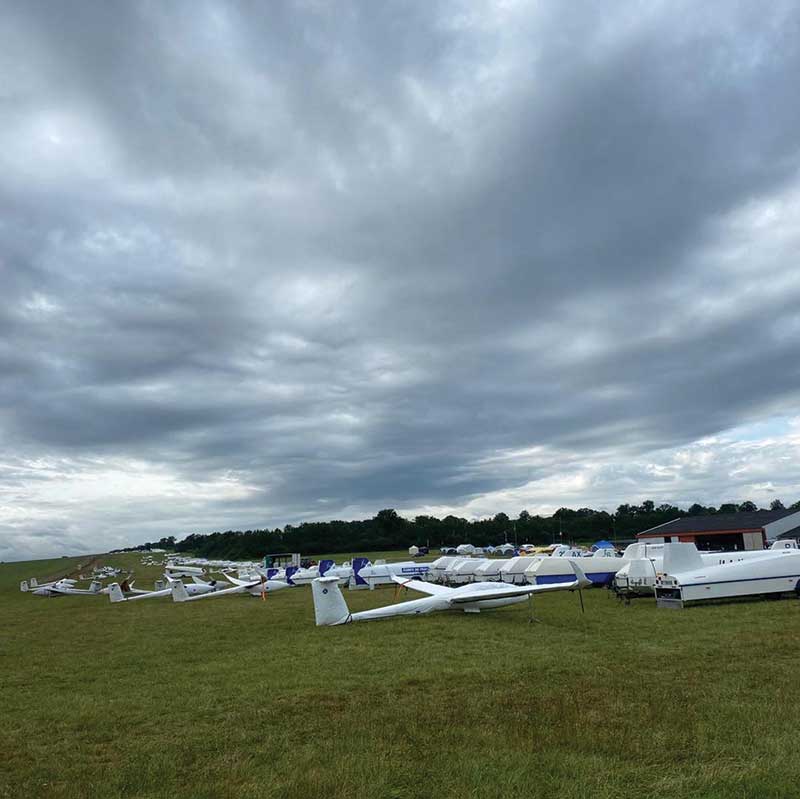 Plague Island
The UK was widely regarded as Plague Island by European countries at this point, so it was either not possible to enter other countries at all, or you needed proof of vaccination to enter. Most European countries do not recognise non EU-manufactured vaccines or would only recognise EU-injected vaccinations. The UK only recognizes UK-injected vaccines, which meant I needed to book a series of expensive PCR tests for Days 2 and 8 of my arrival into the country, despite my intention to transit onwards to France with my campervan in less than 12 hours.
That speedy transit was necessary to avoid upsetting continental countries that believed a UK stay of longer than 12 hours would make you an infected resident of Plague Island. Of course, all these requirements change every day, including whether you need PCR or lateral flow tests, done either yourself or in a lab, 24 or 48 or 72 hours before – although it takes 24 to 48 hours to get the test results back in any case. If you're lost by this point, you're beginning to understand the experience.
Where my plans started to rapidly go sideways was when my van catastrophically stopped on the M25 highway just short of Dover, leaving me standing in the weeds next to a public phone booth for 6 hours at 1am as the 12-hour window ticked down.
I figured it was better to move on to Germany and get a start on paperwork, and possibly buy a replacement van or even a car just to get me through the trip.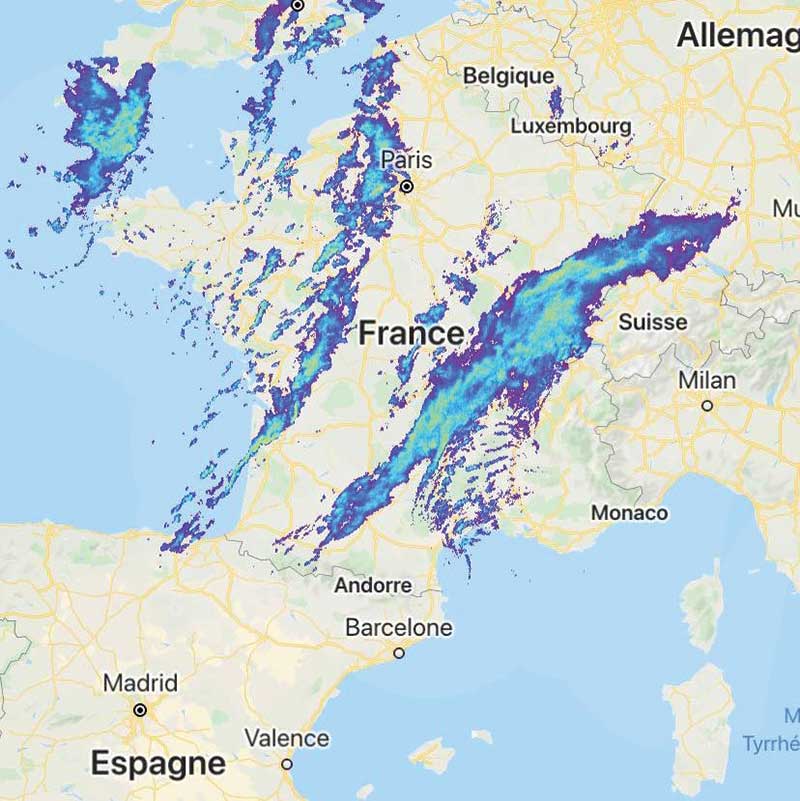 Paperwork
There is meant to be a process by which travellers to Europe can arrange to have their destination recognise their vaccine paperwork in advance and exchange it for a COVID passport, as it will be necessary very shortly to have this passport in order to enter most shops, restaurants and cultural institutions.
I now had to complete this paperwork for any onward travel. Germany was the lone standout on issuing the magic paperwork and through Sophie Curio's exhaustive calling of every pharmacy in North-Rhine Westfalia, we were able to find one that would issue the COVID passport allowing me onward travel with slightly less hassle.
If you'd missed the memo, the second most famous thing after German engineering is German bureaucracy, and it doesn't seem to be possible to buy, register and drive a car in Germany reliably in less than 10 days.
Running out of options, I had to lean on my friend Radek Krejčiřík once again - Radek had the misfortune to ask me to lend him my car once in Australia, and now I've hit him up twice for his in return. A quick zip over to the Czech Republic with my fresh-off-the-printer paperwork, collecting a lovely van and a 2,000km drive with a brief stop in Bonn to collect a few bare necessities and I was off to Paris to pick up an immaculate Diana-2 New Generation from the very helpful Olive Dianadeux, organized by Bolesław Kawik. After a couple more phone calls and texts around the globe and Jake Brattle kindly agreed to bring me a spare logger from Navboys, and a tent from Graham Garnett as replacement van accommodation.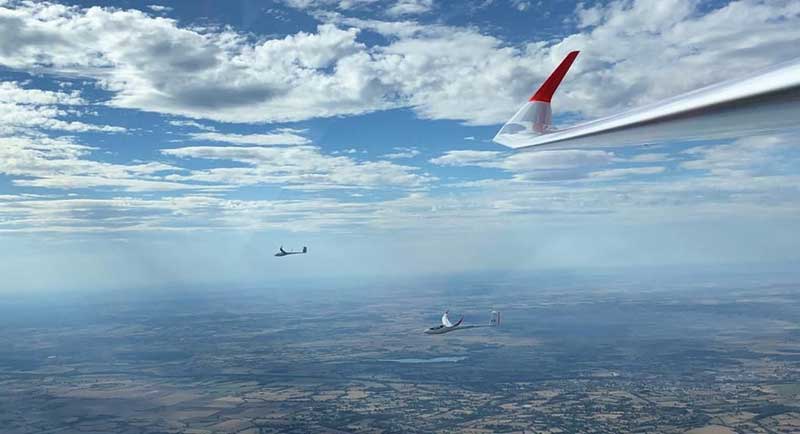 Wundercrew
It wasn't possible to bring a crew from Australia, so I'd put up a few blanket cries for help on various European soaring forums, and managed to find the effervescent Maciej Kukliński who agreed to come crew for me. Wundercrew (operational meteorologist/top pilot) Aude Untersee agreed to come as well organising maps, water canisters and a 4WD vehicle.
The British Gliding Team has functionally adopted me as one of their own (I am British after all, when it suits me), so I've been sneaking into their meetings and meals and borrowing everything from blankets to batteries in lieu of my usual boxes of bits in my van.
Borrowing a glider is always fraught – nothing quite behaves like it does on your own glider – so it was not entirely surprising that I had no ASI or variometer on the first flight and I needed some help from Łukasz Grabowski and Bolesław Kawik at AVIONIC in order to get flying again on the next day. Next up was the LX9000 flight computer, but some quick support from Toni Šibanc and Uroš Krašovic at LXNAV and we were back in the air. The bug wipers are the mountain not yet summited, but I hope to have them running before the end of the contest! Fortunately, the weather has been so bleak the last few weeks, even the bugs have forgotten how to fly.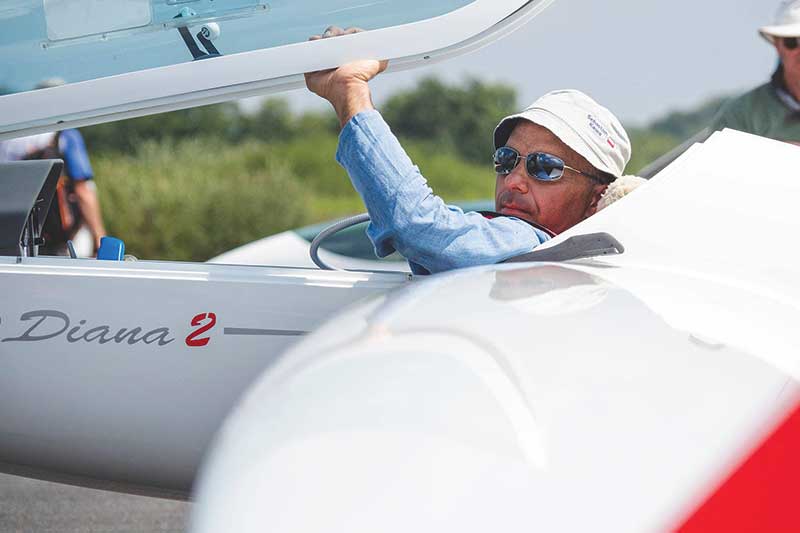 Gathering Courage
The inevitable paperwork problems popped up at registration. Fortunately Mandy Wilson and Terry Cubley were able to leap into action and send me some missing sheets of fluff. Aude Untersee and Olive Dianadeux helped tackle the next iteration of paperwork problems, securing the correct insurance for me to fly the glider.
COVID has affected various countries contests in assorted ways, so I'm likely not the only pilot in the World Championships flying the first contest they've flown in a year. I felt utterly unprepared mentally for the tactics that will be required or the complications that lie ahead. I kept myself going with a long term horizon of Narromine in 2023/24 and Uvalde, hoping that when we emerge from COVID, I'll still be current and flying at a high level again.
So, onward and upward. Acting as my own team captain with borrowed kit in a hostile weather environment was unlikely to lead to a good outcome, but I hope the long term investment is worth the pain.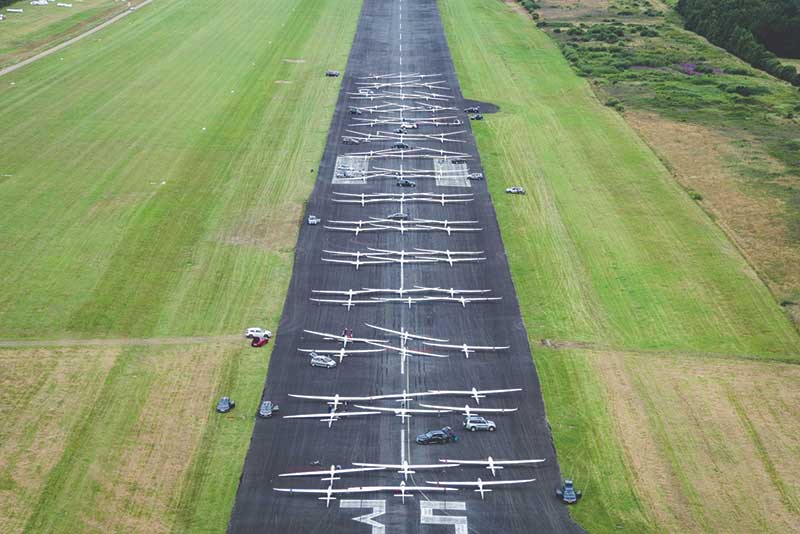 Delayed Start
After three full days of grid squatting, which included watching Club Class and Standard Class get fed into the mass-landout meat-grinder, yesterday it was the 15m Class' turn to grid first and face the relentless optimism of the organisation.
The sniffer was launched not once, but twice, landing back both times shortly after – but remarking that probably more gliders would find a thermal. Indeed, all 40 of us did find a thermal – the same thermal – and we waited there for the better part of an hour for convection to 'start'.
I was reasonably sure our 240km task was going to be unachievable off a 4pm start into 1.5kt blue thermals up to 3,000ft AGL, but I didn't dare go with the leading French gaggle, as I decided I'd rather risk outlanding at the end of the day than at the start.
I'd wanted to go with the middle gaggle, but when they left I was a few hundred feet too low – not usually a problem, but when you're starting at 2,000ft AGL, a few hundred feet is a lot.
I ended up starting almost last, fighting to jump forward to just one gaggle behind the leaders. Unfortunately, I was 15 minutes too late for the last thermal of the day, and had to do my first outlanding in years.
The end of the flight was actually beautiful, smooth and calm thermals, setting sun through the altocumulus, with the Diana 2 effortlessly outclimbing the gliders while at 30kg/sqm compared to the turbo JS3/V3. Unfortunately it was not enough.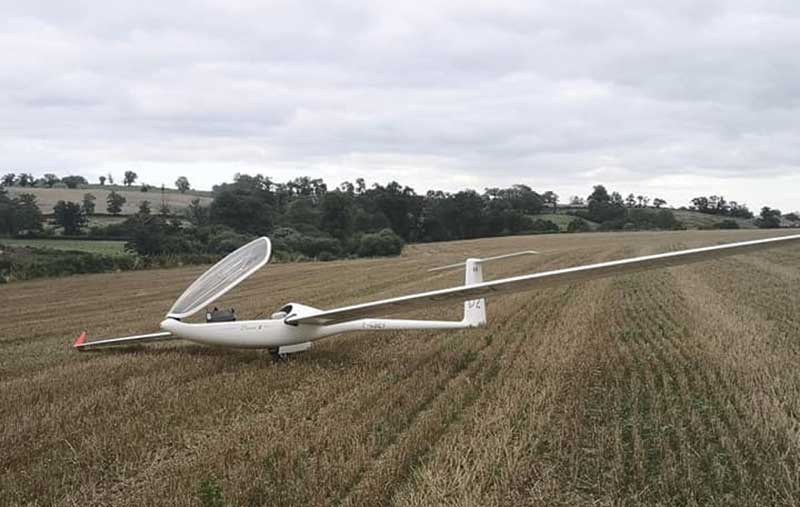 Getting to Know Diana
This day was a day of lows and lows. The weather was worse than the day before with 1 to 2kt blue thermals to 3,000ft AGL at best.
The wing loading range really is showing as the critical factor in this competition – those of us in Dianas are not afraid to play start games until late. We can climb much better in the end of day thermals than the turbo and jetted V3 and JS3s. Eventually, some of the heavy gliders seemed to panic start and the whole gaggle started moving, but it was too late – 80km from home the thermals dropped to 0.5kts and while we could eke towards home, the heavier gliders all either lit up or outlanded beneath us.
I finally climbed in 1kt to 3,000ft onto a 48:1 glide and crossed the finish line with 30ft, one of the only finishers with truly exceptional glide performance on this sailplane in still air. I really could not believe I'd shoot that glide.
Then the fun started. My undercarriage folded up beneath me on landing – had there been a heavy landing some time in the past that had been fixed? It seems there was more delamination hidden below the repair which had given way and the whole undercarriage packed up.
Through the heroic efforts of Jake Brattle, Tom Arscott, Jon Pring, with advice from Sebastian Kawa and Lukas Grabowski, we stayed up most of the night repairing the glider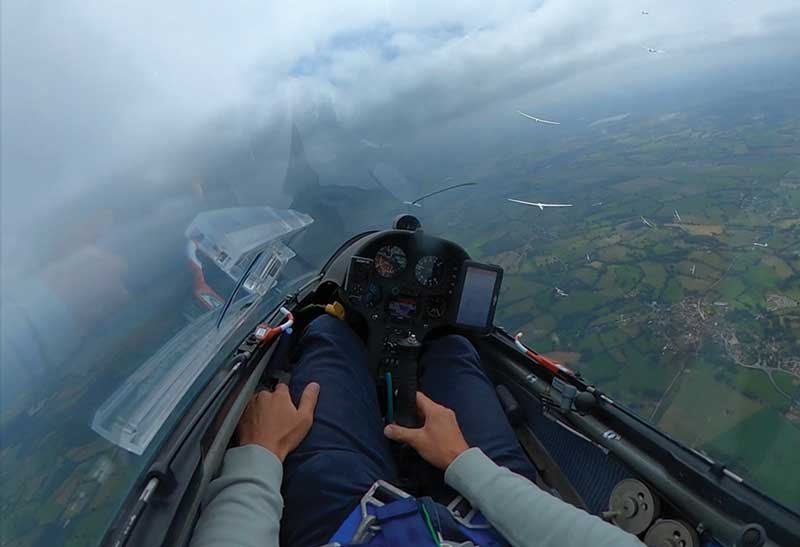 Dodging Disasters
The following day was cancelled after the start due to rain showers. The following day, after an overcast morning, we launched on a short AAT.
I'd had a bad night's sleep, my landing gear doors were still not closing completely, the visibility was terrible and the thermals narrow and bubbly. I didn't want to try anything special and wanted to find a small gaggle to zip around with. Not having a teammate is hard work so I have to improvise a team every day.
I hung around the start line and was surprised that everyone seemed to go very promptly. I thought it was just starting to improve, though I actually missed all the people I'd like to have started with and ended up going alone. But at the end of the first glide, out of the soup appeared the German team, so I was feeling pretty comfortable. At the end of the second glide we found the two Polish Diana's, Sebastian and Lukasz - we now had a dream team.
We raced along for 100km or so before the Polish pushed and the Germans took some more height, but I'd had a good glide and was a bit higher than everyone so I opted to push on with the Polish. It was really a masterclass watching Sebastian and Lukasz work and seeing the decisions they were making. I learned a lot by studying how the Polish team worked together in my first European comps back in 2013, and they demonstrated this again today.
The sky looked great for a long final glide and everyone was pushing hard for the end, but it just didn't deliver and I found myself with the French, Polish, Czechs and a few Club Class gliders milling around about 200m off the ground, just short of and below the finish line, which really spoilt the average speed but we groveled over the line for another good result.
The speeds and distances we're achieving here are incredible, without going much above 3,000ft and 2kts average climb.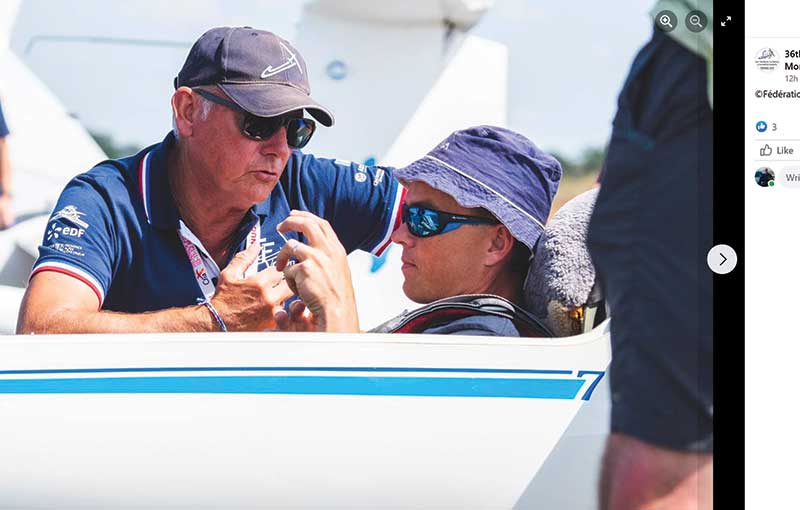 Weak Bubbles
Today's challenge was the discovery of active parachute drop zones that hadn't been in the airspace file just prior to launch, causing some very quick scrambling of paper maps and pens to avoid a potential disaster.
I initially had a problem that the LX9000 would switch off every time I used the bug wipers due to a low voltage cutout in the batteries. Lukasz had the same problem and offered to order me a new battery which I'd received and tested that day, and indeed the LX9000 no longer switched off. Instead the new batteries were so powerful that when I gave it a test run, it went 'ping ping' and both of my retrieve lines snapped. It was hot and I was busy preparing other things, so I opted to again fly without the wipers, as it hasn't been buggy enough to really justify the hassle just yet. That decision would cause a problem later.
Conditions were abysmal in our start area, as always at this start point it seems – rapidly bluing out and convection only to about 2,500ft above ground.
There were really only two good opportunities to start on top of a few weak bubbles. I missed the first and went with the second gaggle, which had most of the top 20 pilots in it. Like a meteorite crashing to earth, the gaggle slowly shed gliders out the sides until it was just the French and Polish left ahead of me.
Bugs
I felt they were pushing each other into higher and higher risk saves, so I broke away near the second turn, but I only made it 10km before I got rolled again, by now down to one Frenchman. At this point I heard on the radio that it was totally blue beyond final glide distance at Montlucon, and that it was going to be critical to be with gliders for the end, so I resolved to not try and break away again and to hold position so I'd have other gliders around for the blue crossing.
My wings at this point were blackened with bugs. It seems the light winds and moisture had brought out the plague. I had grossly misjudged the situation by not putting the wipers on. I was rapidly falling behind Max, Sebastian and Lukasz, and I was quite worried I would not reach whatever climb they found in the blue ahead. I decided to drop all my water to try and feel my way into a climb. Like magic, just after I dried out, I felt the tail of a thermal and sniffed my way into a solid 2.5kts.
The gliders ahead came back but had missed the bubble, so I had an extremely dicey glide home alone, topping up in 0.5kts a few times but still coming in below the finish height as I just could not string a glide together with the reduced performance of the dirty wings.
International Landout
After the race today was International Night – big party where you bring some food from your country – so, following tradition, the task was a mass landout.
It promised to be an easy day flying before the party and the tasks were set accordingly with ambitious racing tasks. After the sniffer struggled badly the tasks were revised down and we launched on a 280km flight at around 2pm.
The end of day was forecast to be at about 6pm, so I thought that with the good cumulus en route, a good start time would be about 3pm, which left very little margin for error. However, in general, I've found that if you leave margin for error, someone else won't and they'll get away with it.
Well, errors were made. I saw many pilots had already started so I didn't want to run too much risk and prepared for a slightly earlier departure, but I missed the right cycles and couldn't get up when I wanted to. I managed to start with a couple of other good pilots and had a fast run out relative to the pilots who'd left much earlier while conditions were still developing. Then I had a bit of a scare when an exuberant thermal join tried to cut me in half, which made me lose focus for a bit and fall off the bottom of the gaggle and nearly drive it into the ground.
From Self-Pity into Rage
After a low save, the self-pity had festered into a rage and I had a nice couple of hours of clear focus which let me catch up to the front of the gaggle again, just as the rest of the gaggle appeared to make a big mistake – heading 90 degrees off track down a street looking for a climb to cross a hole, while I decided to stay in the 1m/s they had discarded and cross sooner.
In retrospect, I guess the gaggle had done that because they'd heard from their other classes or ground stations that conditions ahead had deteriorated faster than expected, as some stratocumulous had moved in from the south and shaded the airfield and it was rapidly become very difficult to get home at all. I didn't know that, so I pushed off aggressively and was now by myself and heading into conditions that rapidly grew more challenging.
Unable to feel out the good climbs under the massive cu's, I dropped all my water for a few low saves and ended up getting very close to the airfield. The finish ring height is about 350m above ground, and I parked in lift about 2km from the finish ring at 200m above ground, under total overcast with 20kts of headwind. I couldn't figure out why this thermal didn't go above 250m or so, nor why it didn't seem to drift downwind when I circled, requiring aggressive recentring upwind on every turn.
Rolling Topography
Eventually it clicked. This isn't a thermal – I'm on the ridge. The topography near the airfield is rolling, and in the strong wind this location was making a bit of ridge lift. Unable to go anywhere with this height, and unsure if the field I could see just ahead inside the ring was really safe, I pushed forward until I got that tingly feeling in my toes before an accident. Then I went back to outland in a little postage stamp of a field I'd been keeping my eye on near the 'ridge' - easily the shortest and most difficult outlanding I've ever had to do. Although probably not abnormal by European standards, I'm used to Australia's 2,500m fields, not 250m fields.
The length wasn't the problem so much as the turbulence, which made it necessary to maintain 120kph until near the ground and made it float a long way. But I got it to stop 10m before the end with only airbrakes and moderate wheel brake.
The next few days of weather looked predictably chaotic, and while my position overall was still very strong, about seven of the pilots could easily have taken any of the three medals with a small swing of luck – something this place was delivering in spades. Yesterday, pilots climbed in a miraculous 2m/s at almost the same time as I took my last 0.3m/s, and some other pilots found a mysterious 'convergence' which they floated along to get home.
At the rate of only 35% of pilots in my class completing the task on any given day, anything could happen here. Survival is critical and defensive flying is impossible.
Strange Weather
This was one of the strangest days flying I've ever had – 8/8ths overcast of stratus/cumulus/spread out all merging and swirling. The airmass was cold and unstable, so just a ray of sun would kick off a few knots, but the wind was oppressive, totally chopping everything up.
I don't know whether the wing had too much polish or the thermal phase was out of resonance with the wing or the tanks were full of heavy water, but I just could not manage to string a climb and glide together for the first half of the flight. I started in a good position, a safe compromise between the day 'cooking' and the potential shutdown, but I totally lost the gaggle and only caught up to them again 10km before the last turn – except they'd already been around it and I hadn't.
The day was really shutting down so I took a weak climb all the way to the top of convection and set off on a marginal glide, and scraped it in with just a little top up. I was shocked to see that the gaggle had not made it and the airfield was quiet, except for a couple including Sebastian who seems to have had a blinder of a day. It seems the gaggle fell off glide and got themselves in a bigger and bigger hole trying to climb back on it, but the incredible glide of this Diana was just enough to shoot it direct.
Last Chance
The final day of a contest is usually too hard to make points on, as everyone is covering someone, so when I saw an opportunity to do something quite different today on the penultimate task, I thought it was worth trying. There was a megastreet that nearly joined up between two AAT circles, but it was a long way off track in and out. The alternative involved flying the isolated cu and looked trickier although a lot more direct. I went for the megastreet and I'm pretty sure I was the only one to use it both ways, but it was a bit disappointing and tricky to find the cores by myself. I still had a respectable speed but I was coming into Montlucon alone which is always a high risk activity, with my class still averaging only a 35% task completion rate.
Despite just being 10 minutes behind the gaggle, I got a bad phase of the spreadout and was looking at a sky that was too bleak to try and pick up glide along. I was only 300ft below glide but instead, I opted to go deeper into the last circle, now 1,000ft below glide, where there were still good cu to pick up a climb onto glide with.
What I didn't understand was that I was flying into a different airmass, with a much lower cloudbase only 600m above ground, with very soft and narrow climbs. After an extended period of circling lower, I finally gave it away and parked it. The sun did eventually come out again through the spreadout and the cu cycled to a bit more definition, so I think it was possible but just not at the time I tried.
Pictured: KH clouds on the horizon.
Phew, It's Over
I was mentally and physically shattered after the last four weeks. It was by far the most difficult contest I've ever flown in, with strenuous conditions both on the ground and in the air. The organisation had no shortage of enthusiasm or optimism and were very friendly and helpful, but they were short about 30 ground crew and most of the typical facilities you might be used to like wifi, running water or tow ropes were missing or limited due to COVID.
The flying involved more circling than cruising with my average climbs for the contest being less than 2kts. I haven't updated the numbers but I believe in my class some 70% of pilots outlanded - every day. I have calluses on my feet from the rudder pedals (I have to fly barefoot to fit inside) and at the very end I couldn't even turn left properly because of shoulder strain.
The last day came not with a bang but a whimper. Convection was only to 1,500ft AGL at launch time but we went anyway and I was glad for it. With 50 points to third and 200 to first, I did not intend to finish in 4th place again and I was content to lose the top ten if required.
As has been proven thoroughly by this competition, the pure Diana 2 excels in extreme weak conditions, and yesterday was to be no exception. We grovelled to the start line, still not climbing above 1,500ft AGL with many of our class not able to dump below 48kg/sqm. I held onto most of my water hoping for conditions to improve. I started about at 1,200ft AGL and hobbled with the gaggle down the first leg.
After almost falling out the bottom of the gaggle, I changed strategy and dropped my water completely, which quickly let me float to the top of the gaggle. Now on top, I could turn tightly and managed to climb in 2kts to over 1,000ft above the gaggle. I figured this was my big chance. Maybe I could catch the back of the Club Class gaggle ahead from here and leave the heavy 15m Class gaggle fighting over scraps behind.
Flying Alone
I ended up flying alone for the entire day, with Sebastian and Lukasz a few km behind joining my climbs as I left them. It did improve slightly, up to 2,500ft AGL but it was still a very high-risk strategy to push out ahead alone, but if I waited for more gliders I would be potentially resigned to 4th.
Getting back to Montlucon has been the story of the contest – the terrain rises, the finish height is 1,000ft above the airfield, the last 30km is largely unlandable and the thermals always weaken dramatically in the vicinity of the airfield. I had almost got myself onto glide about 30km out, just a few hundred feet below, and with some wisps ahead I set off hoping to either make it up or climb again to make a clean finish.
I found only bad air in the last 20km and had to commit to landing in a field I'd scouted from the ground previously, one of the only options in the area and just inside the finish ring. However, with the finish height so high, being inside the ring doesn't matter as the penalty points dwarf the speed points, so it was just for the fact it was a 'good' field that I chose it.
I was lucky enough to remain in third place even though some managed to complete the task. I hope I gave Sebastien and Lukasz just a little scare.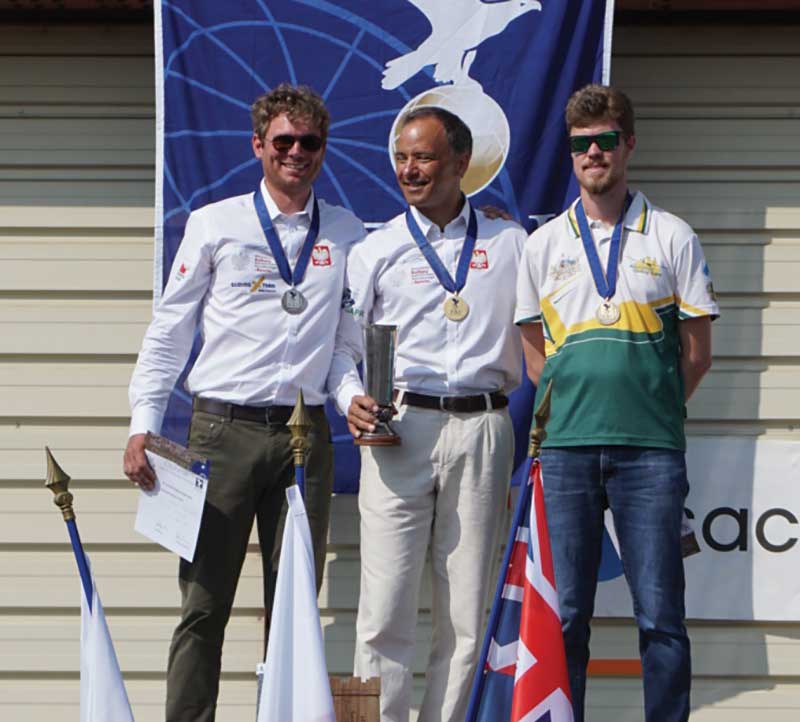 Real Glider Contest
Many pilots chose to bring motorgliders after seeing the outlanding options last year. I tried to secure an FES glider for this year again, but in the end it was usually only the motorglider pilots who had to start their engines. Those of us who could push a little lower and climb lighter avoided most of the outlandings, but those that we did have to suffer were harder than I've ever had to execute before. I think it's the first 'real glider' contest in many years, where having a motor glider put you at a distinct disadvantage.
Well, I made it. Through a strategy that was not so different from smashing my head against a brick wall for four months, at least in terms of cost and ongoing brain damage, I managed to get vaccinated, obtain permission to leave Australia and get flights, glider, car, another car, crew and everything else organised to compete as the only Australian at the World Gliding Championships in Montlucon, France.
Getting back to Australia will be a later problem. I don't know yet when and if I will be allowed back into Australia. I will scream if one more European asks me, "Why can't you just fly back? Aren't you a citizen?"
36th World Gliding Championships Montluçon-Guéret - France 2021
15 Metre Class
1 - Sebastian Kawa POL Diana 2 4,470
2 - Lukasz Grabowski POL Diana 2 4,286
3 - Matthew Scutter AUS Diana 2 4,220
Full Results at
soaringspot.com/en_gb/wgc2021-club-std-15m-montlucon-gueret-2021/