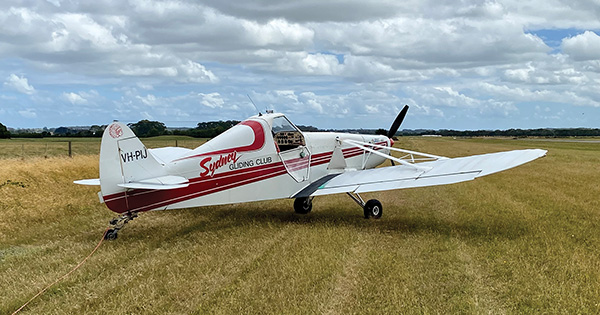 By Michael Shirley E Tug
VH-PIJ and VH-CUR, modified with Northwest Aviation PSRUs and GM V8 engines, operated by Gliding Club of Victoria
The Wright Brothers used a simple piston engine driving a propeller to power their aeroplane – the propeller speed matched the engine speed. Early aviation engines were designed to run at a speed of about 2,000rpm, which matched well with efficient propeller speeds. Jet engines apart, this system has been used for the 118 years since the Wright Brothers. For the specific purpose of glider towing, eTug uses an automotive piston engine instead of an aviation engine to benefit from the higher efficiency and lower cost of automotive engines for that application. But automotive engines run most efficiently at about 4,000rpm, so a propeller speed reduction unit (PSRU) is needed, something relatively new to the design of aeroplanes.
History of the development of the PSRU
Nevertheless, the eTug PSRU has a 40+ year history, from a former Boeing engineer's original design, to its incorporation into Piper PA25 Pawnees in Australia. The use of a toothed belt reduced the experimental testing time by removing the potentially destructive force of crankshaft vibrations that produced harmonics in the system and the propeller. This facilitated its application to a number of combinations of engines and propellers.
Blanton – an aviation trailblazer
Dave Blanton, the PSRU's original designer, was an early member of the Experimental Aircraft Association (EAA) – creators of the famed Air Venture Oshkosh annual event – and variously Director, Vice-President and President of the National Association of Sport Aircraft Designers in the 1970s and 1980s, alongside such legends as Burt Rutan. At Javelin, he designed the Wichawk biplane (Lycoming-powered) as a project for homebuilders. Many were built, and a number of them are still flying today, 50 years on.
In the late 1970s Blanton did serious, lengthy work on testing and refining a 4-cylinder Ford Pinto engine as an aircraft power plant. This power plant carried the first model of the belted PSRU now used in eTugs. In industrial applications, the toothed belts he chose had a demonstrated life of 8,000 hours. Fitted to his first PSRU, which he rated at 360hp, he was on a safe path.
Why auto engines?
Auto engines are liquid cooled, maintaining an ideal operating temperature irrespective of power settings. Therefore, their descent speeds are not limited by the need to keep the engine warm, as conventional air-cooled engines require. They are made in the millions, at one sixth the cost of aviation engines.
Ford V-6 power increases
The development of this Ford conversion culminated in Blanton's Ford V-6 STOL project, a Ford V-6 conversion carrying a refined and updated version of the original belted PSRU. It was reported in EAA Sport Aviation magazine that in ten years of Blanton's rigorous testing, the PSRU operated impeccably. Offered to home builders, the V-6 STOL conversion was fitted to many projects, as widely different as a stretched Piper Tri-Pacer, a Starduster biplane and a Rutan-designed twin-engined Defiant (fore-and-aft engine placement). Indeed, the Blanton Javelin V-6 was installed in Australia's AutoTug at Tocumwal (a project sponsored by GFA), the local precursor of the eTug project. In the US, Blanton had applied to the FAA for approval of the Javelin V-6 STOL project, and had gained acceptance for experimental and home-build applications. Many of the Blanton-engined projects are still flying.
Northwest Aero Products
When Blanton turned his interests to other aviation endeavours, the PSRU project was sold to John Lindgren of Northwest Aero Products in Seattle, who continued to develop and refine it. As the Northwest Aero Products PSRU, it continued to be available to project builders into the early 2000s. Lindgren subsequently sold to Steve Brown at Eagle Precision. Brown had been the manufacturer for Lindgren of many of the Northwest Aero PSRU components, and he maintained continuity of supply and parts until ill health forced his retirement.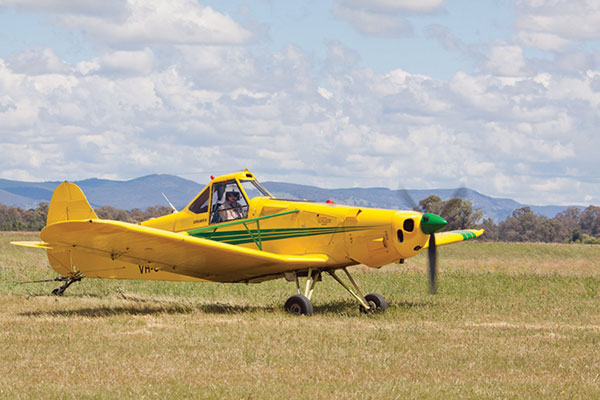 Autotug
Six GFA members, including Dave Sharples and Mike Burns, formed a company named Autotug Pty Ltd in about 1989. GFA funded a conversion of Kingaroy's VH-CTA to the Ford V6 and PSRU imported from Blanton's company. This became known as the Ford Javelin engine. Conversion work was done by Mike Burns at Tocumwal. It first flew on 11 December 1992.
In about May 1994, the GFA funding stopped and the aircraft moved to Kingaroy Soaring Club. Initially, it was grounded for 14 months waiting for CASA to permit the experiment to continue. Kingaroy Club funded the continuing research. Further development of the engine induction system was made by Dave Sharples, increasing power output to 200hp.
However, to produce this power, the engine had to run at 5,000rpms at about 800 hours, when problems with erosion and lack of parts brought the experiment to a close. The engine and PSRU are on display at the Gliding Museum, Tocumwal. Autotug Pty Ltd was wound up on 3 September 2002. The support from the Kingaroy Club enabled them to prove the concept of successfully using an auto engine for glider towing.
eTug
By 2006, eTug Pty Ltd had bought 11 PSRUs, three from Northwest Aero, then eight from Steve Brown's company for installation in prospective eTug conversions in Australia. When Steve Brown announced his retirement, eTug bought the design and manufacturing rights from him, and are now the owner of the eTug PSRU that had started life with Blanton over 40 years before. We have made one modification to the design, which will be incorporated in all our current stock, and in the drawings for future manufacture.
More power
For eTug, observation of what had gone before pointed clearly to the use of a larger capacity engine, running at the lower speed of 4,200rpm. A GM V8 LS1 engine was chosen, developing about 300hp at that setting, and weighing less than a Lycoming O-540. The propeller pitch was set to limit the engine speed. GM had made 30+ million of this engine type, which had already achieved a reputation as one of the most reliable automotive engines ever made.
Because eTugs were hopefully to be taken up by clubs around Australia, enabling service by the local Holden mechanic was essential, so a stock standard engine was used. A three-blade propeller made by Rob Patroney produced a static thrust of 468kgs, an increase of 58% over a standard PA25-235. This increase in thrust provides very rapid glider acceleration, making wing-drops unlikely. A considerably increased climb rate is also an advantage, but the eTug shines with a descent rate of 2,500' per minute, enabling eTug to deliver a 3-minute tow to 2,000ft, repeatedly.
First eTug flight
The first conversion – that of VH-CUR – was undertaken by Ian Watson, Watson Aviation, Bundaberg Airport. Destructive tests were performed on the engine frame by Alan Kerr, Aeronautical Engineer. CUR first flew at Bundaberg on 14 June 2006 in the Experimental Category, certified by CASA delegate Stephen Dines. Considerable test flying was conducted at Kingaroy Soaring Club. The aircraft was delivered to Lake Keepit Soaring Club in November 2007.
CUR was mysteriously damaged there and taken to Scone in June 2008, repaired and then flown by Ian Barraclough to Benalla in May 2009. CUR has now flown 1,300 hours, and has recently been CASA-re-certified and issued a Special Certificate of Airworthiness in the Limited category for the special purpose of glider towing. It has launched approximately 16,000 gliders.
Advantages to gliding clubs
the list of benefits of eTug to gliding clubs calls for serious consideration. Its engine replacement or overhaul cost is one-sixth that of a Lycoming, and it consumes one-third less fuel using unleaded petrol. It delivers a static thrust 58% higher than a Lycoming 235 and a launch rate that is nearly double, getting many more pilots into the air quickly once thermals have started.