After spending 2020 in Melbourne and 2021 in Sydney, I was very keen to get out for some fresh air and sunshine. The Narromine Cup seemed like the perfect opportunity, however, eagerness turned to despair as rain set in across NSW.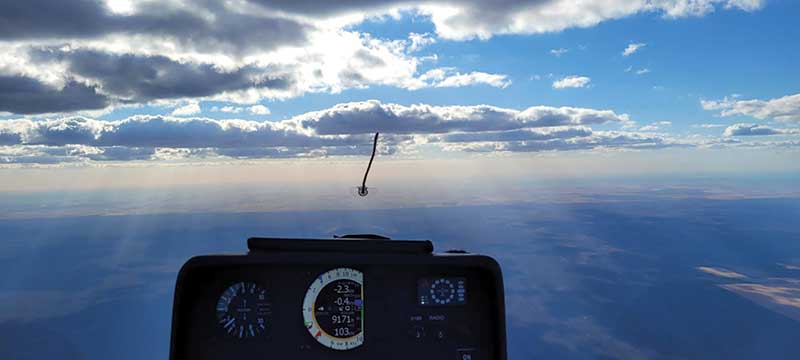 By James Nugent
Fortunately, a solid SkySight forecast for Victoria and a bit of rearranging had me heading to my hometown of Mildura instead.
Stepping off the Qantaslink flight at Mildura at noon on Sunday, towering cumulus filled the sky. Since Mildura often sees dry conditions and late starts, this was exciting – probably something to thank La Niña for.
The Week's Weather
After a quick local currency flight on Sunday afternoon, it was time to figure out the week's weather. A bit of moisture, some instability and moderate temperatures looked to be giving rise to some mid-level but long cumulus days across most of western Victoria.

Monday looked like a very solid 9,000ft cumulus day, with some areas of blue. Tuesday was to be slightly hotter and higher, while things would fall apart on Wednesday. I decided to use Monday to attempt a proper 750km FAI triangle while preparing – and hopefully saving some energy – for a possible 1,000km FAI on Tuesday.

Sunraysia Gliding Club, situated south-west of Mildura on an old RAAF relief landing ground, uses a 6.1 litre V8-powered winch for all launching. While perfect for training, it can be a challenge getting up and out of Sunraysia, especially when flying ballasted.

Having made the mistake of winch launching too early one too many times, I decided to wait until almost 11.30 and use some raw speed to achieve the planned distances. As soon as the nearby cumulus started to solidify and the passing thermals finally felt like they had some power, it was off with the covers and away I went.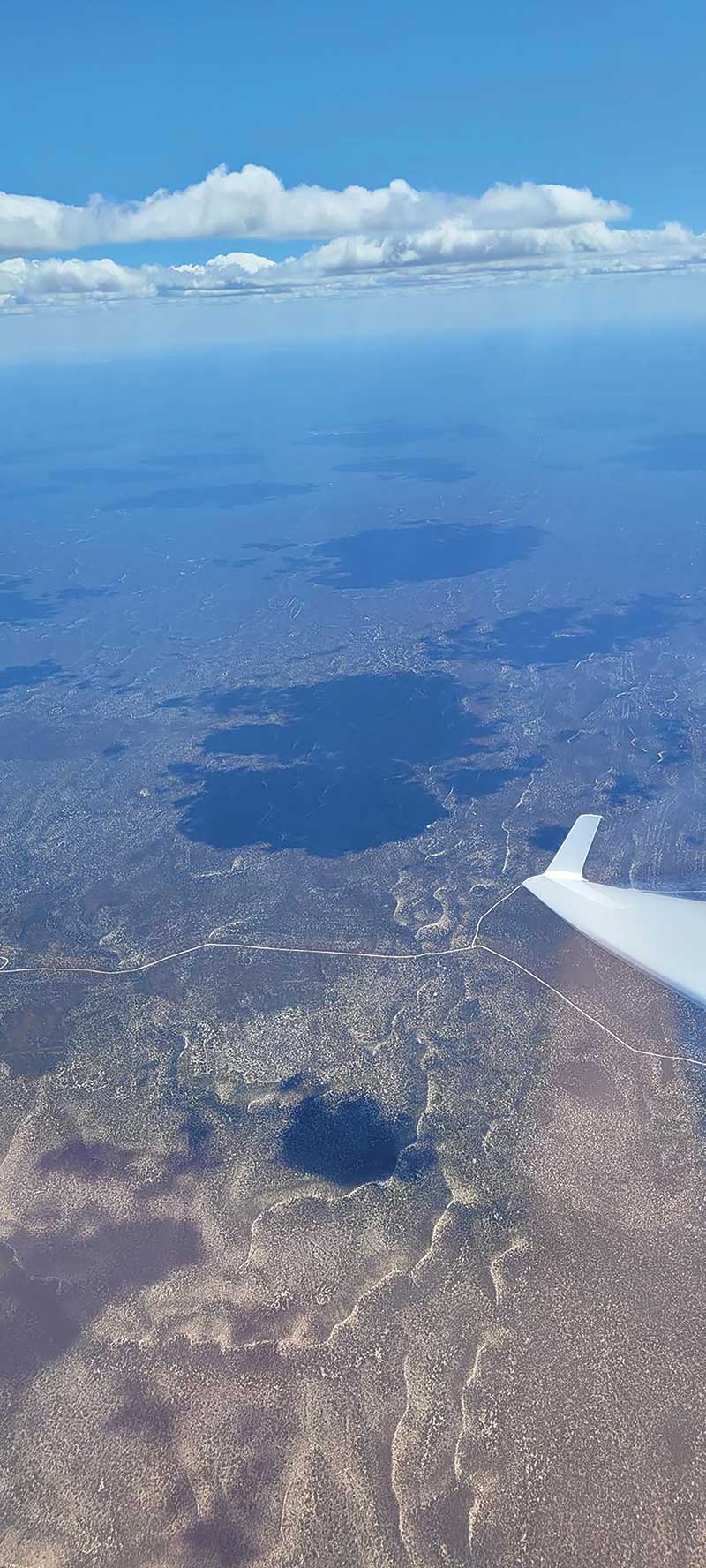 Crossing the Murray
Winch launching off RWY04 at Sunraysia drops you over some well irrigated vineyards and estates. Eager to not further irrigate them with my ballast, I turned west and positioned over the local trigger points, finding 2kts without trouble. Climbing through 3,500ft, I left the climb to start the task over the airfield, anticipating an arrival of the required 1,000m below. It was then time to set course for Kerang, 240km to the south-east.
The first 40km of track out of Mildura is cultivated paddocks, which provides a nice run-up before crossing the Murray River and associated scrubland near Wemen. Fortunately, I was able to find a series of solid climbs stepping up to 7,000ft, which allowed me to track direct and eventually spill out to the open farmland near Annuello, where the cumulus ahead was starting to look fantastic.

The flaps were set to full negative and cruise speeds lifted as I barrelled for several good-looking lines of energy. Passing the old Swan Hill Gliding Club at Nyah West, I turned slightly east of track to run the better-looking clouds over the Murray River plains, leading to a track directly over Lake Boga, Lake Charm and the various other lakes all the way into Kerang.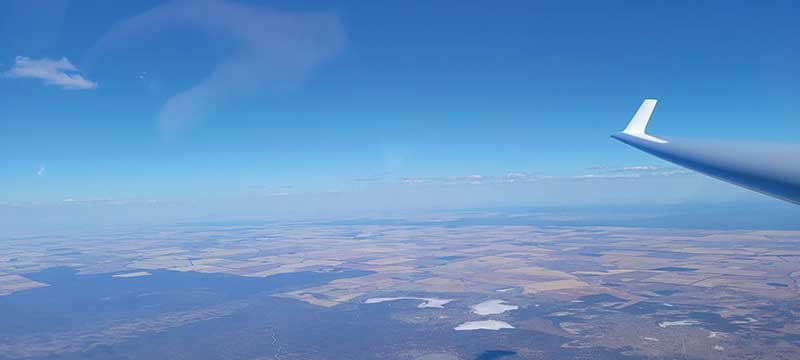 Soft Sky
While making this track, bugs accumulated on the leading edges faster than I had ever seen. This was a problem for the LS3's Wortmann airfoil - especially when there was still a long way to fly! Fortunately, the onslaught stopped as I left the lakes and the river behind.

Scurrying out of Kerang, the sky looked soft and the clouds less defined. With the weaker sky came gustier and tighter thermals and, combined with the high wing loading and buggy wings, some concentration was required to avoid sliding out of the gusty thermals. A series of empty clouds led to a low point leaving Kerang, but once back out into the dry wheat paddocks, a pair of solid 6 to 7kt climbs with good runs in between allowed for an easy crossing of a blue area south of Sea Lake.

Arriving overhead the Wyperfield National Park, the priority was climbing, given the completely unlandable terrain ahead. Fortunately, the desert was working well, and the cloudbase in the area had lifted to just over 10,000ft.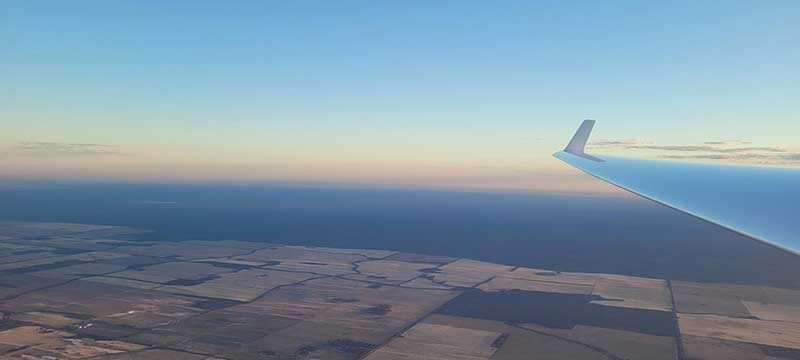 Staying High
In order to maintain glide to at least one landable edge, several top-ups were necessary. To be turning in 2.4kts at 9,500ft felt strange to say the least, but it was a small price to pay to avoid a large deviation and to keep the show on the road. Finally sailing over the Big Desert National Park at 10,500ft, a FLARM target turned out to be Trevor Hancock and Jack Hart who had similar ideas in the Arcus.
Leaving the Big Desert to the west, the conditions were the most consistent they had been. Clouds were now reliably delivering a smooth 6 to 8kts all the way to cloudbase with some excellent runs possible. While running in to the turnpoint of Parrakie in South Australia, the achieved speed was around 120kph through 560km at 4.30pm.

With sunset at 8.37pm and some confidence, I was pretty sure that 110kph through until sunset was achievable if I was simply able to stay high. Leaving Parrakie and crossing back into Victoria, I began looking at ways to extend through to 1000km.
Extending East
Extending the third leg to the East and collecting Balranald seemed like a good choice, given that this area is known and forecast to be quite good late in the day. However, as I began crossing the Murray Sunset National Park at 5.30pm, the sky ahead deteriorated rapidly and blued out, leaving the scrubland ahead and the irrigation around Robinvale to be negotiated in the blue.
Furthermore, a prospective final glide back to Mildura would have led me straight into the setting sun and over unfriendly terrain once more. A quick rehash was required, and I decided to turn at the Hattah Lakes and head west for Loxton in South Australia instead.

The last solid climb was 5kts back to 10,500ft at 6.35pm, near the centre of the Murray Sunset National Park. As I headed west towards the South Australian border, most clouds in the vicinity disintegrated, except for a reasonable looking street over the border – the only proper cloud street of the day.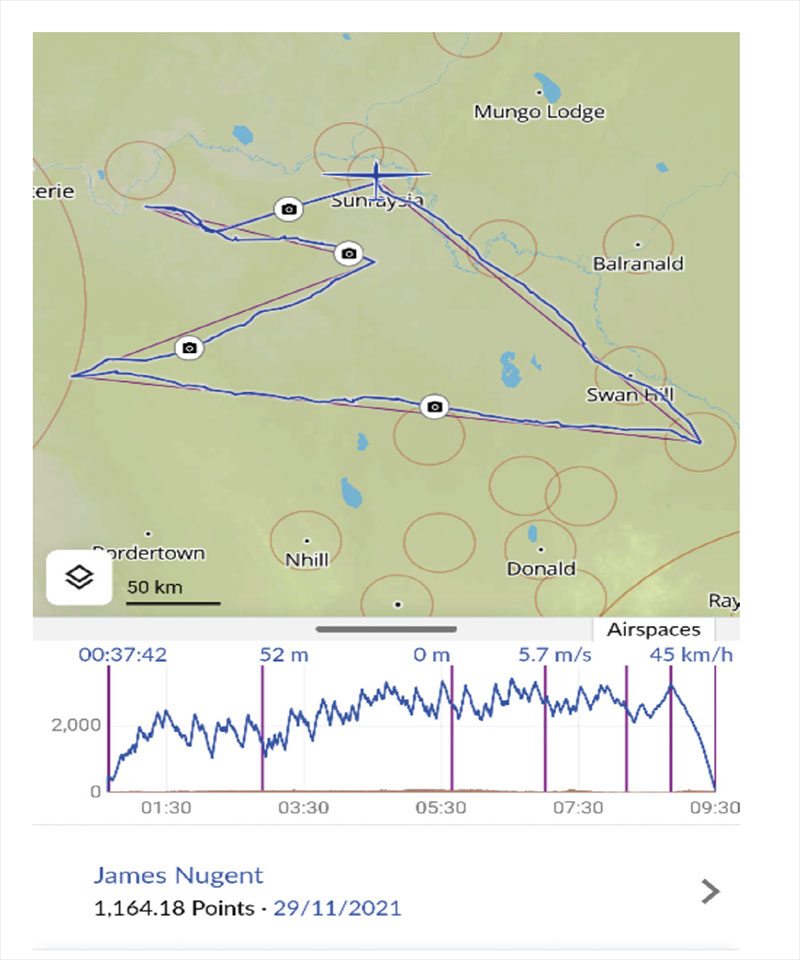 Turning Home
A quick check of the SkySight convergence forecast confirmed that the street was convergence related, likely caused by the weak sea breeze rolling in from the southwest. I found an area of 2 to 3kts under the biggest cloud and began dumping the ballast in bursts as I circled patiently up towards cloud base.
Gliding out in the smooth air towards Loxton felt like an eternity, as I watched the sum of the distance flown and the distance to home tick towards 1,000km. Once it did – with a couple of kilometres to spare – it was time to turn around and head home.

Pulling back in under the disintegrating cloud street, some reward for staying high came in the form of a large area of smooth 1 to 2kts. I opened the ballast taps to dump whatever was left and spent the next 20 minutes painstakingly climbing up on to final glide. Some quick maths suggested I'd be landing right on sunset after a marginal MC1.5 glide, so I set off for the 95km home, hoping that the bugs would not ruin everything.
Little Crowd
Fortunately, all the effort of sealing and setting up the glider was worth it, and the little LS3 held onto the glide with ease. With the help of some good netto, I was able to wind on the speed to eventually cross the airfield fence at 8.28pm and roll to a stop in front of an excited little crowd – having flown 1,012km at 114kph.
Many thanks to dad for all his help that week. Thanks also to Jayden, Martin, Maryanne, Brian, Jess, Ian and Phil – it was awesome to have the welcome back.
Unfortunately, we didn't make the most of the Tuesday, but there's always next time. Let's see what else this La Niña season brings!