Condor Racing Fun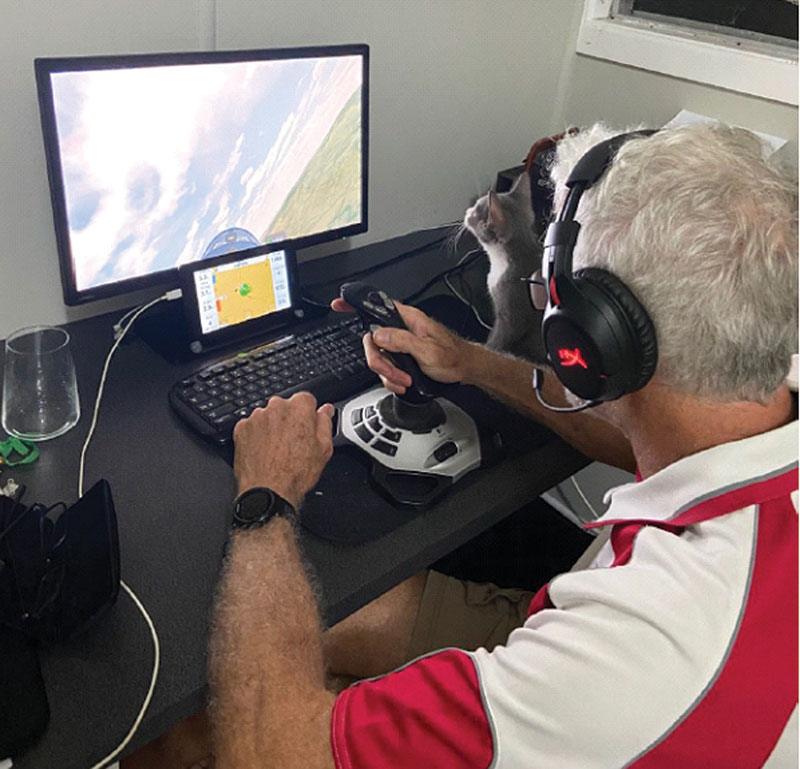 By Sarah Thompson
With the sudden prospect of being unable to fly for a number of months, the discussions started and pretty soon we realised that Condor flight simulation software would help deliver the fix that everyone was missing. After some conversations, it became clear that not everyone knew how to participate, or even get started, so something needed to be done to help everyone stay involved. There was interest from young and old and, with possibly months of club closures, there was a huge need to keep our gliding community connected.
Over in Queensland, the sunshine state, a few of the clubs got together and organised some Condor webinars in which Mike Codling took everyone through the very basics in one week, starting from getting started with equipment right through to your first flight. Key tips included –
- Start your flight airborne – learning winch and aerotow skills can be frustrating.
- Allow thermal helpers, and turn them on and off to build your thermal flying skills.
- Learn to thermal tightly – yes, this is true in real life, too!
This was followed up with a second webinar with some advanced tips and tricks including –
- How to use the Discord app
- Loading landscapes
- Multiplayer procedures
- Using XCSoar from Condor
- Don't plan a long flight – you will be going to bed at 1am!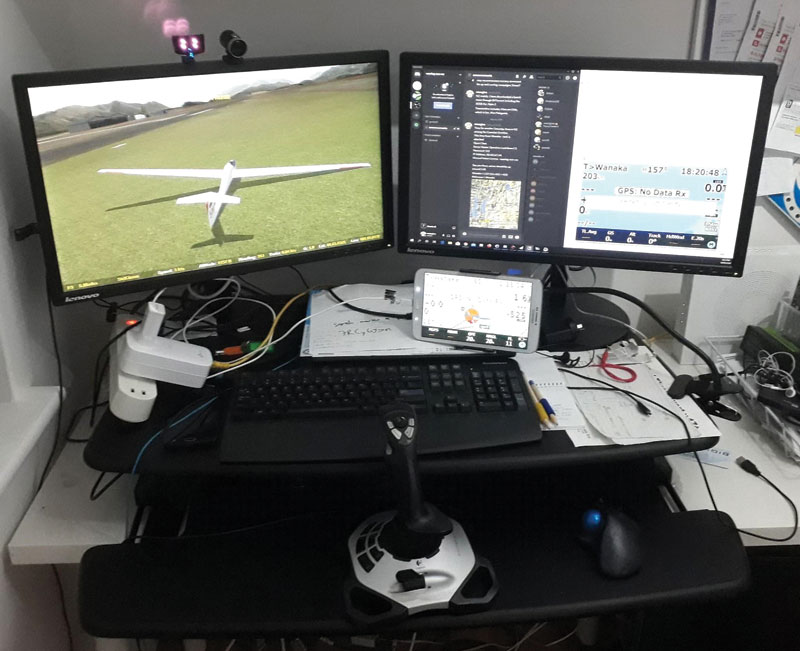 And then, the racing began
There were many lessons learned and lots of fun times. Those participating have ranged in skills and experience and all got something different out if it. For some, it has been an opportunity to experiment in a risk-free environment, playing around with final glides. For others, it was the opportunity to learn from more experienced pilots in a no-pressure, fun environment. Some just wanted to try to fly inverted, or fly beyond VNE!
Pete Brunton said, "I've learned a lot flying on Condor this last month. I've been able to watch some more experienced pilots with their final glides and tight turns. I have watched them get the maximum out of the clouds, and most of all, it's been really fun!"
The other great thing about Condor has been the opportunity to fly in other locations and try different skills like ridge soaring.
There has been some enthusiasm to get involved in the online simulator over in the west as well.
Simon Marko's interest in Condor sparked a few years after learning to glide. He notes, "Condor is not like other flight simulators. It has been designed from the start with soaring flight in mind, especially the factors that are unique and special – the sailplanes themselves, the weather model and the sporting features of soaring. In contrast, soaring in a simulator like Flight Simulator X can feel very artificial."
Condor Competition
The recent interest in Condor is focusing on the sporting and social aspect. Participants have the ability to run an event such as a regatta, or hold an individual one-off race, online in real-time with a group of pilots over the internet. This makes Condor online racing compelling when the option to fly in real life is closed as it has been due to the recent coronavirus restrictions.
In fact, eSports have suddenly become more popular as the real-world sport equivalents have been shut down. Some examples of this happening to other sports include Formula-1, Indy Cars, Cycling and Soccer. World Gliding is likewise represented with some new Condor Leagues opening up for contests around the world.
When the Beverley Soaring Society Committee met in March, the idea of Condor at Beverley came up as a way of keeping the sport top of mind for their members. After a quick poll showed there was more than enough interest to begin regular races, they went about setting up the server and setting tasks. Now six weeks in, they have up to eight pilots three times a week, most from Beverley but other WA clubs are also welcome. The age group is reasonably spread from forties to sixties, but no junior or lady pilots yet!
Beverley Soaring Society has also introduced a Condor Champions Trophy to be awarded at their annual dinner for the highest placed Condor pilot of each season.
hot tips

Beverley has shared some great lessons learned from hosting Condor from the past 6 weeks.
l Use a service such as a mailing list, Discord Server or even the Condor Forums to let your pilot community know that a race or fun flight is coming up.
- Set a time that's convenient and settle on it – let your pilot community know the days and times for activities so they can carve out the time in their schedules.
- If you set a password – make sure all your pilots know it!
l Give pilots time to download new scenery. We've settled on Slovenia, Lake Keepit and New Zealand for the moment but new ones will surely come along once they have been better socialised.
- Set the desk up for a couple of hours of comfortable flying the same way you would set out your cockpit, all items to hand and settings already tuned before joining a server.
- If the Condor Official Server list is giving you problems, there is the option of Hitzi's server list if your hosting person is using DSHelper.
- Share your tips with the other pilots so thst everyone improves and has fun.
-If you can, stay connected to the server until the last pilot is home. It's very discouraging if you're a new pilot or struggling to keep up and everyone else disconnects!
- Offer encouragement like congratulating other pilots after they've rounded a turnpoint (CG!). It does make participation more appealing. A little bit of friendly banter adds to the fun, too.
"Mike Victor – Check wheels."
"I wondered why I was having trouble keeping up!!"
As clubs start to come back online, many have now realised what a great tool Condor can be for exploring new terrain, for trying out different glider types, and for any time you can't get that gliding fix! During recent times it has also served an important purpose for keeping gliding in our lives and keeping our community connected.
If you would like to watch Mike Condor's webinar you can find it and notes online. Beverley Soaring Society also has some comprehensive notes for sharing. please contact Simon Marko at This email address is being protected from spambots. You need JavaScript enabled to view it.
If you would like to get involved in the racing, races are still happening on Wednesdays at 7pm AEST. Contact Pete Brunton This email address is being protected from spambots. You need JavaScript enabled to view it. for details.