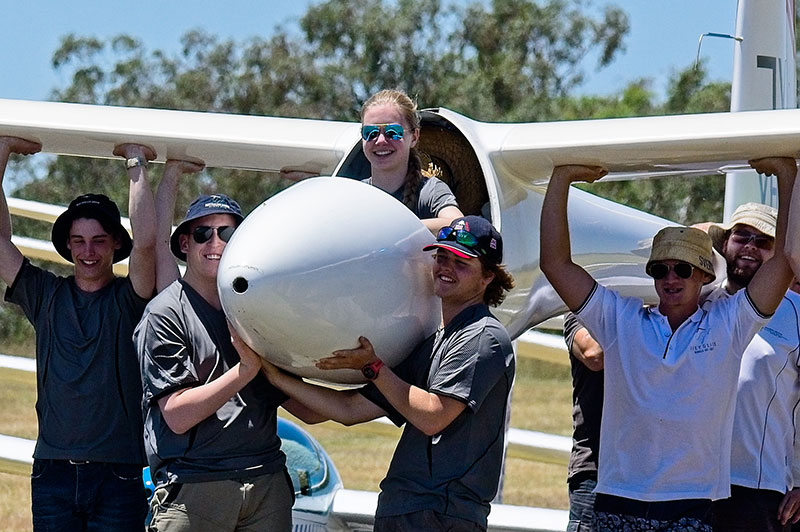 A close up image of JoeyGlide's annual glider lift, featuring Annoushka De Chelard in the cockpit. (Laurie Bartlett)
By Tom Jamieson
When you spend a week surrounded by keen, young pilots who are capable and passionate about what they do, your personal flying is bound to leap ahead from where it started.
JoeyGlide 2023 has been an extraordinary adventure, involving lots of self discovery while refining our racing skillsets, and an opportunity to make some great friends.
As with most of our gliding events, efforts to travel across the country to attend shouldn't go unnoticed. One pilot crossed the Nullarbor Plain, and another crossed the Tasman Sea, while most others hitched up their gliders and drove over 12 hours through our eastern states to make it the event that it was.
Welcome to Lake Keepit!
Unfortunately, due to a storm, the first day of the competition was cancelled. Instead, everyone piled into cars and headed into Tamworth for some bowling and lunch. It was great to get to know everyone better before the week ahead.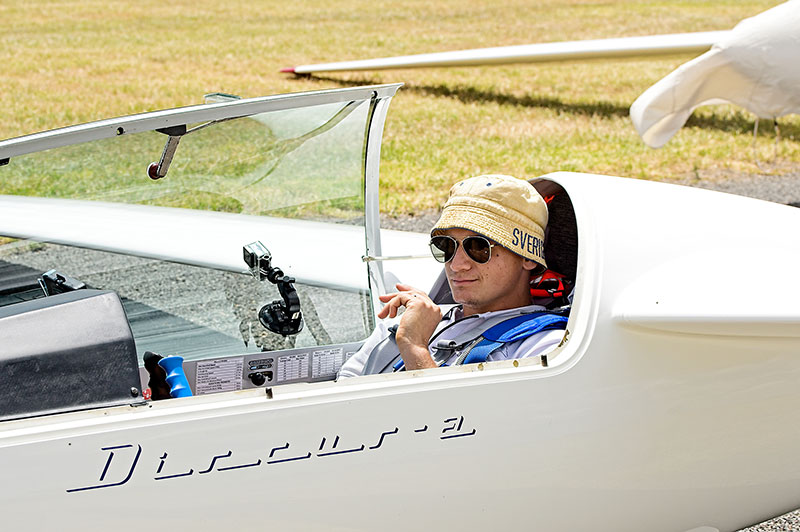 Josh Geerlings in his Discus-a, ready to launch. (Laurie Bartlett)
Cautious Tone
For Day 2, Allan Barnes had set us an AAT to the west with 5 sectors, racing a lap of Boggabri that confined us to a small workable area before the ominous and final wedge showed who would dare to venture the deepest as the blue day began to die.
Jayden Bashford started the earliest, while I waited for a glider or two to start, hoping to work together in the gusty blue weather. I caught Ryan Driscoll making the dive for the start line not long after and kept a good pace for the first leg, but his ASW20 drove hard, with such pace it stirred up a bubble I just missed, scratching away at the Pilliga. He hunted Jayden down for the rest of the task.

There was a cautious tone over the frequency for the rest of the day. The climbs didn't go high and continued to spread out. Most of the fleet minimised the rest of the day, and we gently tiptoed our way home.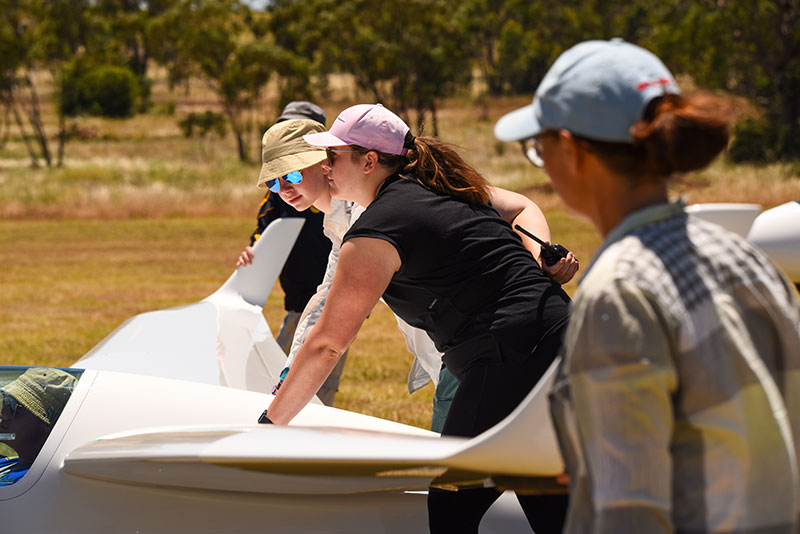 Girl power: Annoushka De Chelard, Belen Swart and Katie Barnes pushing up gliders on the grid. (Callum Rashleigh)
Taming the 20
By the third day we had settled in, and our forecast hinted at cu. It was a day to be high, as the lift was broken near the bottom of the racing height band. We fought a stiff headwind and let the cu steer us around, picking many differing paths, which were closely analysed at the nightly maggot race debriefs.
By now I had two dozen hours in the ASW-20, and things weren't quite feeling right.

It would kick and buck in the thermal, flying laps around me as I shut my eyes, intently listening to the language of its wings seeming all over the place, wriggling past each thermal in the sky and wanting to race away from me as I came to terms with the flap lever.

Man and machine did not feel one in this cockpit. I kept pulling up into nothingness and turning in gusts. I was beginning to realise that not only were the clouds were telling lies but my vario, too. Later, with the aid of detective Arnie, I discovered it was uncompensated. Turn that volume down and carry on! I knew it would help me grow that sixth sense by the end of the week.
Tom Jamieson at Blackville airstrip after his outlanding. (Tom Jamieson)
Strong Blue Day
Day 4 introduced us to the Beecroft Wedge, which sent us south, thundering along in the strongest blue day yet. Our barographs were different this day, taking big chunks out of the sky to glide between high and strong thermals. Reuben Lane's eyes filled with heart shaped cu and took his DG100 far into the south to connect with them. Paulo Merlo had almost doubled some of our average climb rates in his LS4. We all slowed down approaching Gunnedah, where the land was soggy and unforgiving. Those who could see this acted accordingly and did well.
Circling Like a Shark
On Day 5, Allan set us our longest AAT of four hours, sending us south to Quirindi, over the ranges to Coonabarabran, and up the Pilliga back home. The first leg was quick, but the weather was changing the further we pushed south. Something was going on here that I couldn't understand. I passed some reasonable climbs on my way to the high ground where the sky looked more organised.

It was blowing a gale over the ranges, and I was in the lee. I knew I was in trouble. The sky had quickly overdeveloped. My eyes turned down from the unreliable scrappy cu to engage in a desperate search of harvesters, hot rocks, dark paddocks, dams and high ground, but my toolbox was empty as I passed the last source at 1,500ft. I eyed off the strip at Blackville, circling above like a shark for what felt like an eternity, round and round in nothing while others slowly crept past well above, thankful for the warning in my misfortune.
I set up for a conservative approach into the strip, which luckily aligned well with the strong wind, and put it down for my first real outlanding. Reuben Lane ended up in a tight paddock 7km away. The two of us had given up and called it quits to be safe but had lit the burning desire in the rest of the fleet to make it home, which they did.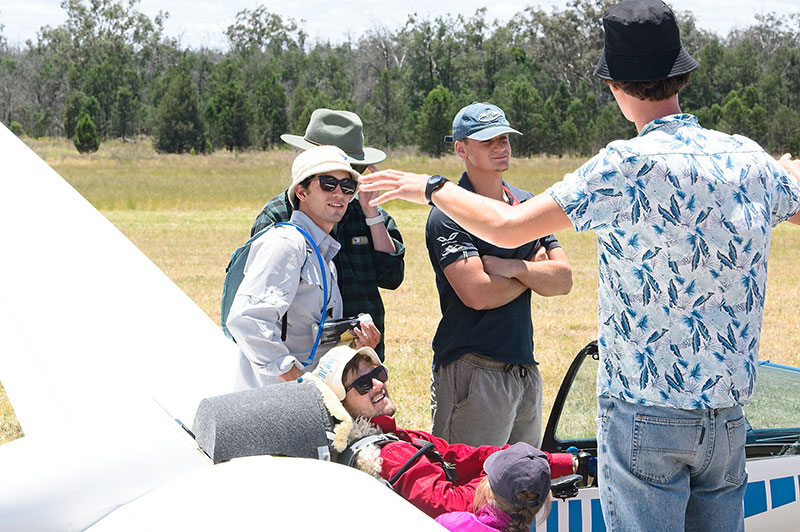 Competitors Tom, Josh, Jayden and Paulo discussing the day ahead (Laurie Bartlett)

Special mention to Noah Tanzen who flew his Club Libelle around the task and made sure of it no matter what, with beers and applause greeting his landing from the dinner table.
Ah yes, the barbecue!
You could have flown the task in the tug at idle with us on Day 6, our fastest day, with 8kts to 9,000ft. Special mention to Kieran Cassidy from New Zealand who did 100kph in a dry Standard Libelle. Allan Barnes set up another Beecroft wedge to Moree and back. While screaming along at cloud base with the day so good it couldn't get better, a distant haze caught our attention.

A farmer had set his paddock alight, creating a monstrous thermal for us right at the end of the wedge. Just about every glider, no matter their handicap, made their way to the very end of the wedge to get their piece of the 'Barbecue', named by Paulo over the radio. The sea breeze cut the quick day short and slowed us down, searching for a final glide climb over the Kaputar range.
Feeling Right
The final Day 7 was a change of pace yet again, with cirrus shading our entire task. Schmidty forced us through a 15 minute start window to ensure we were back for dinner on time. I had regained a fair pace coming into the final glide after a challenging first few legs, and as our gaggle sunk lower and lower into the face of the oncoming Kelvins which we had to cross, I stopped. My body relaxed, my wings spoke left, and slowly that way I went, feeling the pressure of the air ahead until it was under me and I caught the solid thermal. This feels right, I thought, and flew it home for the final glide. Josh Geerlings read the sky well and took the day win.
Closing Notes
"This is some of the best flying you'll do," someone told me as I arrived ready to rig my glider, and they were right. The sense of mateship and determination from the others I've flown with will stay with me for a long time to come. Many thanks to the support from the NSWGA Uncles Foundation and AJGC which made this experience a possibility.
Jared Bignell on the Coaching Program
JoeyGlide 2023 was such a fantastic opportunity, taking my gliding experience and knowledge to new heights (literally), and started a huge step up in working towards achieving my GPC.
Right from the very first day, everyone that was involved was full of energy, raring to go for a week filled with setting new PR cruising speeds, outlandings, and the start of irreplaceable friendships. Not to mention the spectacular views of taking off over the water at Lake Keepit.

I was fortunate enough to be part of the coaching program, along with three other coachees. We were able to put theoretical lessons into practice on every operational day we had, with world class coaches supporting and guiding us every step of the way. Thanks to the new GPC syllabus, the coaches could break up the theory into easy-to-understand sections and key concepts, which we used as the focus for each flight.

Along with this, having such a spread of coaches, all with crazy amounts of experience, enabled us to see their different approaches and styles to cross-country flying but also their hints, tips and tricks on the best and most reliable thermal sourcing and centring techniques.

I think the AJGC does an amazing job by facilitating JoeyGlide, and truly aims to give as many young people as possible the opportunity to dive into cross-country competition flying. This was done by making it more affordable with the help of generous subsidies and sponsorships, which we all couldn't have been more thankful for, as well as the incredible organisation and persistence ensuring that we were able to fly each day, providing the weather was in our favour. I cannot recommend enough to juniors to come along next year and see what all the excitement and thrill is about. See you at JoeyGlide 2024!

JoeyGlide's annual glider lift, featuring Noah Tanzen's newly acquired Club Libelle. (Aidan Curtis)