A Tribute to John Williamson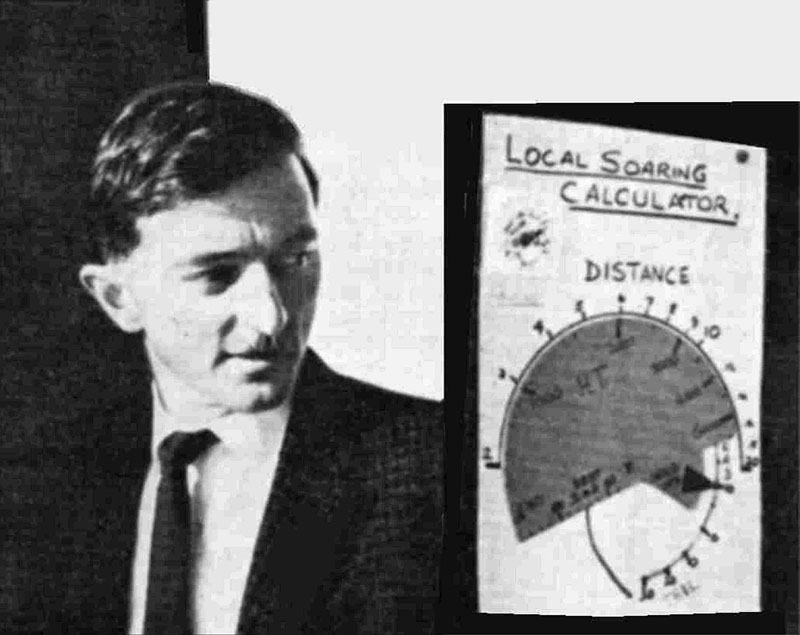 John Shapcote Williamson (John Willie) 29 October 1928 - 3 June 2020
First published and in Sailplane & Gliding (UK)
I had the pleasure of meeting John Williamson at Benalla where he was resident in the early 1990s. He helped me achieve my first 300km and introduced me to the JSW Calculator which I used on every flight into the 2000s long after I purchased my first Garmin GPS - to check that the Garmin was giving me accurate data.


John was a gentleman and great glider pilot and I am sure many Australian pilots remember him well. Sean Young
Gliding recently lost another of its legends with the death of 'John Willie', inventor of the John Willie Calculator and mentor to many young glider pilots
John's father was the novelist Henry Williamson, whose experience in the trenches of WW1 made him a dedicated pacifist. This did not deter John from joining the RAF in 1947 and training as a radio fitter. He started gliding in 1948 at Wahn (near Cologne, Germany) using the solo training system on a primary glider – low hops, graduating to high hops and finally circuits. It was some years before he flew a two-seater. Returning to the UK with a Silver C flown in a Grunau Baby, John was posted to Farnborough. He continued gliding at Lasham, flying his first competition in the 1953 Nationals, part of a team entry in a Prefect.

He went on to gain Gold and Diamond heights flying a Weihe in a Cu Nim over Basingstoke; self-taught in cloud flying. John completed his Gold and Diamond goal, also in the Weihe, flying over the Welsh valleys to St Davids. He said if his geography had been better, he might have chosen a different task as his maps didn't show hills. John became an instructor at Lasham, and one of his students was a pretty, young Swedish visitor, Böel.

In 1958 the RAF hinted to John that helping run an RAFGSA club would mean availability of a competitive glider for the nationals; posted to Yatesbury he became CFI of the Moonrakers Club at Upavon. For the next few years John encouraged dozens of trainees from Yatesbury and Compton Bassett to take up gliding, a number of whom continued to become competition pilots. His energy and enthusiasm to take expeditions in the winter months to ridges at Huish, Roundway and Westbury; cloud flying training when the cloudbase was below 800ft by winching into cloud; and trailer reversing races when the weather was completely unflyable all stick in the memory of those who experienced those days.

This energy included the design of a circular calculator for final glides that allowed for wind and thermal strength; the 'John Willie Calculator' became an essential piece of every UK soaring pilot's kit until eventually superseded by electronic aids.
In 1959 John flew the Olympia 401 to 7th place in the nationals; all the pilots placed higher (and most placed below) were flying gliders with at least three metres more wingspan. As a reserve pilot and radio expert for the British Team at the 1960 Worlds in Germany, he met Böel again (they had kept up a correspondence) and that winter they married in Sweden.
From Peter Purdie, Lasham GS
Champion
In 1961 he flew the RAFGSA's Olympia 419 in the nationals. In spite of his crew chief rolling the trailer the week before, although fortunately the 419 escaped unscathed, John won the first day and remained in the lead throughout to become national champion. The tasks included a series of flights into Devon and Cornwall, with long night retrieves. While still in bed after one such retrieve he was summoned to be presented to the Duke of Edinburgh, and he and Böel quickly put on flying suits over their pyjamas to meet Prince Philip.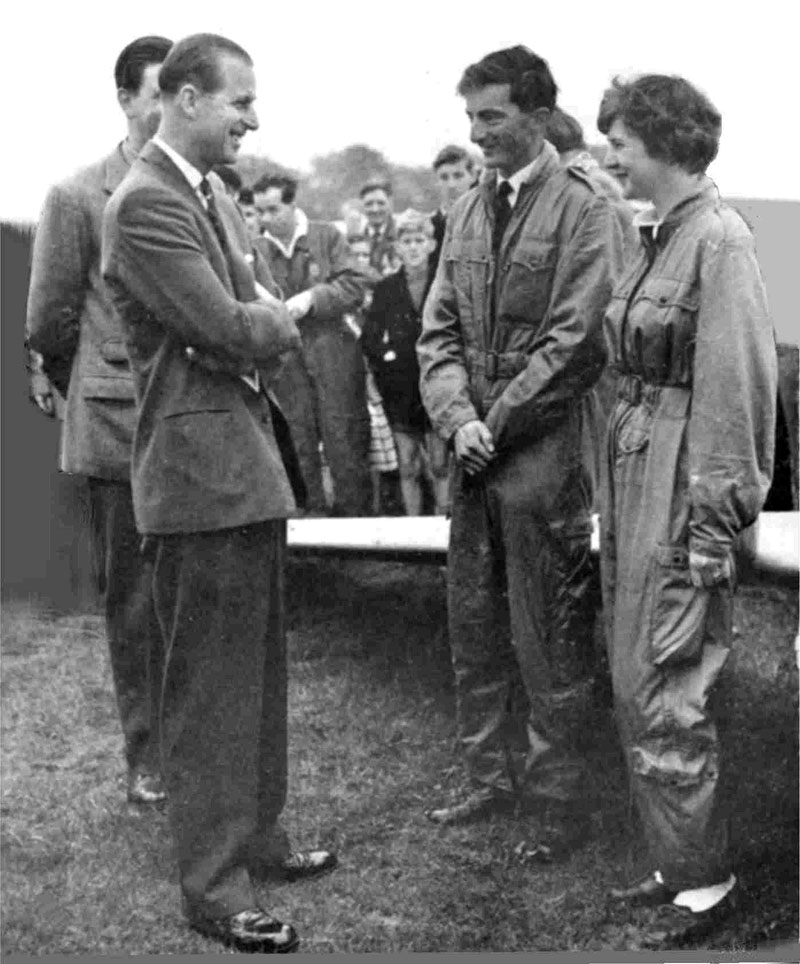 A few weeks later John broke the out-and-return record and, in August, flew north across the Scottish border to complete the first Diamond badge flown entirely in the UK.

At this time he had the rank of sergeant; his abilities were acknowledged by being commissioned as a pilot officer and posted to RAF Locking (Weston-super-Mare), where he founded another RAFGSA club. John then broke three UK records and became a member of the British Gliding Team, flying a Skylark 4 at the world championships in Argentina in 1963. He recounted his frustration at watching the Polish Zefirs cruise past 10kts faster yet getting higher in the sky, but he still finished in 7th place.

In 1965 in the UK, John flew an Olympia 419, outclassed by the D-36 and SHK of the German team, and finished 6th. In 1968, in Poland, he flew a Dart 15W when most other pilots were now flying glass gliders. The canopy on his factory-modified Dart distorted the forward view so much that a crew member had to drive ahead, spotting the otherwise invisible gaggles and reporting on the weather. The result was inevitably John's lowest placing in a worlds. He did win the 1970 Sports Class/Standard Nationals, and his final team appearance was in Australia in 1974, where he developed an affection for the country and its gliding opportunities, to which he returned later.

On leaving the RAF as a flight lieutenant, John became a BGA National Coach, running instructor courses and cross-country training the Junior Squad, which developed into the Junior movement. In the 1980s one would often encounter a gaggle of young pilots being led by John; a radio call of "I'm getting low" was likely to get the reply "OK, I'll come up and join you!"

On handing over the soaring coach role to Chris Rollings, John emigrated to Australia to run the club at Benalla, where he broke a few records, but, more importantly, welcomed many 'Poms' and other nationalities to the pleasures of flying in Australia.
John was a consummate soaring pilot and communicator. When he started competition flying, the top pilots were very reticent to share their experience. John was the opposite, and eager to pass on his knowledge to others. If one of his former pupils beat him in a competition he regarded it a success, not a failure.
From Mike Young
I was part of the Junior Squad training in 1984, coached by JW and flying alongside the regionals. He was a gliding legend by this time and it would have been easy for him to intimidate a young 18-year-old with just 200 hours' experience. John had a rare skill to be able to quickly put you at your ease, freely sharing his knowledge, never patronising. I recall a 300km lead and follow with John flying the BGA ASW 19 and me following in a Ventus B. On several occasions he airbraked down to help me quickly find the core of a thermal. His enthusiasm and encouragement, particularly towards young pilots, was notable in an era when gliding appeared to be wrapped up in mysticism.
From G Dale
G sums up the feelings of those of us fortunate to have had John as a mentor:
I first met JSW (callsign Magpie) when at a BGA soaring course as a retrieve crew. It was a great programme that opened my eyes to gliding sport, and JSW was just brilliant. I immediately became a serial consumer of BGA cross-country courses, absorbing all the lectures and, of course, the great stories.

John would stand at the blackboard at the start of the course and list the stories he could tell during the week: 'cream teas', 'the day I crashed twice', and so on. I remember him standing on a desk with his head up against the ceiling to show us how you couldn't see the route ahead from cloudbase. Pip, his faithful collie, watched from underneath the desk, having seen it all before. I was lucky enough to pass through John's hands right at the beginning of my time in gliding and he made a massive difference to my life. He taught me to soar, taught me to instruct, and inspired me to follow his example and to become a gliding coach.

Maybe two or three times in a life you come across someone who helps you up, who changes your world. John made a huge difference to many, many people. Thanks, Magpie, we'll miss you.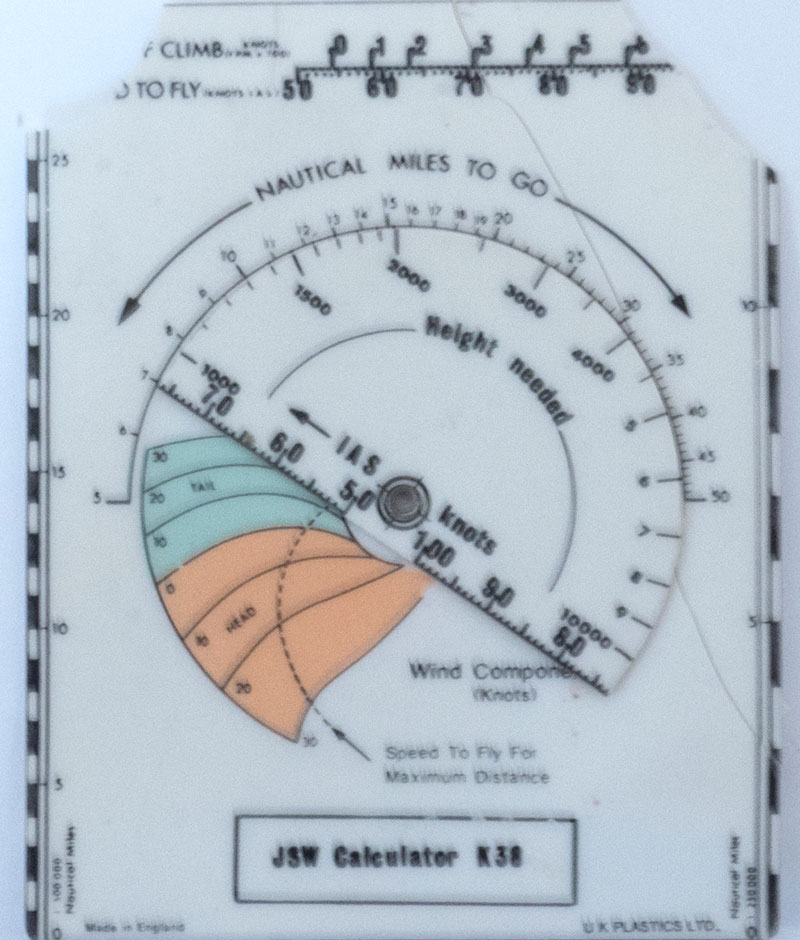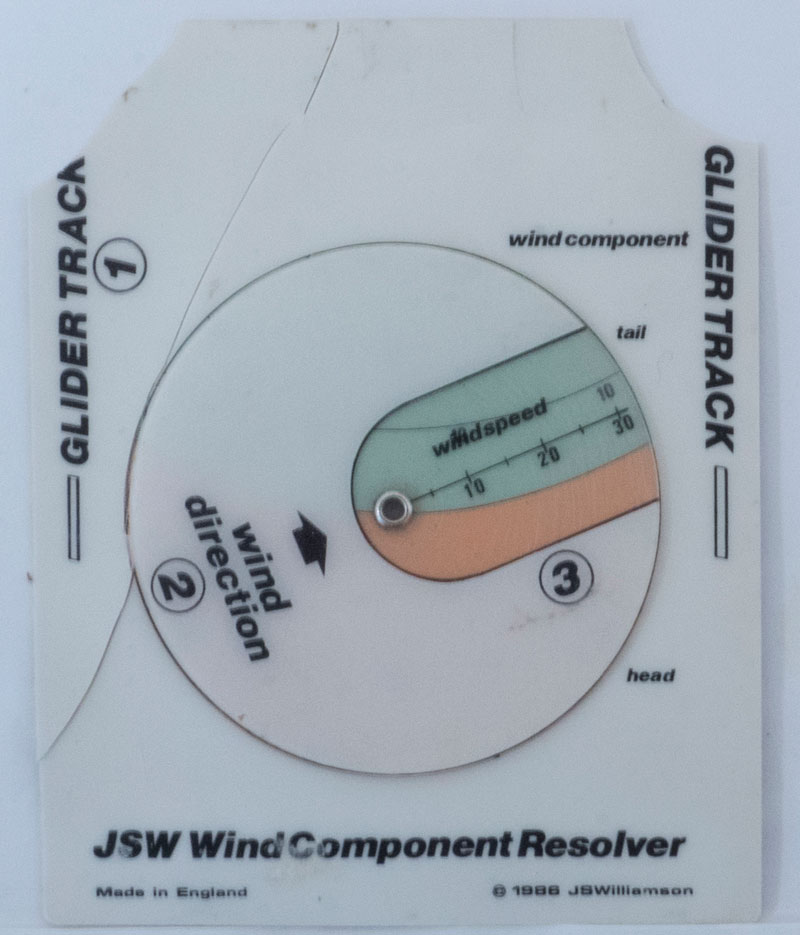 My much used JSW Calculator was an invaluable final glide calculator before the advent of GPS and electronic navigation aids.
I, like many pilots, have internalised the basic calculations and to this day use the rule of thumb wind components distance and speed to fly to mentally confirm what my new expensive flight computers are telling me. SY