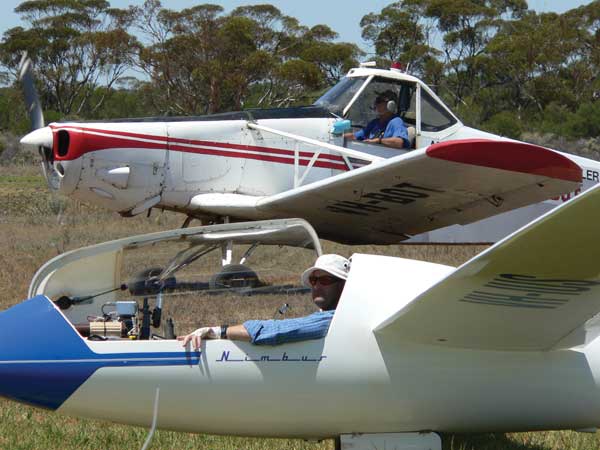 This article was prompted by a recent conversation with a club president who asserted that there was no need to standardise training and that each instructor should be allowed to instruct students as they see fit.
I beg to differ.
Hopefully, you will remember that we launched Soaring to the Future (S2F) with the slogan Standardise, Modernise, Prioritise. That was explained and expanded to mean –
Standardise – training, documentation (pilot training book, etc), procedures, courses

Modernise – electronic log keeping, cashless payment systems, integrated bookkeeping, flying registers, engage with social media

Prioritise – arrange courses to suit members such as week long courses or dedicated weekends, prioritise flying and fun
This slogan came entirely as a result of member feedback from the GFA member surveys of 2015 and 2017. Note that in this case, 'standardise' does not mean that a one-size-fits-all approach should apply, but rather that the briefing content and basic techniques should be the same. Training must, of course, be tailored to each pilot.
Survey Results
When I look at the results of the surveys from 2015 I find there are over 200 comments suggesting and demanding improvements in the way that we do our training. Much of this was about increasing the standard and improving the standardisation of the training and requesting more efficient training such as consolidated 5-day courses, or several dedicated training weekends.
The disappointment was that when we did the next survey in 2017, very little had changed and we had a similar number of comments asking for the same things. That was the genesis of Soaring to the Future.
We learned that it was not enough to tell clubs that the members wanted standardisation, modernisation and a prioritisation of fun and flying. Instead, we had to provide each club with individualised assistance with detailed plans on how to change.
This was a big change for GFA as, historically, the Federation had not assisted, helped or interfered with clubs in any way, or tried to advise them on how they should conduct their affairs. There has always been an underlying tension in that members expect GFA to "do something" to improve membership and retention, yet we know that many of the reasons that members leave gliding relate to things over which GFA historically has had no input.
Launching S2F
It was this contradiction that led us to embark on Soaring to the Future. We formed a working relationship with Sports Community and launched the project with four trial clubs to see how things would go.
After the success of our trial Round 1, more funding was provided for Round 2 and a larger number of clubs were inducted. Following some disturbing statistics showing that New South Wales was suffering a significant decline in membership beyond that of other regions, Round 3 targeted clubs in New South Wales.
Then, of course, we had the bushfires and COVID, so the decision was made to go National. This has allowed us to roll out various initiatives based on the knowledge gained from the Round 1 and Round 2 clubs. We are now working to combine the Soaring to the Future experiences with the marketing and development work that Sarah is working on.
Advertise and Deliver
Sarah is on the cusp of launching a lot of new materials that she has prepared to assist clubs in marketing gliding but this leads to another challenge. If we aggressively and successfully market gliding and attract a lot of new members but don't put measures in place to service these new members, we will not retain them.
It is important that when we advertise gliding, we have a product in place and that we are prepared to adjust our methods to satisfy the needs of our new members. For example, we might roster on extra instructors, allocate slots or times for students, organise intensive courses – or whatever it takes to get the students trained in a timely manner.
We need to run more Flying Further courses so that post solo students can get their GPCs and fly cross country independently – which, if you think about it, is what the sport is all about.
Member Feedback
It is important to remember that the mandate for the Soaring to the Future slogan of Standardise, Modernise, Prioritise comes entirely from the member feedback.
Members have clearly told us that they want us to standardise training, raising the quality and standardising the syllabus. There is a demand to modernise the facilities, delivery of training. booking and rostering systems, communications, payment systems and logging systems at the clubs. Members tell us they want to prioritise social activities and have more interactions with other clubs. Above all, they want to have fun and go flying!
Interestingly, through all of these surveys we had imagined that members would tell us that gliding was too expensive, but instead we had pages and pages of members telling us that they were short on time. Regardless of these difficult times when many are short of funds, most members told us that under normal circumstances their ability to participate in gliding was limited by lack free time. Clubs need to take this on board and modify the way they operate to improve retention and reduce churn.
Intensive Training
It is becoming clear that members who invest in an intensive course generally go on to become long-term members of the Gliding Association in much greater numbers than casual weekend members, who often just fade away over time.
Rather than attracting, training and losing 50 members a year, it would be much more efficient to ration the training and provide quality training at a time that suits the students, not on a time scale or timetable governed by history or the habits of gliding clubs, and retain more members.
We are finding that clubs that make the change to intensive courses, limit the number of students they allow to join the club and have an active social calendar are making great strides in increasing their membership, improving their retention, reducing churn and having fun in the process.
Being more economical and controlling training in this way results in a much better experience all around, better retention and lower impost on all of the club members who are required to assist students in their training.
Mandy temple
Chair S2F
This email address is being protected from spambots. You need JavaScript enabled to view it.
GFA investing in clubs