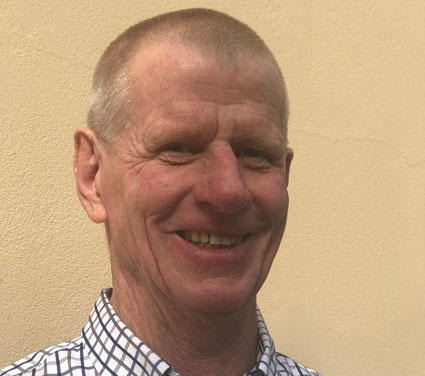 I'm writing this with only three weeks until Christmas. I simply can't believe that another year has slipped by so quickly, and what an incredible year it has been. From Lake Keepit's hosting of the Women's World Gliding Championship to massive bushfires and floods and then, of course, COVID 19. All these elements have significantly challenged our sport, our clubs and the GFA.
A year ago, who would have predicted that a single virus could have had such an overarching impact on our daily lives and the global economy? Its effects have been devastating and I doubt that anyone has escaped the impact of the pandemic. Gliding activities ground to a halt and in some areas our members were exposed to long periods of lock-down. My home state of South Australia has been comparatively lucky and never experienced the severe restrictions that were imposed in some other regions of Australia, but the recent COVID cluster in suburban Adelaide shows just how fragile the situation is. We all need to be vigilant and continue to maintain good hygiene and social distancing standards.
To assist our members through the crisis, GFA extended memberships by 6 months and offered practical help by supporting extensions to such things as scheduled Flight Reviews and Operational Safety Audits. Many clubs have now returned to almost 'business as usual'. In fact, I'm hearing reports from many clubs that activity levels are very healthy. I know at my home club we are struggling to service the demand with unprecedented new member enrolments. It is certainly stretching our resources, but it a nice problem to have.
Although the past year has been challenging, I'm confident that the gliding movement will prosper as glider pilots are a committed and resilient group of people. This season, all regions have either already conducted their state gliding championships or are planning to hold them over the next few months. Unfortunately, national competition has been severely curtailed by the COVID effect, but a combined Club and Sports Class, Junior and 20m Nationals is still planning to go ahead.
Part 149
I doubt there is a glider pilot in Australia who hasn't heard reference to Part 149. The concept has been around for more than three decades, but over recent years the subject has become more topical with legislation coming into effect in mid 2018. Part 149 describes the way in which aviation sporting organisations are expected to administer their business and details the relationship between our sport and the regulator, CASA. If you would like more information on what Part 149 is and how it works, you can easily find plenty of information on the internet. Although we are not forced to become Part 149 compliant, if we don't, the future for gliding in Australia and GFA is quite uncertain.
The Board has actively been considering our move to Part 149 over the past couple of years - we certainly did not want to be the first and I believe our caution has been well founded. Following a detailed review at its last meeting in late November, the Board has made the monumental commitment to start the work towards becoming Part 149 compliant.
The effect of Part 149 on individual glider pilots is expected to be minor, but GFA will be required to put in an enormous amount of work to meet the requirements of the legislation. A committee headed by Anthony Smith has been formed to guide us along the journey. I know this will be a challenging and exciting trip for GFA. I also believe that, provided we get it right, compliance with Part 149 will deliver enormous benefits to GFA, as it will force us to look inwardly and to update our processes and administrative systems in a way that will enable a better interface with the regulator and the wider Australian aviation community – it will bring us into the 21st century aviation world.
Learning Curve
It has been nearly four months since I took on the role of President – and what a steep learning curve it has been for me. I am very fortunate to have such a talented and skilled bunch of people to work with. The Board members, Executive team and our paid staff are all absolutely committed to the best interests of Australian gliding and are totally passionate about what they do. Although we have challenges ahead, I strongly believe GFA is in a very healthy state and well positioned to face the future.
Well that's enough from me. In closing I would like to wish you and your families a very happy festive period and a fabulous soaring season.
Stay healthy, fly safely.
Steve Pegler
President
This email address is being protected from spambots. You need JavaScript enabled to view it.