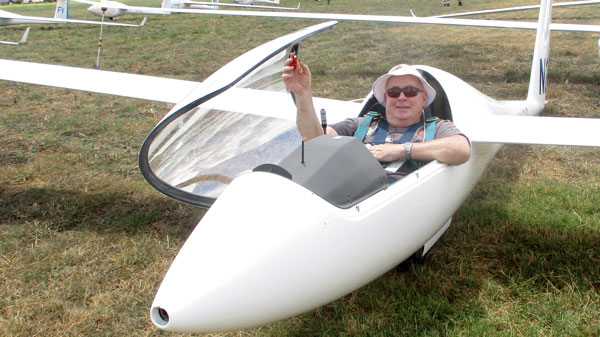 GFA Office
After 12 months working from home, GFA Office staff are now back in the office. We have made some improvements to the environment and file storage system. The staff are quite flexible and can revert back to working from home as required, should random Covid incidents make it necessary.

Tanya has reduce her hours of work so the office is not staffed every second Friday. The simplest solution is to make direct contact with the office Monday to Thursday 9am-3pm. Email to This email address is being protected from spambots. You need JavaScript enabled to view it. gets good results as all staff members can see and respond.
Badges and Claims
A few members have complained about the difficulty of submitting a badge claim for Silver, Gold and Diamond badges. There has been a review of the system with significant improvement expected in the next couple of months.

You are encouraged to talk to your Official Observer about the requirements listed in the FAI Sporting Code. Key issues with claims often revolve around recent changes to the rule on Silver Distance, and the definition of release point and start point.

You will need to provide a .igc file for all badge claims other than a duration flight, and if you can load a declaration onto your flight recorder it will reduce the amount of information that you have to write into your application.
GPC Training Document Changes
Operations and Soaring Development have been developing a range of new resources for Instructors and Coaches (now referred to as Trainers) to use in delivering training through to the Glider Pilot Certificate. These documents provide details about what the trainers have to deliver and the performance standard required, and also provide detailed information to the Student pilot.

The first stage has been shared with some Instructors and coaches so that the project team can get feedback on what has been developed so far. This will then allow trialling of the new content and resources across a few clubs over the next few months. The plan is for a launch to all clubs with training to commence before the end of the year. This will mean consistent training, no matter which club you fly from.
The aim of our training system is for all members to achieve their Glider Pilot Certificate (GPC).
The GPC qualified Glider Pilot:
- Can fly and soar the glider safely at the required standard,
- Is aware of the Threats and Errors that may arise and can manage these,
- Has the skills to soar the glider and to competently and safely fly outside of gliding range of their takeoff airfield, navigating to a selected site and complying with all aviation regulations within the limits of their authorisations.
- Can fly independently subject to maintaining their competency.
As you can see, this goes well beyond just flying the aircraft, with the soaring aspects taking on a more important focus. This soaring aspect is more likely to entice the new member to stay in the sport and develop their skills further.
GFA Fee Changes for 21/22
The GFA board met in April to consider our financial year results and the budget for our new year, which runs from May to April.
The Executive and Board have a had a few meetings to look at budget options and agreed to a number of changes, which includes a CPI (2%) increase in membership and other fees. The key change was to increase the membership fee to $328 for adults and $170 for Juniors. Form 2 kits have increased to $240.

You will notice that the Regional Association fee of $12, which is passed on to your Regional Association, has previously been charged separately, but is now included within your membership fee. This makes renewals a little simpler.
You can see all of the new fees on the GFA web page. Go to Member Area/Documents/Admin docs then Membership and AW fees 2021 2022 ADMIN0012.
Membership Numbers and Churn
GFA currently has 2,635 members compared to 2,644 in March 2019, so we appear to have survived Covid 19 fairly unscathed. Of these members, 2,300 are flying members.
For Junior memberships, our number of juniors remains fairly constant at approximately 350, but the number of AAFC memberships has dropped from 170 down to 46. Given that AAFC is now back flying again we are hopeful that this number will return to the previous values over the next year.

A common expression used is that of 'churn', which reflects the process of people joining GFA but then leaving within two years, and currently accounts for about 70% of new memberships. We should expect that some people will join and decide later that the sport is not for them, or they cannot devote the time and money required to continue, but 70% seems excessive.

Managing churn places a heavy load on club volunteers who deliver the training. We have been encouraging clubs to review the service that their members receive to ensure that club practices are not turning members away, such as lack of flying opportunities, multiple instructors, late starts to the day and so on.

The increased focus on GPC skills is one way to encourage members to stay in the sport. If you have other suggestions on how to address this issue we look forward to hearing from you.

Narromine World Championships December 2023
Australia won the right to host the 2022 World Gliding Championships for Club, Standard and 15m classes, but with Covid impacting world championship scheduling, this championship has been re-scheduled to December 2023. The event will be held at Narromine and the organising committee is already preparing for the event. This will once again provide an avenue to display Australia as a great gliding location and promote the sport to Australian residents. The Narromine GC web page advises dates and is calling for volunteers to assist with the operation.
CASA Part 149
CASA Part 149 specifies the requirements for aviation administration organisations involved in sport and recreational aircraft activities. As a result, all sport aviation organisations (gliding, parachuting, paragliding etc) have been requested to become Part 149 organisations.

GFA has contracted Peter John to assist with preparing our Exposition, which explains how GFA is structured and identifies the responsible officers. A small team led by Anthony Smith is finalising the Exposition and looking at our Safety and Management systems to align them better with CASA requirements. At the same time, this is enabling us to review and improve our systems in alignment with other aviation organisations. We plan to submit the Exposition to CASA before the end of the year. It will provide an opportunity to update the GFA and we hope that members will support and participate in these improvements.

Terry Cubley
EO