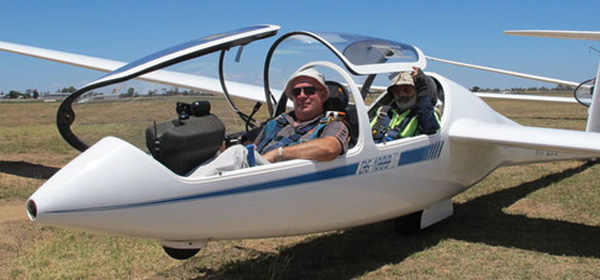 Membership numbers
Membership at start of March 2021 was 2,767 (286 women – 10.3%)
Membership at start of March 2022 is 2,401 (248 women – 10.3%)
This is a reduction of 366 members (13%) in 12 months, which is of concern and has been an ongoing issue for some years.
In the past 6 months we have had 283 members join and 259 leave.
There is some hope that improvements to our training system may encourage more people to remain as members.
Organisational Structure Discussions
The GFA Board is discussing some options regarding our organisational structure, in an attempt to improve clarity around decision making. We have a Board, who has responsibility for policy and an Executive that implements decisions of the Board. Our Articles of Association (constitution) combine these two groups to form the Board. This creates a very large (16 person) group and reduces clarity about responsibility and separation between strategy, policy and running the day-to-day business.
GFA President Steve Pegler is keen to separate these responsibilities and to redefine the roles, and is proposing a Gliding Australia Board primarily comprising Regional Board members and two or three others, with a separate Executive team comprising the Heads of Department. These could meet separately, with the Executive reporting to the Board on key aspects. The proposal includes the introduction of a Chief Executive Officer who would manage the Executive and report to the Board.
The details are still being formulated, and a formal proposal will be made to the GFA membership at the next AGM.
GoMembership/JustGo
As you are probably aware, GoMembership has changed its name to JustGo, although the services provided stay much the same. You can easily access it by typing gfa.justgo.com into your web browser, or opening the GFA web page (glidingaustralia.org) and then clicking the GoMembership link at the top right corner.

More members are getting used to the system and taking more control over managing their membership. Once you are confident with logging in and can remember your user name (membership number) and your password, you can access your records, renew your membership, claim a badge, purchase a Form 2, etc.

The best starting point is on your 'membership profile' page, or clicking on the 'menu' button at the top left of the page and selecting from a large number of topics.
Membership card
I have had a couple of requests recently from members wanting to get a print-out of their membership details and credentials, like the old membership card that we used to issue.

You can print this yourself from the GoMembership front page, under MyProfile. Click on 'Memberships' across the top of the page, and you will see what your membership type is. Your current membership should have a green download icon showing. Click on this and it will produce your membership record/profile, which you can print as a membership card. Worth having a look.
Integrated Training Program - the New GPC Training Resources
Clubs will have received a poster that explains the pathway and prerequisites to achieve the Glider Pilot Certificate, and details the resources available to trainers and pilots, which includes Trainer Guides and Pilot Guides, Trainer flip cards, Theory courses and the new GPC Logbook.

New student pilots can now purchase the GPC Logbook which provides details of the standard required to be deemed competent, and the Training Record Card enables your Trainer to record your progress and provide explanation of areas for improvement. This logbook should cover you through to completion of your GPC, after which you can purchase a pilot logbook for ongoing records of your flying.

The old Glider Pilot Training Record will no longer be required as all of its content is included in the GPC Logbook and the Pilot Guides.
The Trainer Guide and Pilot Guide and Theory Lessons are now available via the GFA web page
https://glidingaustralia.org/. Hover over the Member Area and then click on Training/Coaching and then click 'Access GPC Training'.
Starting in March, training will be provided to Trainers on how to use the new Integrated Training Program materials.
Instructor/Coach/Trainer
These words simply reflect a change in terminology. While in the past we spoke about Instructors and then introduced Coaches, both are involved in delivering training to achieve the GPC program. Both of these groups are required to develop skills and techniques in Training and Assessment, following the training syllabus and assessing achievement of the required competence. The major difference is the technical skills, competence and currency required for the different units. So we are now using the common terminology of Trainer.

Teaching circuits and landing requires a lot of focus on the safety aspects and the techniques required to pass on the skills and judgement for the student pilot to become competent. Similarly, teaching outlanding requires another skill set, and is best delivered by a Trainer who is competent and current in outlanding. The same applies to thermal Entry and Soaring with other gliders.

Although we have previously differentiated the jobs by labelling a Trainer as an Instructor or a Coach, we are now moving to a point where the Trainer needs the core training skills (see the Training Principles and Techniques, TPT course) and then requires the knowledge of the syllabus that they are teaching, the necessary skills and currency in performing them. Some Trainers may not deliver all units of the GPC Syllabus and instead focus on a subset of units. Some Trainers will be able to deliver all units if current in basic flying skills and soaring skills.
Badge claim process
With the soaring season well under way, more members are completing their Badge flights to achieve their Silver Badge, Gold Badge and Diamonds, along with the 600km to 1,250km distance badges.

Each of these badges requires a specific performance that complies with the international (FAI) standard. If you are considering completing some of these badges, you should discuss it with an Official Observer to make sure that you understand what is required. It is also worth looking into the Sporting Code https://www.fai.org/sites/default/files/sc3_2021.pdf where it sets out the required performance – see Chapter 2.

You will need an Official Observer. You must carry an approved flight recorder in the glider and declare the task in the flight recorder. Fly the declared task, and then complete the badge claim.

The badge claim is found in the JustGo menu. Find the pink Badge Claim button, where you can claim a flight and pay for the claim. The first step is to upload your igc file from your flight recorder, which will then fill in details to your claim form. After completing the form, you will receive an email confirming your flight from the FAI Certificates officer, asking you to pay for the claim and then claim the relevant credential. Attach the letter from the certificates officer as evidence to your credential.