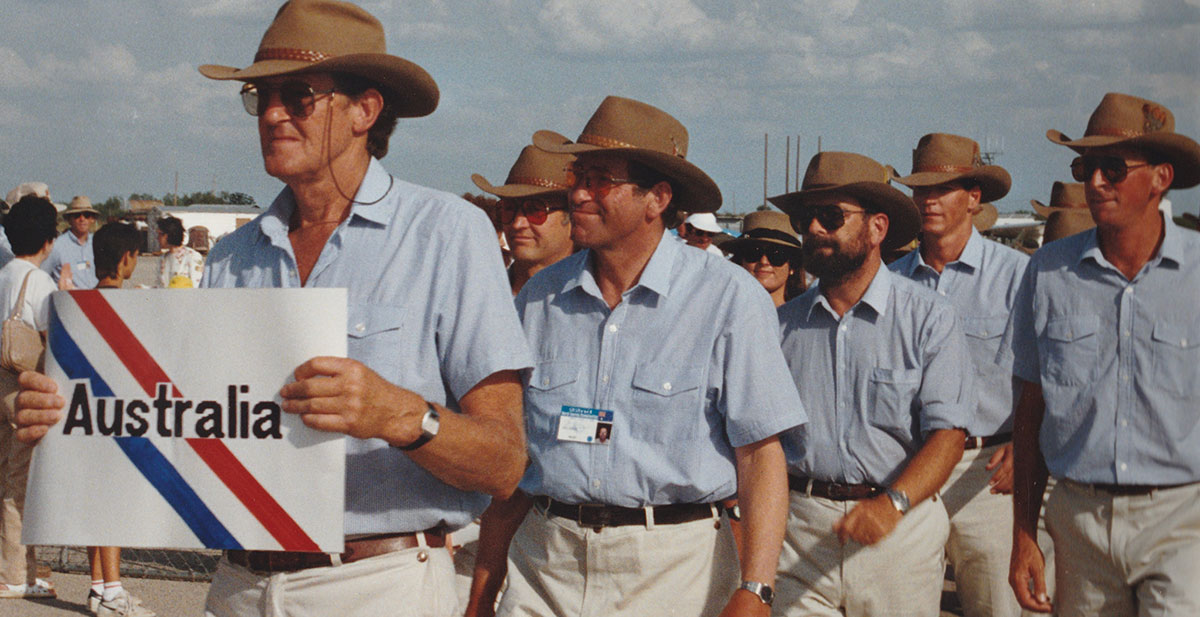 Tony Tabart leads the Australian team at the opening ceremony of the 1991 WGC in Uvalde. He is followed by Ingo Renner and Brad Edwards who went on to win the 15m Class flying an LS6.
By Jo Pocklington
Tony Tabart learnt to glide with Geelong Club. His first gliding competition was at Horsham's inaugural event at Dooen in 1966 and he competed in every Horsham Week until the 50th in 2016. A dodgy knee replacement meant that he was unable to get out quickly and safely in the event of an incident, so he gave up competitions after that event.
A 5th generation fine wool grower on a property in south-west Victoria, Tony maintained an air strip on his farm – Kurweeton, near the township of Derrinallum – which hosted Kurweeton Soaring Group and Corangamite Soaring Club from 1972. In January 1973, the Victorian Gliding Championships were held – in perfect conditions – at Kurweeton. Competitors from Horsham, Laverton, Geelong and Benalla as well as members of the host clubs took part. Tony took out the title.
As well as running his farm, from 1974 Tony instructed with Ingo Renner at Sportavia Soaring Centre, Tocumwal. His last glider flight was with Ingo in his beloved Caproni in December 2017 "just for fun, in the skies around Tocumwal".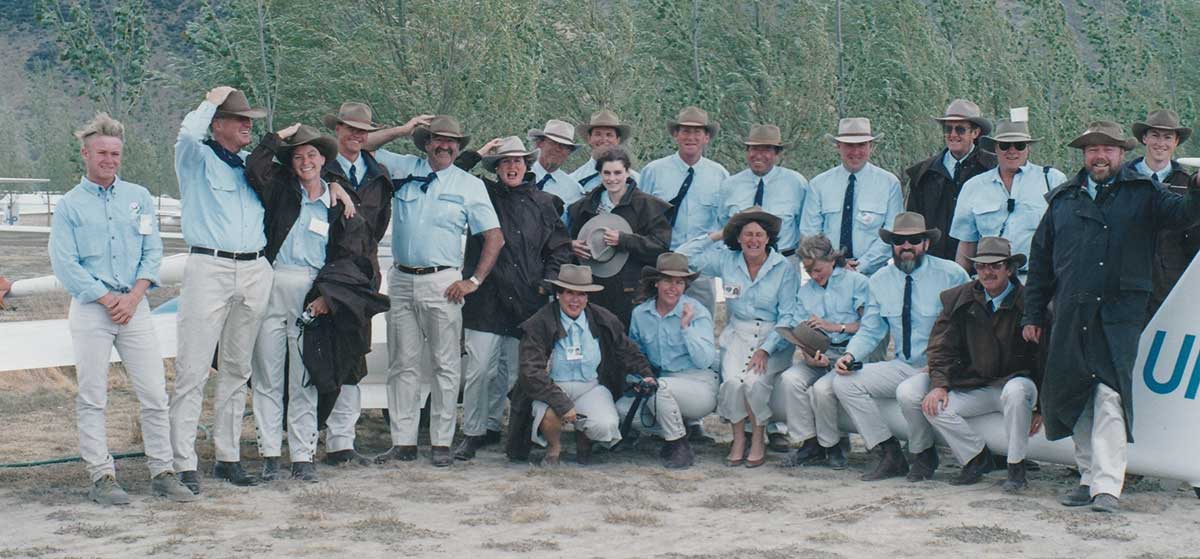 The Australian team at WGC Omarama in 1995. Left to right: Paul & Sandy Mander, David Jansen, Keith Willis, Jo Pocklington, Michael Giles, Bruce Taylor, Brad Edwards, Ingo Renner, Terry Cubley, Tony Tabart, Tracey Tabart, Ian Patching, Beryl Hartley, Louise Taylor, Judy Renner, Gabby Hayes.
Tony set many gliding records. He was the first Australian to complete an FAI 1,000km triangle, in January 1979 in a Nimbus II in the Tocumwal area. This flight also broke the existing Australian 1,000 km triangle record by flying 1,017km in 9hrs 45min (125kph). Twenty years later, Tony's best flight was completing 1,030km in 6hrs 32min (158kph) in Bitterwasser, Namibia in January 1999 in an ASW20.
Tony felt that being the first Australian to win a day in a world competition (Yugoslavia in 1972, the only pilot to get home) was his greatest achievement – until he became the oldest winner of the Australian Open Gliding Championship at Gulgong in 2004, after not having competed in Open class for about 15 years.
He was Australian Open champion on four occasions and represented Australia in former Yugoslavia, Waikerie, France, Italy, Austria and Sweden. Tony felt it "a privilege to represent Australia at the last full multi-class competition at Ekeby airfield, Eskilstuna, Sweden in June 2006. There were 116 pilots from every continent, with 36 competing in 18m class; I was the only Australian in the class and at 70 years old, the oldest pilot in the competition".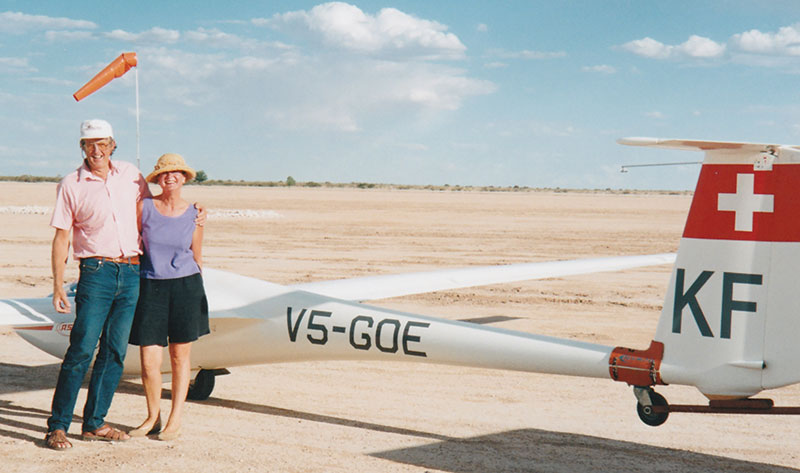 Tony with Jo after completing 1000km in Namibia.
Tony crewed for Australian team members in Texas and Finland, and managed the Australian team for the pre-worlds at Minden and the Gold Medal winning team in Uvalde, Texas. He assisted with the Omarama, New Zealand world championships and was manager of the Australian team at the pre-worlds and worlds in in Mafikeng. He received an Australian Government Sport Achievement Award for 'Achievement in Aviation'.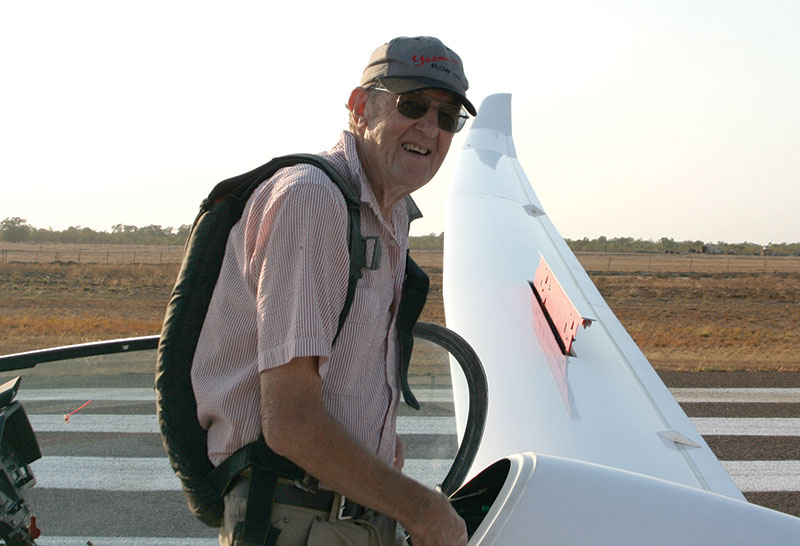 Tony at Burketown where he flew the Morning Glory.
Tony obtained a power license in 1965 and, with an instrument rating, ran a small aviation business from his farm for some years. He built a Lancair – a high performance two seater American kit with a cruise of 180 knots – and enjoyed many trips into the outback. The first adventure was to New Guinea in 2007.
Tony had around 5,000 power hours and 7,500 hours gliding. His love of flying never faded. In his words, "I've been flying for about 60 years and the thrill is as great as ever. I'll continue as long as I have my health and my ability; I'll be flying as long as I can." Tony enjoyed an adventurous, stimulating and fulfilled life in his 86 years.
Fly high TT