From the Executive Officer, Terry Cubley AM, all the latest developmenta at the GFA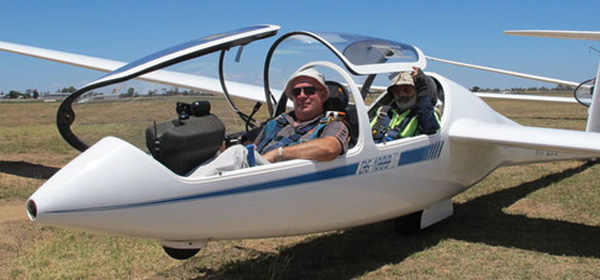 Who are we?
You may have noticed that, although we are the Gliding Federation of Australia Inc, we are now using our trading name 'Gliding Australia' in our documentation and promotions.

This is a deliberate change aimed at establishing a standard name that fits our image, logo and promotion activity. The Board has agreed that we won't use the acronym GA because of obvious confusion with the same acronym used for General Aviation. We may use GFA when it so suits, but expect that you will generally see Gliding Australia written out.
Extraordinary General Meeting (EGM) – Constitutional Reform
The EGM was held via Zoom on the evening of 16 November.
- Members were advised via email on 8 October.
- An Information package was sent to members on 12 October, containing
- Current Articles
- Proposed Constitution
- FAQs
- Link to ask questions
164 members submitted proxy forms, and 57 members attended the EGM Zoom meeting. The meeting was over fairly quickly, with only the one motion to consider. The motion was to accept the proposed new Gliding Australia Constitution. The major changes include the separation of the Board and the Executive which should streamline the management and decision making, and the Appointment of a Chief Executive Officer (CEO). Though not exactly a stimulating topic, it is quite important for future management of the Association.
The rules for voting permit Flying Members (Adult and Junior) and Life Members to vote.
To change the Constitution, we need
1. At least 100 members voting, We had 216.
2. At least 75 % must vote in favour. We had 99%, with only 2 members voting No.
3. A majority of members from a majority of Regions. All 5 regions had 97% to 100% in favour.
As a result, the motion passed.
The proposal states that implementation of the new Constitution will occur at the AGM in 2023 – which will be in August/September 2023. This delay is to enable time to explain the new roles on the Board and to seek applications for Board members and the new Chief Executive Officer (CEO).

Member engagement:
It was a good outcome for the vote to be passed, but should we be a little concerned that only 216 flying member voted, out of a possible 2029 eligible members? It means that 10.6% of members participated. I'll assume this is because the majority of members are just happy to let the Gliding Australia Board get on with running the organisation and trust them to do the right thing.
See list of eligible members who attended/voted below. Sean, your call as to whether to include this list of members.
Women's Representative on the Gliding Australia Board
Harbans Mann has been appointed as the women's representative to the current Gliding Australia board. Harbans is a member of the South Gipplsand GC in Victoria, and also the Adelaide University GC in South Australia where she is attending University. Harbans is a Flying Junior member of Gliding Australia.
Harbans was recently very active in arranging and organising a series of webinars for Gliding Australia members, with presentations by Jim Crowhurst, Lisa Trotter, Bruce Taylor, Lisa Turner, Jo Davis, Jenny Thompson and Tobi Geiger. You can watch these presentations on the web page under Member Services/Webinars.
Jenny Thompson is promoting the idea of a Women's Association to help encourage more women to get involved with our sport. A letter detailing plans for the Women's Association has been sent to all female flying members. 12% of our membership are women. Improving support for women in your gliding club can really assist with increasing membership and improving the culture of your club. More pilots means more flying and more members to help with the many jobs.
Part 149 Progress
Gliding Australia is working to become an approved Self-Administering Aviation Organisation (ASAO) which will see us taking more direct responsibility for our actions and performance.
We need to meet certain requirements from CASA, but these are not too onerous and in most cases reflect what we currently do, or will only require small changes. By making this move now, we can reduce the costs of transition, which are potentially quite high.
It has led us to develop a number of procedures and policies. Two of the most recent additions are -
- Fatigue Management Policy.
- Management of Change Manual.
We are producing our Exposition which details what we do and who does it, with some changes to the key Accountable Manager including replacement of the President with a CEO.
We have to provide the final Exposition by early December and we will then have the next 12 months to fully implement and finalise some details.
Impact of increasing Drone activity
A lot of discussion at the recent "Safeskies" Conference was about the introduction of drones and UAVs, with the resulting consequential airspace challenges, including collision risks. It was good to hear that Defence and Air Services were open to considering different ways of allocating airspace.
A number of clubs are seeing requests from new companies wanting to establish drone traffic routes within glider flying areas.
If you get such a request, you can seek advice from This email address is being protected from spambots. You need JavaScript enabled to view it.
2026 World Gliding Championships (Juniors and Open/18m/15m)
Countries have been asked to nominate to run the Junior WGC and the Open/18m/20m WGC in 2026. Three clubs (Benalla, Cunderdin, Lake Keepit) have expressed interest to host these events and IGC will make its selection hopefully before the end of the year.
Narromine will host the 2023 World Gliding Championships for Club Class, Standard class and 15m classes in December 2023.
Training System Roll-Out
The new GGC training system has been progressively rolled out to the Level 3 Instructors and CFIs, and progress is being made with training of club-level Instructors and Coaches.

CFIs and presidents of most of the Victorian clubs say the syllabus is good, but there are implementation problems in some areas.
You can see the new documents, which include Trainer Guides for the trainers, Pilot Guides for student pilots and Theory lessons. These are all available in the documents section of the web page. There is still some tidying up work to be done with the documentation, and trainers are encouraged to use the feedback form so that suggested improvements can be captured, reviewed and implemented.

The aim is to have all Instructors/Coaches trained by the end of 2022 and expectations are that the majority will have completed this by then. Opportunities will be provided to clubs in the New Year for Instructors who have missed out on training.

Quensland is ahead of the pack in terms of rolling the ITP down to Instructor level. Beverley and Narrogin Clubs been using the new program and have been pushing it quite strongly.

Chief Experience Officer (CXO) position
Richard Frawley has stepped down from the CXO role due to workload on some other tasks. Gliding Australia is therefore seeking a replacement to provide guidance on our technology systems. The role to be renamed as Information Systems Manager, and a formal advert will be posted in the near future, along with a position description. If you have talent in this area you could contact This email address is being protected from spambots. You need JavaScript enabled to view it..
FAI Awards to Gliding Australia members
Beryl Hartley has been awarded the FAI Paul Tissandier Diploma that recognises 'Provision of Services to gliding and sport aviation'.
The ITP Team has been awarded the FAI Honorary Group Diploma (for Aeronautics), for their work in creating the new GPC Training System and Resources.
Terry Cubley AM
Executive Officer
This email address is being protected from spambots. You need JavaScript enabled to view it.