From the Executive Officer, Terry Cubley AM, all the latest developmenta at the GFA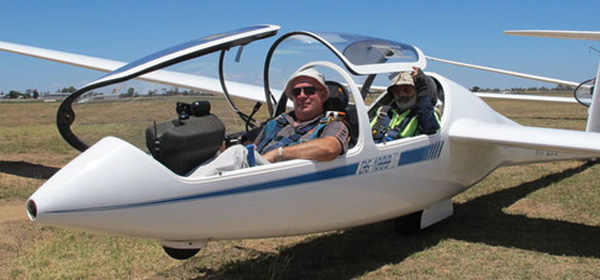 The good news is that our membership numbers are increasing. After two seasons impacted by Covid and another season affected by floods, flying at many clubs has been severely limited, but despite this, we now have many new members joining Gliding Australia.

We have had 467 new flying memberships over the past 10 months, and it is worth noting that 30% of these are previous members returning to the sport. This goes to show that it is important for clubs to develop good relationships with members even though they may not want to fully commit when they first join. You want them to come back to your club when they return to flying some months or years later.

We expect that the new GPC training resources will encourage new members to develop soaring skills and therefore increase the value they get from their flying. Clubs have a major role to play by making new members feel welcome and to encourage their involvement in the sport.
IT review
Following the board's strategic planning session, IT was identified as a key area in need of improvement for the organisation. There are many IT systems involved at Gliding Australia and we have a real need for a plan for the long and short term.

With this in mind, the board has contracted a consulting firm 'Strategic Directions' to advise on options for renewing our approach and on systems that will satisfy our needs both now, and into the future. Their initial report, following consultation with Gliding Australia Staff and our technical volunteers, is now being reviewed by the project team and the Board, who will provide more feedback as it is received.

The project team is focussed on developing practicable ways to improve our IT services, improve data protection, get best performance from systems and software, to benefit all members, clubs, regions and Gliding Australia departments.
Financial report
The Gliding Australia Financial Year runs from May to April. At the end of January our Total Income was significantly better than last year and $67k better than budget. Expenses were $114k lower and Operating Profit at $43k was $183k better than budget.

This year, 'Other Income' is exclusively from investments. The investment outcome this year has been poor, showing a Loss YTD of $55k compared with last year's profit of $121k. This outcome reflects the general malaise in investment markets since the onset of high inflation and the war in the Ukraine.

The standout variance is that of Membership which is $51k better than budget. Pleasingly, the growth in membership income is strong for both Full and Junior memberships as well as AEFs and International Visitors.

Airworthiness also performed well with income $7k over budget, as did receipts from Insurance Commissions which are $8.5k ahead of Budget.
Club Loan Interest Rates
Gliding Australia offers club loans to clubs who wish to purchase aircraft or similarly grow their assets. The interest rates applied to Gliding Australia Club loans is 4% plus the Reserve Bank cash rate, which has now risen from 0.1% to 3.35%. Our Treasurer Chris Bowman has been raising the interest rate applied to Club loans in line with the RBA movements and has advised the clubs of the changes.

To date, clubs have not been asked to raise their monthly payments and in only two cases has the increased interest resulted in the loan term extending beyond an additional month or two. These loans are still better value than other commercially available loans, and many clubs are taking advantage of this.
Some clubs also took advantage of short term bridging funds to enable purchases of ADS-B and Electronic Conspicuity (EC) equipment, in advance of rebate funding, for improved alerted see-and-avoid.
Part 149 update
Gliding Australia has submitted its application for Part 149 with CASA, just prior to the deadline. This will mean that we should be recognised in late 2023 as the key organisation for the sport of Gliding, sharing responsibility with CASA for managing the sport. Having submitted our exposition we now wait for feedback and questions from CASA. The benefit of meeting the CASA timeline is that we do not have to pay CASA to provide the feedback, which is what has driven our focus on timing.
The Board is enthusiastic about the improvements that have been made by responding to Part 149, enabling us to streamline our processes and procedures.
World Gliding Championships at Narromine
Narromine will host the 37th World Gliding Championships for Club Class, Standard Class and 15m Class. Events will commence on 29 November and continue through to 16 December.
Australian team pilots will be selected following the Nationals, which start on 11 March through to 24 March. Due to cancellation of Nationals events scheduled to run in late 2022, selection will be based on this single event, so you can expect a fairly intense competition. 43 entries are scheduled to attend over the three classes, of which Club Class is the biggest with over 20 entries.

The team from Narromine is putting a lot of effort into the Nationals and, soon after, the World Championships organisers will begin finalising preparations for the main event. The Championships require a lot of volunteers, so contact Narromine if you are prepared to help out.
International teams are keen to hire competitive gliders with cars. Even some crew roles are available, so plenty of opportunities are there to be a part of these Championships.
New GPC Training Rollout
Nearly all clubs have well and truly embraced the new GPC training resources, meaning that almost all new members are receiving a high standard of training utilising these resources. For the first time, Australian glider pilots are accessing a structured training program with practical in-flight and theoretical training modules enabling consistent standards, no matter which club they attend or which instructor provides their training.

The resources comprise a training guide for Instructors, but also a pilot guide for use by student pilots, and a series of theory training packages.
The Training Principles and Techniques (TPT) Manual provides a much stronger basis for training the trainer, coaches and instructors, with more modern content on important adult learning, communication, safety and risk management aspects.

This structure supports a consistent, high standard of training with regular feedback on progress through the new GPC Logbook. There is no reason for any student pilot to not receive this new standard of training.

Instructors and Coaches are encouraged to give feedback on the training resources over the next few months. The resources will be updated and, if necessary, corrected in August before the new version is introduced.
Safety Seminars in 2023
Drew McKinnie is Gliding Australia's Safety Manager and is looking to re-introduce face-to-face safety seminars across the country in 2023. These were popular in pre-Covid times, supported by operations, airworthiness and soaring development expertise, and Drew sees an advantage in moving back to this approach.
Members will still be able to join the safety seminars via online webinars, but the opportunity for personal face-to-face discussion will add a lot of value. Specialist departments appreciate the direct feedback and advice on problems and priorities. Keep an eye out for the schedule, which will be available during the cooler months.
Avalon Airshow
After a few years of cancellations due to Covid, the Avalon Airshow is back and Gliding Australia will be there with strong representation. We have a team of approximately 20 volunteers to represent and answer questions while sharing the sport with the aviation community. Gliding Australia will be bringing a number of gliders for static display, as well as a gliding simulator. Many thanks to Daryl Bishop from GCV and the team of volunteers. We look forward to seeing gliding making an impact alongside the other aviation groups at the Airshow.
Changes with Just Go
Thank you to all members for your patience as we worked through the data quality issues we had with the GPC, GTC and ABC Certificates and Badges in JustGo. This information has been stored electronically since 2014 and was transferred into JustGo in 2019. As systems and processes improve, we try hard to migrate historical records into new formats. Unfortunately, at that time, the migration triggered emails and displayed qualifications as invalid. The second stage of this migration will happen in early March but should not trigger any emails this time.
This year, in preparation for Part 149, we need to be able to demonstrate to CASA that pilots have their Radiotelephone Operator Endorsement. This is why many of your A Certificates are displaying as invalid. We realise many of you have held this credential for many years but it has never been captured electronically. We have started contacting members to ask them to add this credential. If you do get this email please action it, so we don't have to keep asking.

Members have asked for clarity about the difference between Qualification and Credentials in Just Go. Currently, our Admin staff add your qualifications once you have met the credentials. Example: once you have flown Silver Distance, Silver Height and Silver Duration credentials, then our staff create a Silver Badge qualification for you.
Just Go is making changes now which will remove the Qualifications tab, and all of your Qualifications will be listed as Credentials. The term 'qualification' will not be used anymore. Members will be able to add their own ABC Certificate and Soaring Badges now, and Just Go will automatically check that the member has the underlying prerequisites for that Certificate or Badge. JustGo will tell you if you are missing any prerequisites.
The member's process for applying for a GPC and GTC will remain the same, but the Admin process of re-entering the information will no longer be needed. JustGo hopes to go live at the start of March and the reports will be updated in the days following launch.
A new version of JustGo will be introduced by May. This will allow us to send more targeted emails to members, have better reporting for regional and club administration and improve the linkage to Salesforce.
Terry Cubley AM
This email address is being protected from spambots. You need JavaScript enabled to view it.