Soaring to the Future is Three Years Old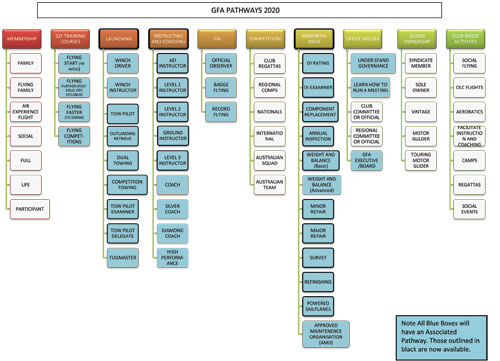 As we move into the AGM season, it's time to reflect on what Soaring to the Future has achieved in the past three years.
At the GFA AGM in 2017, Soaring to the Future, or S2F as it is now known, was launched. It included a partnership with Sports Community and my decision to step down as President to drive this important initiative.
I've just re-read some emails from that time to remind myself of where we've come from, how we started and what we've achieved. I think that perhaps we don't shout from the rooftops enough to celebrate what we have achieved. We can sometimes be too shy to share our achievements.
Discover Soaring
One of the first things that we did was to set up the Discover Soaring website as a base for disseminating information about the initiative. We actively promoted the Family membership and Family Flying membership to allow family members of pilots to be more involved with the business of the gliding club. I know several members whose teenage children have this membership and are learning to fly. This has also increased our female participation, up from a longtime level of 5% to 15% currently.
We improved the Club Finder to add Facebook links and information about whether or not clubs have facilities such as accommodation or a bar, or run courses etc.
We introduced a course calendar which will now be transferred to the new GA website that Sarah is putting together.
In response to member requests in the member surveys, we produced a pathway which will also be on the new website, showing options for progression though the various departments and details on how to get there.
Member and Instructor Surveys
We conducted a survey of all instructors and coaches asking them what would increase their satisfaction in delivering instruction and coaching. Over 50% of them responded – which is amazing – and the overwhelming response was:
• Standardise the training
• Share instructors and coaches between clubs
• Better documentation
• Mandate thermalling as part of early glider training
At this time we also encouraged members to remember the ground instructor qualification as an option for pilots with huge accumulated knowledge and skill whose physical attributes guide them to give up their solo status.
We did another survey of 690 joining members over a 12 month period to see where they came from and found that over 60% came from three sources:
• Other forms of aviation
• Previous members
• Friends of existing members
Note that only four came from AEFs.
Going forward, this trends allows us to more effectively target marketing at clubs. Many clubs are now running very successful 'Welcome Back to Gliding' days that have increased their membership.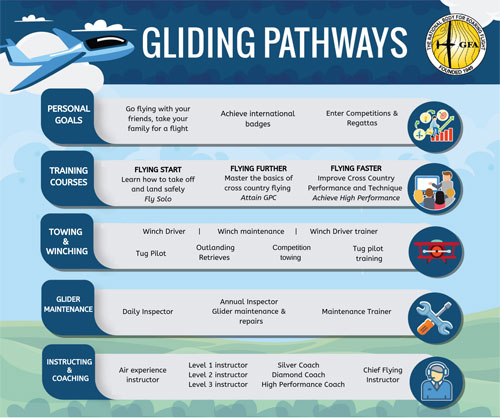 New Syllabus
In 2018 we embarked on putting together a syllabus and rolling out 'Training Principles and Techniques'. I'm pleased to say that this has now become the standard syllabus and will be taught to all Instructors and Coaches as part of the basic training and at their refreshers.
This training gives Coaches and Instructors access to modern ideas and specific techniques on how to coach and instruct using different methods, for example, some people prefer verbal instructions, some people oral and so on. The syllabus also covers how to instruct people who are overly confident or lack confidence and assists with advice on a range of different techniques for our diverse students.
Grants and Retention
We were able to support a large number of applications for grants from local councils, which I'm pleased to say is gradually increasing and has been a great initiative. A number of clubs are now receiving significant Grant funding from councils. I remember when I was President three years ago, it was really unusual to hear of anyone getting a grant for more than about $500. I believe that Southern Cross Gliding Club has now set the bar with their recent success.
We relaunched the 'Aviate in April' initiative, also used as a way of inviting friends back to the club, which we now know is a large source of new members.
Based on member feedback, we moved the A, B and C certificate tests online, and later the Official Observer test and revalidation. This decision has proven very successful and work continues to add to the online training.
After 18 months of S2F we reviewed club initiatives that had proven popular and achieved widespread roll out. The top changes were:
• Cashless payments
• Automatic flight logging
• Integrating flight log data sheets to billing systems
• On field trailer toilets
• Online assessments
We produced another pathway infomercial which is now used in all new log books to show new members where they can go with a gliding membership:
• Airworthiness
• Coaching
• Aerobatics
• Flying in Competitions
• Gaining badges
• Working on Club Committees
Most recently UK Coach John Gatfield visited and successfully ran six back-to-back Flying Further post solo courses for us, teaching the coaching elements of the GPC syllabus to B certificate pilots. Last year we achieved around 25 new GPC qualifications in Australia, 12 of them resulting from John's courses. Having said that, we normally reach over 100 A certificates each year – that is, 100 solo pilots – which shows that we're losing 75% of them between solo and GPC.
We have the opportunity to capture these members by running more Flying Further courses to convert them to GPC pilots. Then, hopefully, we'll never lose them. To reinforce the understanding that GPC rather than solo is the aim, we now have GFA GPC wings for members. These are proving very popular.
Staying in Touch
Most recently, we arranged for Sports Community to run a successful series of webinars for all members. The work that Sports Community did with the clubs identified two areas of weakness – social media and Governance. The GFA Board were persuaded that this was a useful area to fund as we know that poor governance often leads to disputes and MPP claims. These issues can take up a huge amount the Board's time, so it was felt to be a worthwhile investment. We ran four webinars over four weeks and had 244 individual participants, mostly from club committees, and many more members watched the recordings later.
The first two webinars were on social media and the last two on relevant regulatory requirements and how to run a successful club and manage conflict. After the first two meetings, it became clear that there was an appetite to discuss IT solutions for clubs and we ran our own fifth webinar to explore this. As a result we have now set up a group This email address is being protected from spambots. You need JavaScript enabled to view it., which is quite active discussing options and ways that clubs can be more efficient and use their IT in a better way to reduce member effort.
I also wonder if there is perhaps a place for a tug forum? I'm happy to set it up if anyone is interested. I imagine you might want to talk to each other about spare tyres, Magnetos and such things? If anyone thinks it might be useful, please let me know. I guess you could also discuss the pros and cons of the E-tug.
What's Next?
Over the past three years, in addition to everything else that we have learned, I believe that we've established what it is that clubs need to do to better retain their members. Although we may have known for a long time that clubs are quite successful at attracting new members – although we can always do better – the issue has always been retention. Over these last three years, I think we've learned a lot on how we can improve on that and I think we're ready now to go forward and roll out these ideas to all of Australia.
So, my proposal to the Board next week at the AGM will be that that we do exactly that – continue our partnership with Sports Community but launch a national initiative to share our discoveries to all clubs around Australia. Of course, none of this work will be compulsory. It is purely a voluntary exercise.
I remember that earlier on, I did get an application from a club that said, "Yes we would love to do S2F and we really want to be part of your program. We think it's really exciting but we're not prepared to change anything." In short, not everyone gets the message.
I know that change is difficult and can be painful. People have been doing the same things in the same way for a long time and it isn't always comfortable to try new things. But we now have a lot of evidence after three years that if you do change, you can reap the rewards. You can become part of a happy, vibrant growing club with happy members.
Club Co-operation
One big change that we've seen in the clubs that have enrolled in S2F is increased co-operation between clubs. The building of trust and sharing between clubs was quite absent before and is now a benefit to everyone. Something that we've heard in the responses from the member surveys is that members want greater freedom to move between clubs. Certainly, the instructors and coaches said that this was what they wanted in the survey back in 2018, so it's lovely to see that it is starting to happen. It can only strengthen all clubs.
I have all sorts of numbers and statistics to show you that the S2F clubs are increasing their membership and that other clubs are declining. But if I say X% someone will say Y%, so I will leave those numbers for now until we get the official figures, which are being crunched by a professional statistician in Queensland.
I can only say that I believe S2F is working. I believe the numbers that I see are showing an increase of roughly 10% across the clubs that are now part of S2F and I'd really like to see that change extended across all clubs in Australia so that everyone can continue to enjoy this amazing sport that we are privileged to be part of in these difficult times.
Thanks again to everyone for the support over the past three years. At times it's been quite a battle and I have faced some strong head winds. Nevertheless, I really do appreciate the support and encouragement that I've had from so many members.
Thank you again, Mandy
Chair S2F