SF2 Survey Results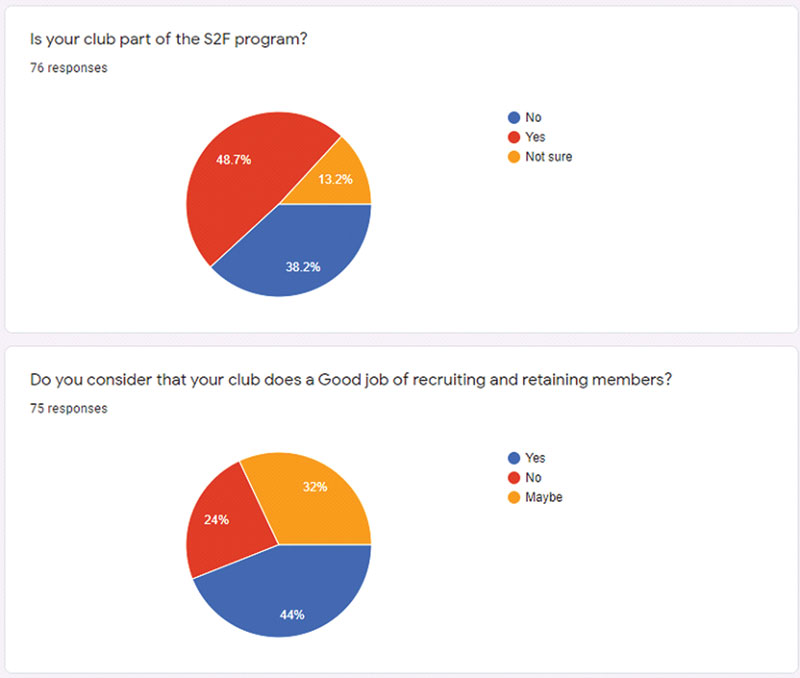 SF2 Chair Mandy Temple and the SF2 committee ran an online survey over the last three months on the level of control Australia's gliding clubs feel is appropriate for GFA to exert on their activities. In particular they sought opinions on whether GFA should insist on certain minimum standards for all clubs, similar to the idea of minimum standards for airworthiness, instructing and coaching. They also asked for opinions on the idea of imposing minimum standards on club committee behaviour.

Below Mandy reports on the comments they received. She said, "There were a lot of comments, too many to reproduce, but here are a selection that capture the essence of what was said."
GFA should provide assistance with
* Gender bias
*Staff to run national training events
* Guidance in matters like sexual harassment, gender equality, youth, member retention and so on
* Volunteering
* Ensuring that everyone in a club position completes an equal opportunity course or similar
* "GFA needs to continue to work cooperatively with clubs to provide support and resources. Setting minimum standards for clubs is fraught with difficulties. For example, at a practical level, how would GFA manage a club with a dysfunctional committee as they have no power to appoint an administrator or otherwise intervene in any legal way. Clubs also receive no, or very little funding directly from GFA so there is no opportunity to influence behaviour through that mechanism. On the other hand setting guidelines for minimum standards could be very beneficial in helping clubs to be successful and stop clubs continually reinventing the wheel."* flight logging and payment system
Clubs working together
*Cooperative approaches between clubs for the good of the sport
*Some clubs are good, others less so, at putting pilots, flying members and social members at the top of their priorities, turning the hierarchy pyramid upside down. Benefits to members can be multiplied if much more inter-club cooperation and coordination are present. If there were more non-training clubs, there could be more adventurous activity such as camps, safaris and coaching events, and performance flying. More development opportunities could be realised if clubs collaborate to run more courses. Collaboration can also be across state and regional boundaries. GFA and RAs could and should have a greater integration and coordination role, and push club committees harder to operate outside of their islands
* Actively support each other and encourage members to mix between clubs freely.
* Clubs encouraged to share more
* Clubs should not be 'islands'. Certain levels of regional and inter-club cooperation, coordination, support for multi-club courses and events should be required, with financial incentives at club re-affiliation. Less cooperation, pay more! More cooperation, pay less! Encourage club committees to share resources with nearby clubs – in other words, basic training vs cross country training, as some are more suitable, rather than lose members due to slow progress. Sister club arrangement where members feel equal visiting another club for training. Perhaps better communication between nearby club committees and panels.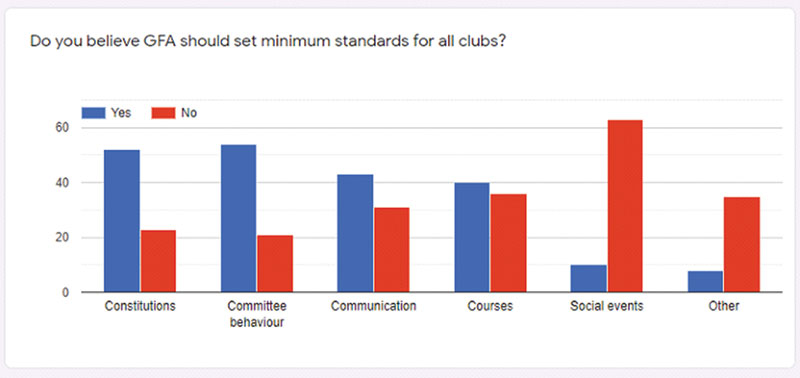 Other comments
* It's important to regulate all the relevant areas enough and leave the rest alone
* Clubs should be encouraged to seek assistance from the GFA board but not regulated. Education not regulation.
* Stay out of club business. Your level of interference is driving members away.
* The GFA is and should remain a back-office operation. Clubs are the heart of the movement. They need an atmosphere of support, not scolding.
*You are treading on very fragile ground here, continue down this track at the GFA's own peril.
* GFA is not authorised to define/select/determine the individual gliding club's raison d'etre, ethos, membership source (regional locality vs age sector or interest sector - ie educational or workplace base) or any other determining factors that gives rationale for an individual gliding club to exist. Some of Australia's most successful gliding clubs were formed and prospered in the environment of GFA's active opposition.
* Many if not most clubs are the beneficiaries of a few hard working volunteers. This is both a blessing and a curse. The first because if not for these work horses the club may not exist, the second because the club becomes fixed in its ways and change threatens the achievements and standing of those who have committed to the club as it stands. S2F is often seen as 'in with the new and out with the old'. While that's not actually the case, it's a perception that is as good as real to many club stalwarts. Publishing the first Sports Community report that established S2F would do much to change attitudes and lead to recognition of the past efforts of those club stalwarts as the base for building a better club future. Keep the 'old' but shape the future to be inclusive.
*The GFA June 2020 'Launch Points' newsletter asks whether the national federation should involve itself at the sport's coal face through setting minimum standards for gliding clubs in terms of their Constitution and club rules, responsibilities, governance and standards of behaviour.
*Having viewed GFA performance for more than half a century, this proposition raises a number of issues – a history of failures indicates that if GFA enters the coal face minimum standards arena, GFA will end up picking winners and losers by offering affiliation only to 'minimum compliant' clubs, thereby further reducing the number of gliding clubs in Australia. This is the opposite outcome to the publicly stated GFA objective.
* Rude and grumpy old men put people off.
* It's easy being a part of a large, strong club but I wonder how smaller clubs can avoid becoming a one man show that can be more like a dictatorship that does not attract new members.
* Members elect their club committee. Leave it there!
* My club's training committee continue to make and / or enforce rules that have been superseded/ removed. Example is the change to a biennial flight review being met with resistance.
* Local club rule enacted to mandate an annual flight review unless a minimum criteria is met.
* A rule is written into MOSP 2 but the local panel feels they know better.
* Keep up the excellent work that everyone does for/in the GFA whether voluntary or paid. Great communication with all members.
* I fully support the contention that, if we get people to GPC level, they will self-motivate to remain in gliding. Thus, we must all focus on enabling timely progress from beginner through to that level.
* I don't know why I bother with this as it always ends up in the bin and nothing ever changes for the better
Thank you to those who took the time to respond.
Mandy Temple
Chair Soaring to the Future (S2F)
GFA investing in clubs