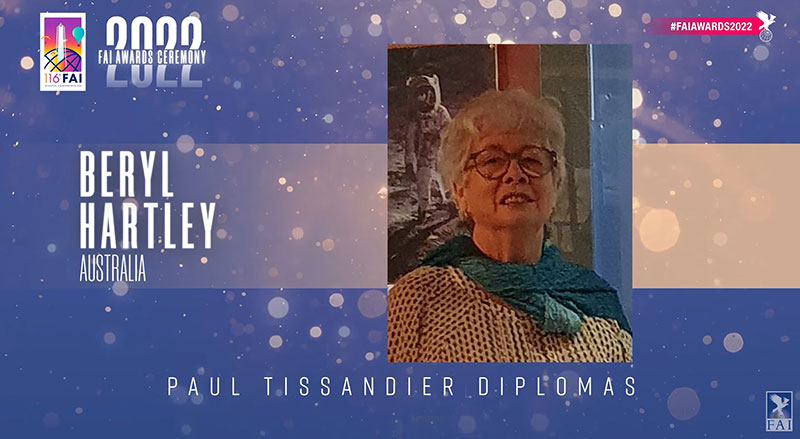 Paul Tissandier Diploma
The annual FAI awards were announced on 1 November 2022. The prestigious awards are given in a variety of categories across sports aviation. This year Beryl Hartley was awarded a Paul Tissandier Diploma. The Diploma is awarded to 'those who have served the cause of Aviation in general and Sporting Aviation in particular, by their work, initiative, devotion or in other ways.'

Beryl received particular mention for her 'dedication not only to gliding but to air sports generally through her many hours of service on various committees.'

Beryl has been dedicated to the Australian Gliding movement for over 60 years. From the World Championships at Waikerie in 1974 to the Junior WGC Narromine in 2015 she has been involved in international and national competitions, including serving as Australian Team Captain four times. She has also served as the GFA President, Vice President and Treasurer.

Most Australian pilots will know her as the hard working FAI Certificates Officer when submitting their badge claims. Many pilots from around the country will also know Beryl from Narromine Gliding Club, whether they have flown in the Narromine Cup or visited Narromine for cross country camps and the many competitions that have been held there.

Beryl and Narromine Gliding Club will also be hosting the World Gliding Championships in Standard, Club and 15m Classes in December 2023.
FAI Group Diploma of Honour
The GFA Training Program Steering Group has been given an FAI Group Diploma of Honour for their outstanding work in developing a common pathway for training pilots in core skills as well as soaring and cross country. Their work has focussed on standardising training materials and adopting modernised training techniques.

The team spent countless hours creating a standardised glider training programme, and developed an integrated and competency-based system for both trainers and students. They produced guides, theory lessons and updated logbooks and a complete Integrated Training Program, which is now being used in clubs across Australia.
The GFA Training Program Steering Group members are:
Patrick Barfield
Greg Beecroft
Terry Cubley
Matt Gage
Dennis Medlow
John Orton
Steve Pearson
Peter Temple
Jenny Thompson
John Welsh
You can see all the FAI Award winners at
FAI Awards 2022