The APWA offers a number of scholarships to learn how to fly and improve flying skills, for female fixed wing power pilots, as well as helicopter pilots and glider pilots of any age and experience level. Please check the website for more details:
awpa.org.au/scholarships-awards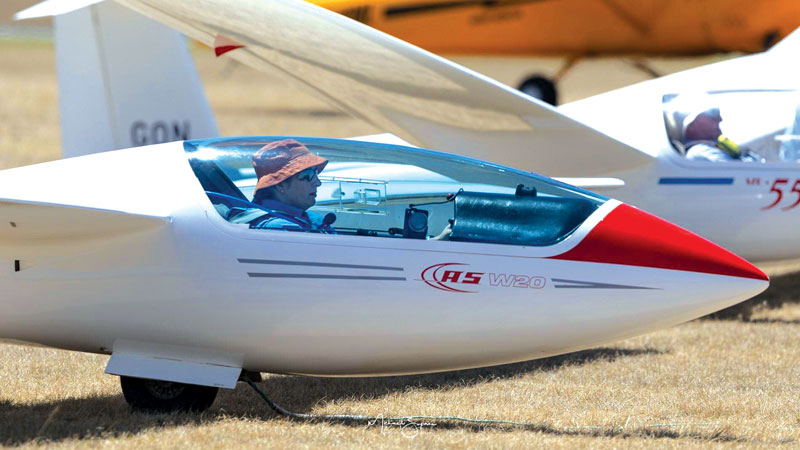 Flying has always been a passion of mine. More weekends than not are spent at my club at DDSC. While I've been flying for many years now, there's still a thrill when the main wheel leaves the ground. The thing that's kept me coming back, though, is cross country flying and competitions. There's really just nothing like pinning the ears back and flying absolutely as fast as you can. Trying to outrun people in the sky is straight out fun and competitions generally are a great excuse to hang out with some exceptional people.
Jo Davis
Among all the different types is one gliding-specific scholarship called the Soaring Scholarship. With a value of $500, it assists a female glider pilot holding a Silver C badge to improve her cross country gliding skills. Scholarship funds can be used, but are not limited, to assist a female sailplane pilot with towing charges, glider hire and outlanding retrieval costs. Applicants must be permanent residents of Australia, and hold a silver C badge, a current GFA membership and up to date medical credentials. Applications are still open - the deadline is 18 March.

There is also the AWPA Gliding Award, comprising a perpetual trophy and memento Albatros. This award is made for the most meritorious gliding flight carried out by a female glider pilot during the previous year, or for an outstanding contribution to the advancement of gliding in Australia. Membership of AWPA is not a requirement. The deadline for the nomination is 18 March.
The 2020 award went to Jo Davis who was leading the 2020 Woman World Gliding Championship until the last day, finishing 4th overall. This is the best performance by an Australian woman ever at a Women's World Gliding Championship.
Please have a look at all the AWPA scholarships and feel free to apply for the Soaring Scholarship or nominate someone for the Gliding Award. We are working hard at the AWPA to raise funds to offer these scholarship and love to help ladies improve their flying skills and recognise lady pilots' achievements, so please apply and nominate.

The award and scholarship will be presented at our upcoming AWPA conference in Broken Hill, 21 to 25 April. Learn more about our conference here awpa.org.au/conference-agm Glider pilots are very welcome – there will be a few of us there!