Winning the Mental Battle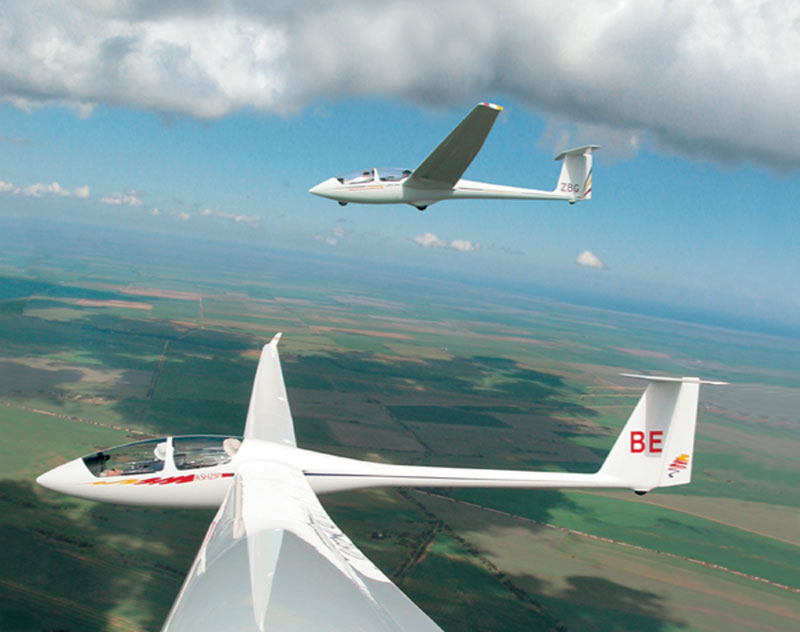 By Bernard Eckey Part 1
If we want to enjoy our sport to the fullest and if we want to achieve our goals and ambitions, we are well advised to have a closer look at sports psychology. Few other sports demand a more intense and uninterrupted mental effort – especially in difficult or stressful situations.
Regardless of whether we conduct gliding for fun and enjoyment, or whether we strive for records or competition success, the right frame of mind determines success or failure more than anything else. This makes sports psychology just as important as stick and rudder skills. Over the next few issues we will therefore look a little more closely into mastering our thought processes, emotions and feelings.
Undivided Focus Is Crucial
When we try to work out why some of us are more successful than others, we soon see that successful people are more focussed on what they are doing. Focus is not only the core of excellence in gliding but it is also the driver behind consistency and top performance in everyday life. We are all capable of pursuing our dreams as long as we apply an undivided focus. Making the choice is up to us!
You can either focus and take control of your destiny, or you can adopt a half-hearted approach and watch things from the sidelines. Yes, it is as simple as that and there are no exceptions to this rule. There is little point in putting a day aside for gliding and then be present physically but not mentally.

Agreed, there are plenty of distractions on an airfield and getting sidetracked is often hard to avoid. The simple solution is to quickly re-focus after such distractions and redirect our mind towards our goal. Only this will move us closer to your ultimate target – often sooner than later. When we fully focus on what we are doing we have our thoughts working for us. It will help us to turn average performance into good performance, and good performance into great performance.
A Plan of Action
Just ask yourself a few vital questions:
- Am I striving to become the best I can be?
- Am I as deeply engaged in my favourite pastime as I could be?
- Am I acting on everything I have learned so far?
- Am I fully focused today and prepared to learn?
- Do I have a positive attitude towards reaching my goal?
- What can I do to go home feeling satisfaction and achievement?
- Am I still pursuing my goal for the season?
I have never met a top performer who wasn't passionate about his or her activity and fully focussed when engaged in it. This holds true for every athlete, every businessperson, every politician, or every other professional. No doubt, whatever our top performers can do, we can do as well!
To achieve something, it is imperative to formulate and follow a plan of action with focus and commitment. Not just once or twice but every time we set foot on an airfield and every time we step into a glider. Real focus is a choice! We, too, can either adopt it and flourish, or ignore it and remain average. Only if we retain our focus and our passion can we expect to make rapid progress, and our goals and ambitions will then no longer remain an elusive dream. The reward is a well-earned sense of pride and achievement and another feather in our cap.
The Power of Positive Thinking
Let's turn our attention to positive thinking now. Avoiding success is simple – all we need to do is to allow ourselves to slip into a negative frame of mind. When we find ourselves in a problematic situation and decide that it is all too hard, or that the challenge ahead is far too great, we are on the fast track to failure. Fear of failure impedes the realisation of our potential. If deep down we fear defeat, we have already lost before we have even started. The misery is self-inflicted – we have succumbed to the power of negative thinking.
As in any other endeavour, a negative frame of mind must be turned into a positive one and this holds especially true if you want to have success in our sport, because a negative or defeatist attitude and poor performance go hand in hand.
But let's not dwell on negative thinking for too long – we don't want to waste time. Anyway, all of this doesn't apply to you – you are the fortunate type of person with a positive mental attitude. If this is the case, let me congratulate you, you are made for success and you can just skip over this topic. However, if on occasion you slip into a negative frame of mind, feel free to read on.
Negative into Positive
A negative frame of mind can be turned into a positive one with a plan, and with a good dose of willpower and determination. Provided you do it properly, and provided you are realistic, you will not only improve your soaring performance but also change your life for the better. The right mindset has benefits far beyond your chosen sport and will have a positive effect on many other aspects of everyday life. Surely, that's enough incentive to give it a go, but the question is, where do we start?
Well, the first step is to be realistic when it comes to motivating yourself and to realise that the process of reversing your mental attitude is not only rather slow but also requires a deep desire for change. We must be realistic and cannot expect drastic attitude changes to happen quickly.
The second step is to set ourselves a goal, but one that is achievable and that provides adequate motivation. Be realistic and set yourself an achievable but slightly challenging goal. You can't break a world record on your very next attempt or become the next world champion overnight – it's just not reasonable and is bound to end in disappointment.
Setbacks
An early solo pilot, for example, can aim for a two hour soaring flight but for a more advanced pilot, a reasonable challenge might be a 500km triangle flight. Whatever we do, we must believe in our abilities and we must be determined to become an achiever. Although it's easier said than done, success is not achieved by settling into familiar patterns of behaviour but by programming body and mind towards successful outcomes. To do this, any negative mindset must be turned around.

Sure, we all suffer setbacks and get discouraged from time to time but that is absolutely normal and never a reason for giving up. How we deal with setbacks is what matters most. Provided they are properly analysed, they serve as excellent learning opportunities. Negative experiences add to our level of experience far more than positive ones. They are another good reason for getting our mind into a positive mode and redirect it towards success. Every time a negative thought enters our mind, we respond with a positive one.

To sum it up, successful pilots tend to be optimistic and engage in positive thinking. They concentrate on achievements and continually focus on positive outcomes. This approach not only removes doubts in their own abilities but deep down it also provides great inspiration. By adopting positive thinking, they not only motivate themselves but, simultaneously, others around them. A totally new atmosphere is created, one that breeds success, one of accomplishments and one that fellow pilots will want to embrace.
Problem Solving
Positive thinking must be combined with problem solving skills and the knowledge that the solution to most of large problems is to break them down into smaller ones. Put simply, overcome one small obstacle at a time by thinking of what you have learned in the past and what you have picked up in quality gliding literature. If you hit an obstacle, it is just a matter of remembering the relevant hints or suggestions and promptly implementing the solutions. Whatever you do, do not give up on positive thinking!
By falling in love with an inspiring sport like gliding, most pilots will develop an almost insatiable appetite for increasing their knowledge. The more we know about gliding, the more we want to learn about it and the inevitable result is an upward spiral of understanding.
When we are facing in the right direction, all we have to do is keep walking. Talk to yourself while flying and reaffirm to yourself that you will manage your challenge and pass the test with flying colours. Practising positive self-talk isn't a lot of hot air – it is essential for gaining the frame of mind necessary for success.
When flying locally, believe in your ability to find thermals and successfully work the lift. When flying cross-country, have the willpower and determination to make it around the task even in the most demanding of conditions. Doubts about a successful outcome only serve to diminish your capabilities. The real basis for success is faith in success. If we keep that in mind every time we step into a glider success is as good as guaranteed.
In the next issue, we will have a closer look at 'thinking ahead' and at 'decision making'. Until then, please put the above into practice and remain current.