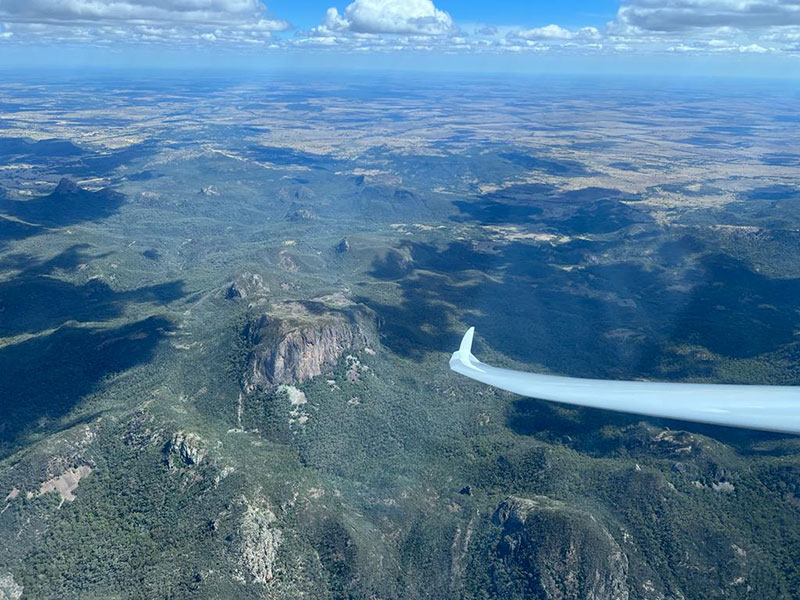 Flying over the Warrumbungles on the last day of the course.
By Sean Young
The NSW Coaching Week welcomed 13 pilots and featured six coaches working in five dual-seat gliders. Serge Lauriou, the CFI of Bathurst Soaring Club, flew a lead-and-follow flight each day, which gave the pilots a terrific opportunity for some concentrated learning with dual seat instruction, lead-and-follow plus daily lectures.

In anticipation of a great flying week, I towed my glider 200km from Pipers Field up to Narromine to take advantage of the weather and the company of so many pilots.

The coaches from from Bathurst Soaring Club, Lake Keepit Soaring Club and Southern Tablelands Gliding Club had been lined up to fly in several Duo Discus and Bathurst's DG505.

The course was headed by Robbie Bull, the Soaring Development Manager NSW. Robbie is a dedicated and skilled instructor and presenter. We could all see that he put his heart into the preparation and running of the course. He did an excellent job and I certainly hope that we can keep him in his role for a long time. He is a great asset to the Australian gliding movement.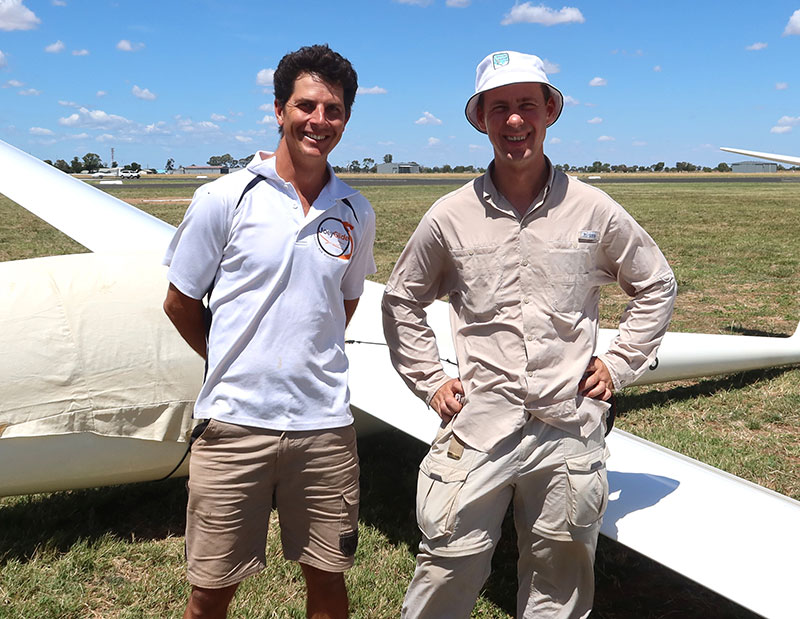 Course Organiser Robbie Bull with Valeriy Ogienko, who achieved his Silver Distance and Height during the course.
Lectures Every Day
The course started each day with weather briefing given by Richard Frawley. He gave an excellent analysis of the weather and spent time relating the forecast to what the actual thermal conditions were likely to be en route. He talked about thermal sources and trigger points that were likely to be prevalent on that day according to the airmass and weather forecast. This type of detailed information, gained through many years of experience, was invaluable for the course attendees.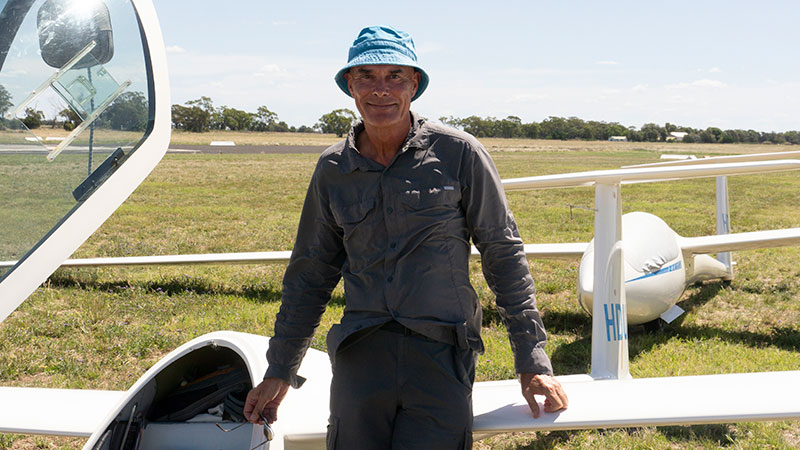 Bathurst SC CFI Serge Lauriou conducted lead-and-follow flights during the course.

Other talks were given during the week including 'Glider and Self Preparation' by Kerrie Claffey and 'Speed to Fly' from Matthew Atkinson. Richard Frawley presented 'AAT: How to make a meaningful flight using potential thermal sources', and 'Flight Analysis using IGC Spy' came from Matthew Atkinson.

Serge gave a very important talk on Human Factors. He showed information and slides that are available on the Gliding Australia website in the Member Services section under Glider Pilot Certificate. Go to the Trainer Guides area https://bit.ly/3Smf4aU where you will find links to many useful and interesting PDFs available for download.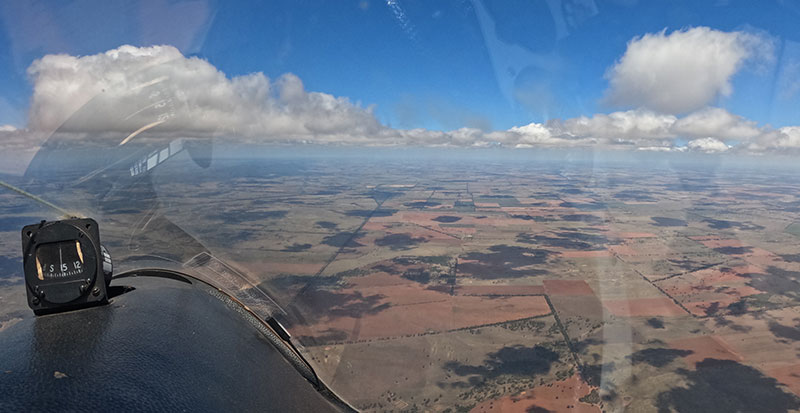 Narromine Weather
Narromine had been enjoying good flying conditions. The NSW State Championships had just completed with six days of competition.

On the first day of the course, the weather looked blue to the west. To the north and east on the ranges, the sky quickly filled with cumulus to 8,000ft and the following day was even better. But on Tuesday, an unusual weather pattern brought a band of moist air from the ocean flowing over the ranges and into the plains. A large line of thundershowers developed and crossed the area from east to west. This made for a short flying day.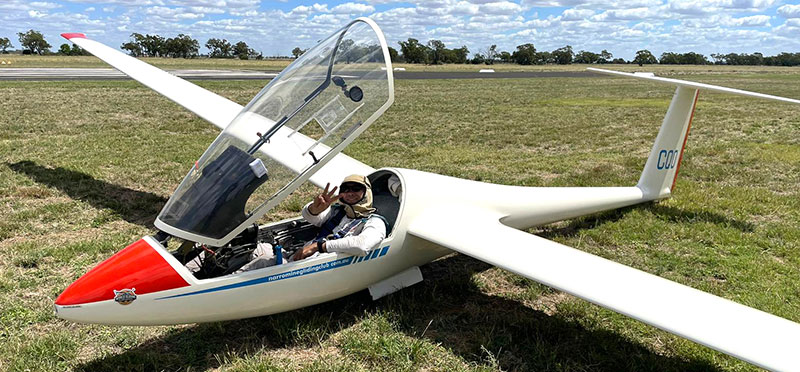 Andre Kolodochka achieved his Silver C during the course.

One pilot outlanded, leaving his glider drenched and covered in mud. The next day was a no fly day and was filled with lectures for the pilots. However, they took time out to hose the mud off the glider and its trailer, inside and out.

This was followed by three excellent soaring days. Tasks of more than 300km were set each day, and a number of badge flights were flown. Several pilots were trying for 300km Gold Distance flights. Franco Spartaro flew more than his declared 300km, but due to logger problems, he tried again the following day and achieved his Gold Distance. Well done Franco.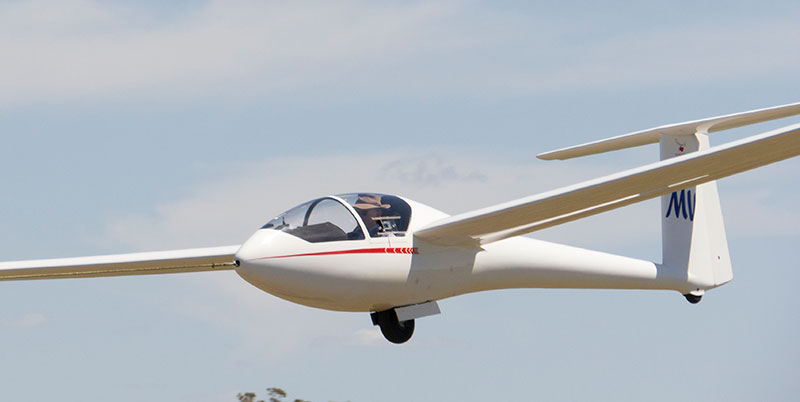 Stefan Kremer flew his Silver Distance and Height.
BADGES
Among the successful badge flights achieved during the week are:
Silver C
Andre Kolodochka – RAAF Richmond GC
Silver Distance and Height -
John Lock – Lake Keepit SC
Paul Broderick – Lake Keepit SC
Valeriy Oglenko – Bathurst SC
Leo Nelson – Bathurst SC
Stefan Kremer – Bathurst SC

Gold Distance -
Franco Spataro – Bathurst SC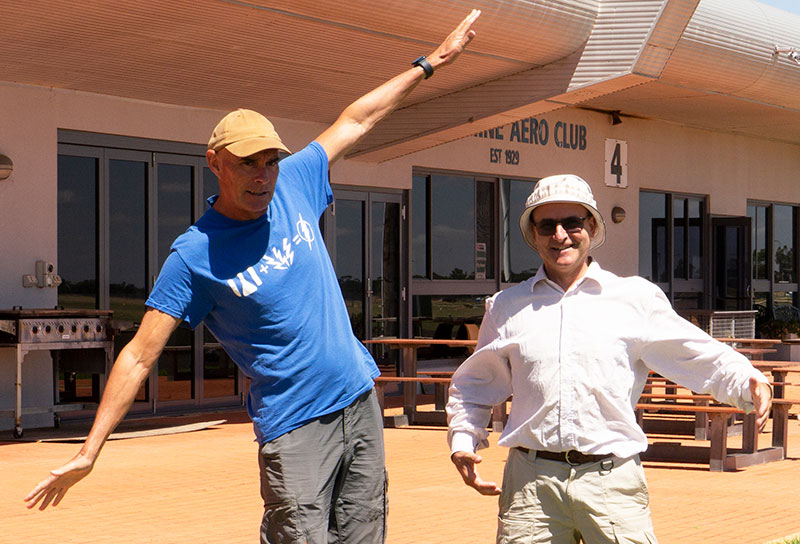 Serge demonstrates the theory of flight to Franco Spataro, who flew his Gold Distance during the course.
NSWGA Funding
The NSW Coaching Weeks have been receiving funding from NSWGA. GA Badges Officer Beryl Hartley said, 'These courses are very important, not just because of the flying coaching, but because pilots, and the coaches, learn how to prepare and declare their flights and put in a successful claim online. They will go back to their clubs and spread the knowledge of how to do this. Otherwise, very few people would actually know how it is done.'

Beryl explained that NSWGA helps fund the travel and accommodation for the coaches. Also, all dual seat coaching flights are free to the attending pilots.

Once again, the Coaching Week concept has proven to be critical for progressing pilots from whatever skills they had, up to the next level of their flying careers. After a week of constant flying, excellent presentations and discussions, great company and camaraderie, the course concluded. Eleven outlandings occurred during the week as well, giving several pilots their first outlanding experiences.
A Great Experience
Beryl and Arnie Hartley and Filip, their tug pilot for the season from Czech Republic, as always ran a smooth and professional gliding operation. The Narromine Soaring Club clubhouse is always a pleasant environment, and situated right on the airfield apron with beautiful twilight skies in the evenings. Beryl provided delicious food. The coaches were all so generous with their time and energy. They shared their knowledge and enthusiasm for the sport they love. It was wonderful to be part of the experience.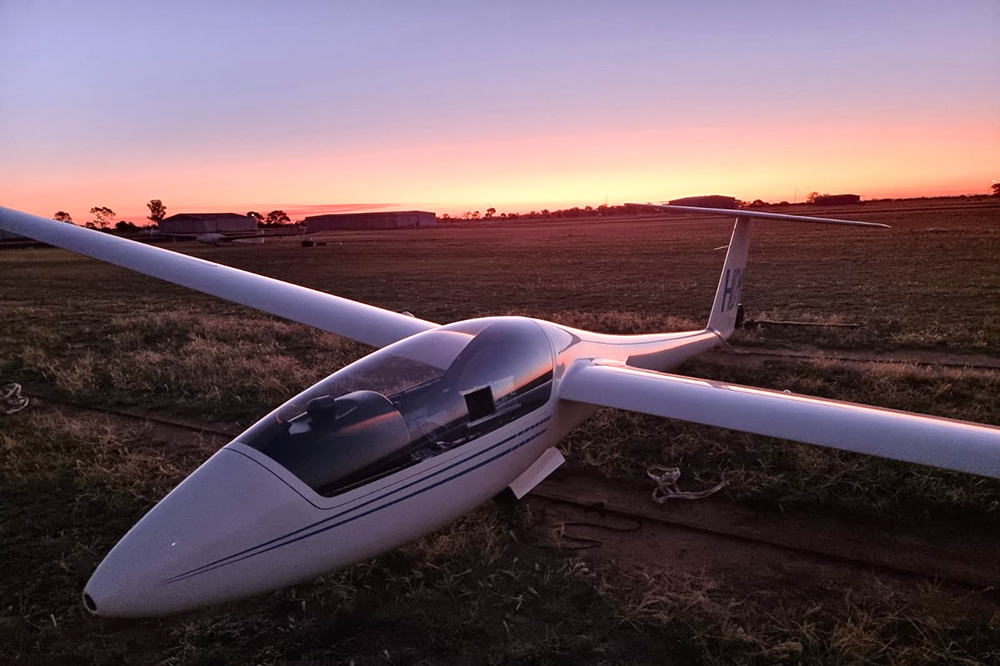 Franco Spataro's LS6 in the Narromine twilight. (Julie Lentle)

What a great week it was. Whatever your level of flying experience, make sure that next season you participate in one of the coaching courses in your state. If you want to share your knowledge, then become a coach. If you are a competition pilot, come and teach us how to do it. For everybody else, sign up for a week of flying with great people in a structured flying environment.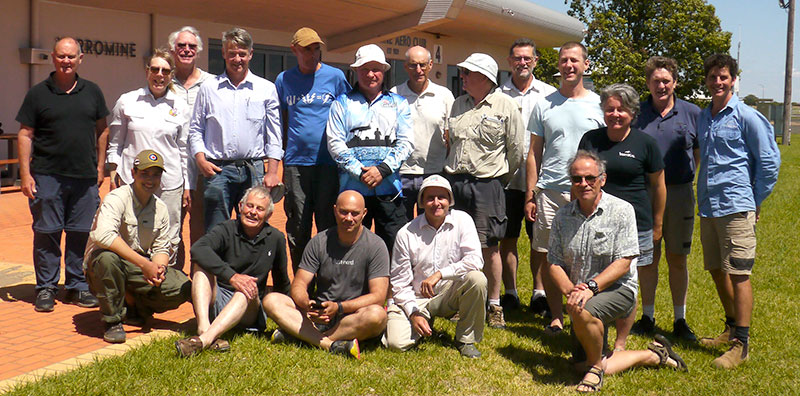 The coaches and attendees gathered after briefing with 'blow in' Krzysztof Becek from Bathurst SC.