E Tug Update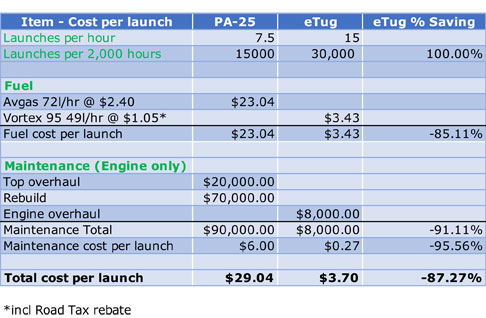 By Michael Shirley The eTug Group
Robert Pugh (GCV, Benalla) is claiming an Australian – and probably a World – record launch rate for a Piper Pawnee PA25, the workhorse tow plane of the Australian gliding movement.

Robert has videoed a launch of an ASK-21, two-up, at Gliding Club of Victoria, to 2,100ft and return to the ground in 3 minutes. Robert reported conditions were perfectly still, no thermal assistance, with the temperature a cool 13° C.

His video is one of many informative files on a new website www.etug.com.au, giving evidence of the extraordinary performance of VH-PIJ, the latest iteration of the eTug project.

Robert said, "Alongside eTug's huge cost savings, this flight perfectly demonstrates the value of the project to Australian gliding – the opportunity for clubs both to offer low-priced flights to expand memberships and to strengthen club finances, considerably reducing training costs. It also makes winch-launching irrelevant, a waste of club resources and members' time."

The website outlines the history of the development of eTug and contains details of the cost savings available to clubs operating the conversion.

eTug can reliably perform at least twice the tows per hour of a Lycoming-engined Pawnee (or equivalent tug), and at hugely lower costs. Compared with an avgas-burning Lycoming PA-25, eTug's cost per launch is 87% lower. Clubs can use these large savings either to add to their bottom lines, or reduce launch costs for members, or a useful combination of both. The capacity of eTug to lower costs for the gliding movement is clear.

For those clubs dominated by Lycoming aficionados this proof of superior performance will probably be dismissed. Nevertheless, the reality in glider towing is that Lycoming/Continental engines are asked to do something that they were just not designed to do.

You could adopt the eTug descent profile – engine at idle and 2,500 fpm descent rate – using a Lycoming engine, but it wouldn't last very long. Shock cooling – or more accurately, cooling damage over time – is a very real condition while ever Lycoming engines tow gliders. They were designed to climb, then cruise at a reduced rate of revs, and then gradually descend.

Towing gliders is a totally different environment. Glider towing needs an aircraft to climb rapidly, not cruise at all, and then descend as rapidly as possible to get back on the ground for the next tow. The Lycoming engine descent profile that is most often used does take care of the engines, but takes a much much longer time per tow. To achieve a 4,000ft AGL tow in a Lycoming engine fitted to a PA-25 Piper Pawnee towing a 2-seat glider takes between 10 and 13 minutes, depending on thermal assistance.

The eTug VH-PIJ, running the eTug conversion with a GM LS3 V8 engine installed to eTug specs, can perform that launch (an ASK-21 with two adults on board) in 7 to 8 minutes, in the middle of winter – every time. www.etug.com.au gives you a pilot's-eye-view of a 2,000ft AGL launch and a 4,000ft AGL launch. These launches were performed at Benalla on 25 July 2020. The video also shows the pilot flight sheet, noting seven tows for the day with none exceeding 8 minutes.

Cost reductions are achieved not just on the field while towing. A recent (2019) re-build – engine out – completely stripped and worn-out parts replaced – of the LS1 engine in eTug VH-CUR was completed for under $12,000 – not just the engine re-build costs, but the cost of the engine OUT by a LAME, and re-installed by a LAME, and running.

As for the launch rate record, it most likely won't get into the Guinness Book of Records, but it does demonstrate eTug's ability to launch – in a real-world situation – 15 gliders per hour, repeatedly and reliably. This rate has been achieved on many days at Benalla over the past few years with eTugs.