A Vintage Glider at the 2020 Keepit Regatta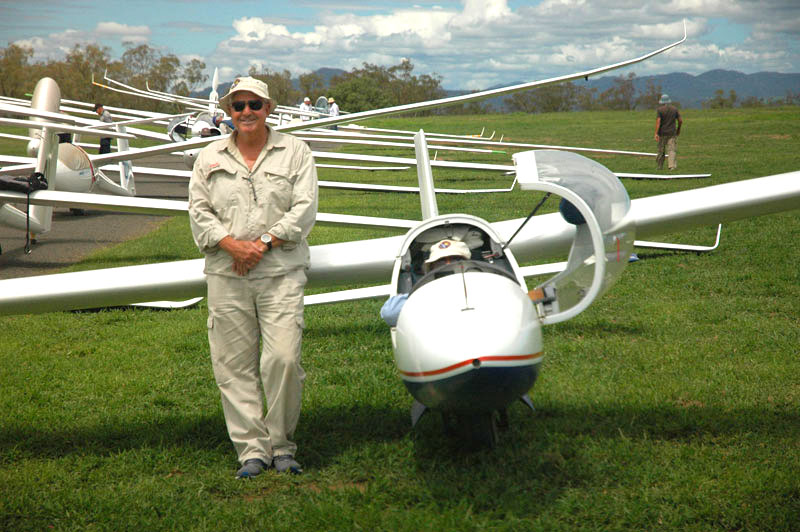 David Pickles waiting to launch beside the Dart (photo: Ivo Ivelin).
By Paul Dickson
Hunter Valley Gliding Club
I have flown the Keepit Regatta several times in the past and it is a very friendly and relaxed comp, so I thought it would be the perfect opportunity to push the Dart to faster speeds.
As the only timber aircraft at the competition, it was a daunting entry list with lots of high-performance plastic, including several JS, Duo Discus and ASG32 gliders, not to mention the other older fibreglass gliders. These last might not be quite as new, but are still of much higher performance than the Dart.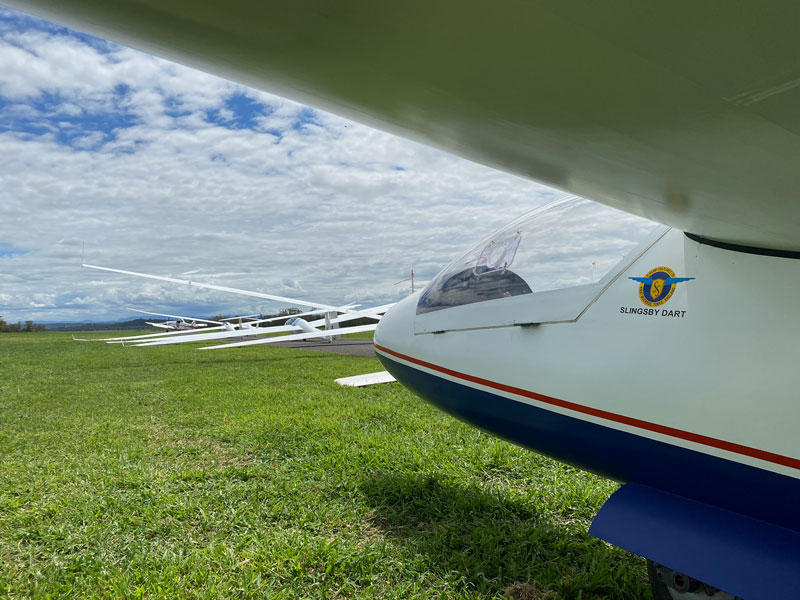 The Dart on the flight line.
It appears that no one has flown a Dart in an Australian comp before, as the first issue for me was the fact that no Australian handicap exists. After some discussion with the organiser and scorer Casey Lewis, we settled on the US handicap. Casey was feeling sympathetic to the poordelusional fool with a wooden glider and gave me a little extra due to the low wing loading.
The Keepit airfield is now looking lush and green after the heavy rains that the region received in early February, and it was nice not to have the dust that was present at the Women's Worlds in January. Lake Keepit is beginning to look like a lake again, however, the downside of this was that there were a lot of very wet looking paddocks that still had standing water in them. Paddock selection for any outlanding would have to be very carefully considered!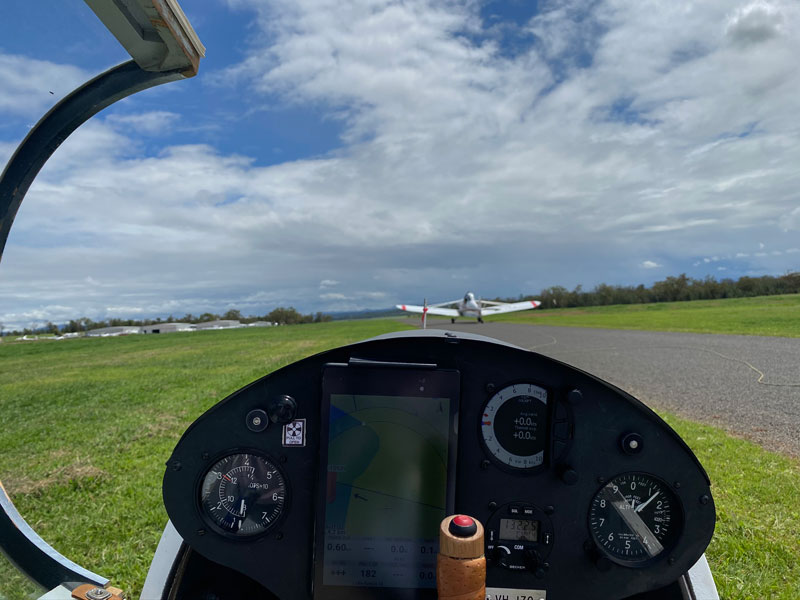 Patience
After a poor soaring season in the Hunter Valley due to bushfire smoke, I arrived at the regatta a few days early to get in the groove of cross country flying and had a couple of good flights along the Kaputar ranges, the best of which was 256km at 66km/h. It was just as well that I had a few days to fly as the practice day and first two days were overcast non-events. Day 1 was cancelled and on Day 2 Milan Sejka from Kingaroy was the only pilot to make it around the 2hr 15min AAT. Most pilots gave up and either started their engines, outlanded or turned around and came home. I was no different and, rather than risk an outlanding in a sodden paddock, I did not attempt the task.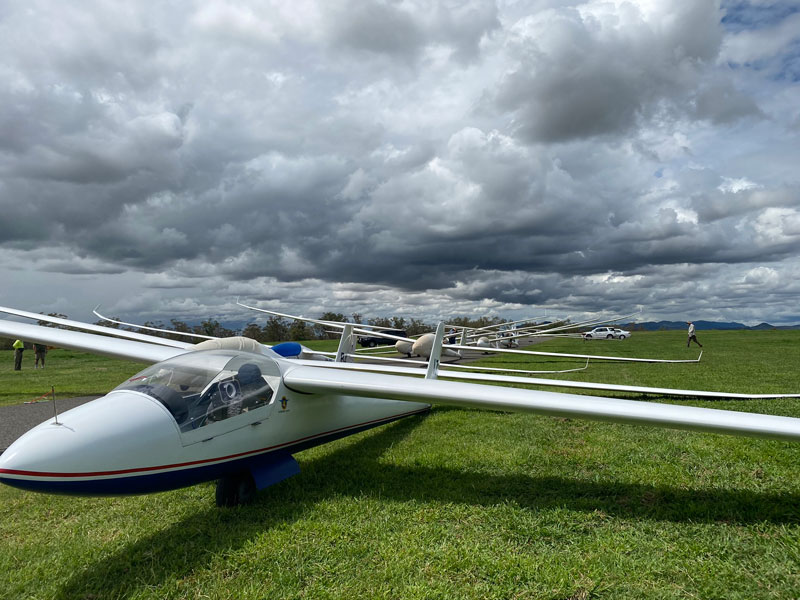 The next couple of days were affected by high level cloud and on Day 3 and 4, I found that the thermals were uneven and surging, making it difficult to centre and get consistent climbs. Flying when the top of climbs are only 4,000 to 4,500ft AGL does not leave much room to glide in a Dart, and I found that I had to take every climb to keep airborne. The limited gliding distance and slower speeds also didn't allow me to make the larger diversions that I would normally take to stay over higher ground, which is likely to be drier and provide better climbs.
At times I had to remind myself to be patient and just take the weaker climbs to stay high.
I ran out of luck on Day 4 and outlanded (along with lots of others) but I did have the satisfaction of being low and finding a group of thermalling pelicans above a paddock containing two Duo's and a LS3 and getting a good climb away from them, just before a third Duo started its engine above the same paddock.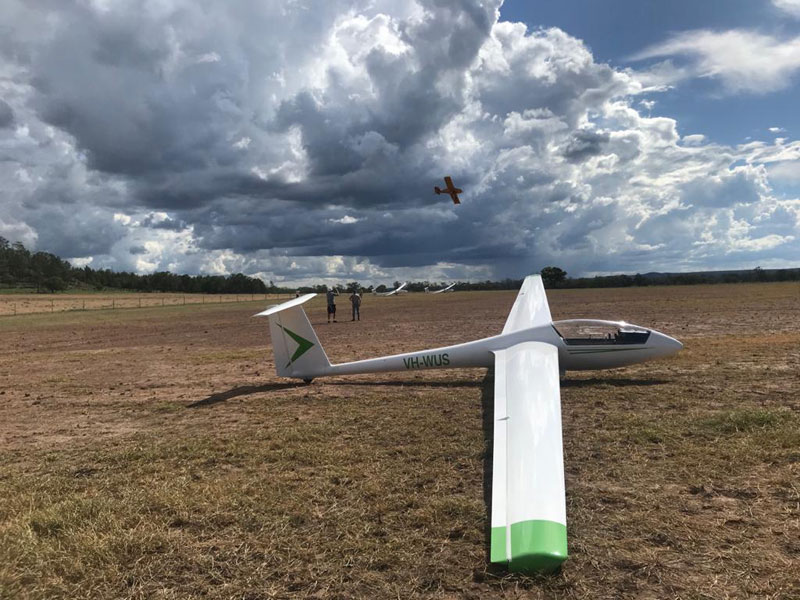 2 x Duo's & a LS3 in a paddock near Boggabri. (Garry Stevenson)
Best Flight
I don't think of myself as a vindictive person, but thermalling above a paddock full of plastic gliders is SO satisfying!

My smugness didn't last long though - I was soon in my own paddock only a glide away. It was a good paddock and I planned my approach so that I finished my ground roll right up against the farmhouse where there was firmer ground, so it was an easy retrieve. Once we got back to the club for dinner, we heard the horror stories of having to winch Matthew Atkinson's glider trailer through a creek to get to and from the paddock. Normally, glider retrieve stories are amplified with the addition of beer in the club house, but they had the photos and mud-spattered clothing to prove their adventure.
As the week progressed, the weather improved and on Day 5, I had my best comp flight in the Dart, managing 6th place for the day. On this day we had a 2hr 30min AAT which took us towards the Pilliga and I finally had a day with good climbs to cloud base at 6,000ft AGL. Some good cloud streets were forming, and I flew fast in this section. The faster gliders had the luxury of being able to extend further into the turn circles where the climbs were good, but I soon had to turn for home for an uneventful crossing of the wetter ground and final glide home. Even an extra couple thousand feet above ground gives you more options to look for the best climbs and push on when they are not good enough.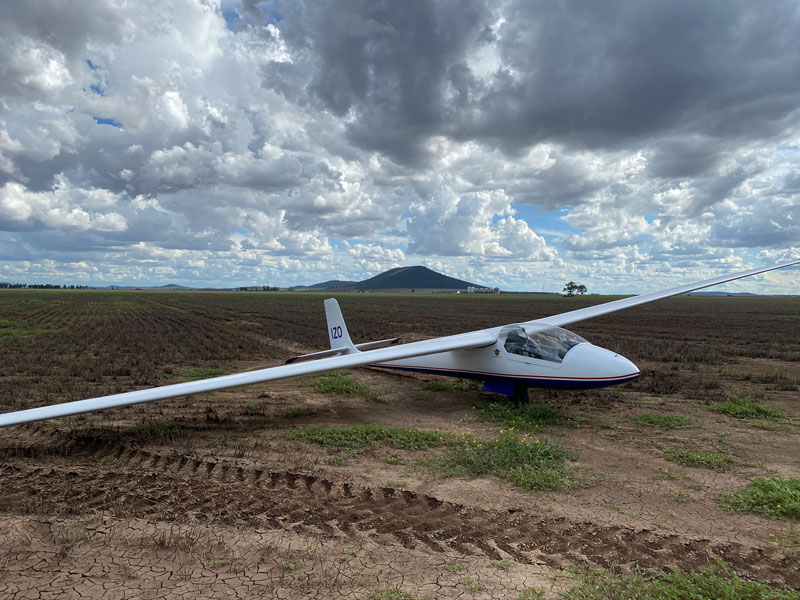 Dart outlanded near Boggabri (photo: Paul Dickson)
Hard Work
Perhaps as karma for my smugness above a paddock full of plastic gliders, the next day was difficult after a different air mass had moved into the region. The day was blue with 12-15kt winds and the previous fickle climbs to only 4,000ft AGL.

We waited on the grid for some time and eventually our task time was reduced to 2hrs. I found that this reduction in time only allowed me to just touch the circles and then move on, so I didn't have the benefit of diversions and in the blue I flew straight lines, which was a mistake. At one point, I was low over Flood Hill ag strip. A wedged tailed eagle that saved me this time, and showed me where the climb was.
It was a struggle most of the way home with the wind moving me further away in the weak climbs. I eventually found a good climb over the Kelvin Ranges to get final glide. At this point, it was depressing to see Brad Edwards join me at the top of the thermal in his brand new ASG 32 and then disappear homeward at heaven knows what speed at a very flat angle. Meanwhile I eked everything out of the last climb and flew home at best glide. Brad was making his finals radio call when I had barely left the thermal.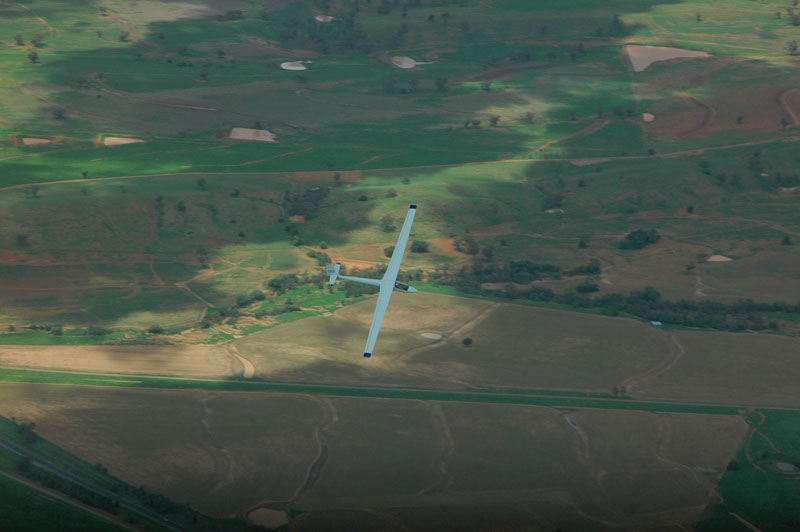 The Dart in flight (photo: Ivo Ivelin)
Temptations
I am ashamed to admit that on the last day of the regatta, I quietly left the Dart tied down and hopped in the Hunter Valley Gliding Club's Duo Discus with Andy Aveling from the UK in the back seat. It was a good day with a 3hr AAT over the Kaputar Ranges, but what a difference it makes when you have a few more points on the glide ratio! You can pick only the best thermals and explore more sky before taking a needed climb. Andy and I managed some good climbs and fast runs under well aligned cloud streets, which was good enough for us to get 2nd place for the day. But flights in plastic gliders don't count, do they?

The organisation and catering provided by the LKSC members was superb. Tustra had his huge pan in operation and cooked for us in the clubhouse. The delightful smells of his paella bubbling away was enough to draw everyone in without waiting to be told that dinner was ready. Tanya and Hannah Burgess also fed us at a French themed evening when they cooked us the most delicious beef bourguignon and sautéed green beans followed by tarte Tatin and profiteroles.

It's surprising that with the extra wing loading I wasn't flying fast enough to keep up with the plastic. Jan and Bob Dirks also hosted us at their Carroll Gap farmhouse for several evenings, including the presentation evening when we all sat on the verandah and enjoyed Jan's extravagant feast. The camaraderie among the competitors was great.

During the regatta, I did learn that compared to my other glider, an LS3, the Dart requires a more cautious flying style, especially on the low days where the handicap does not make up for the ability of the modern gliders to stretch out and explore more sky for the better air and the best climbs. That being said, it is great fun and a challenge to go up against the plastic in a competition. I am happy with overall 9th place but most importantly, I learned that you can have as just as much fun in a timber glider.
Overall, it was a very enjoyable week of flying in the Dart. I will be back to next year's Keepit Regatta as I'm driven to one day beat the guns in their JSs.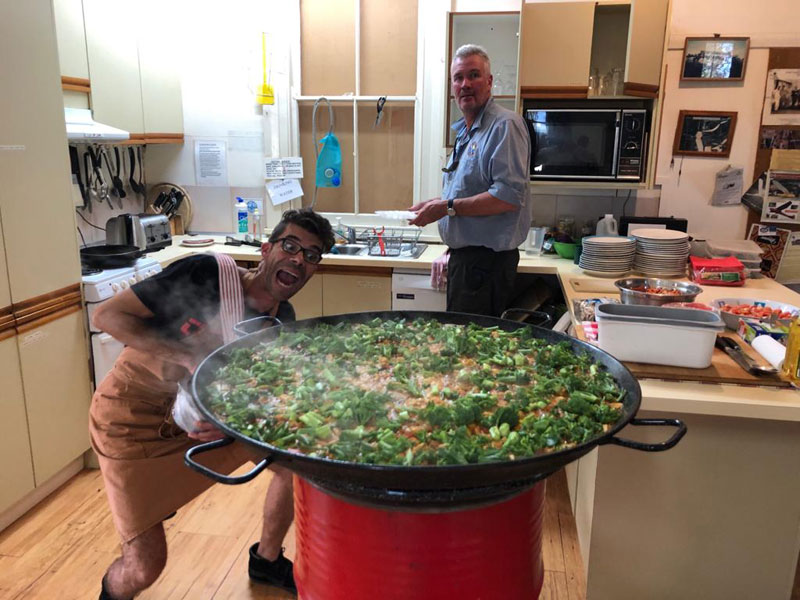 Tustra's Big Pan Paella (photo: Justin Smith)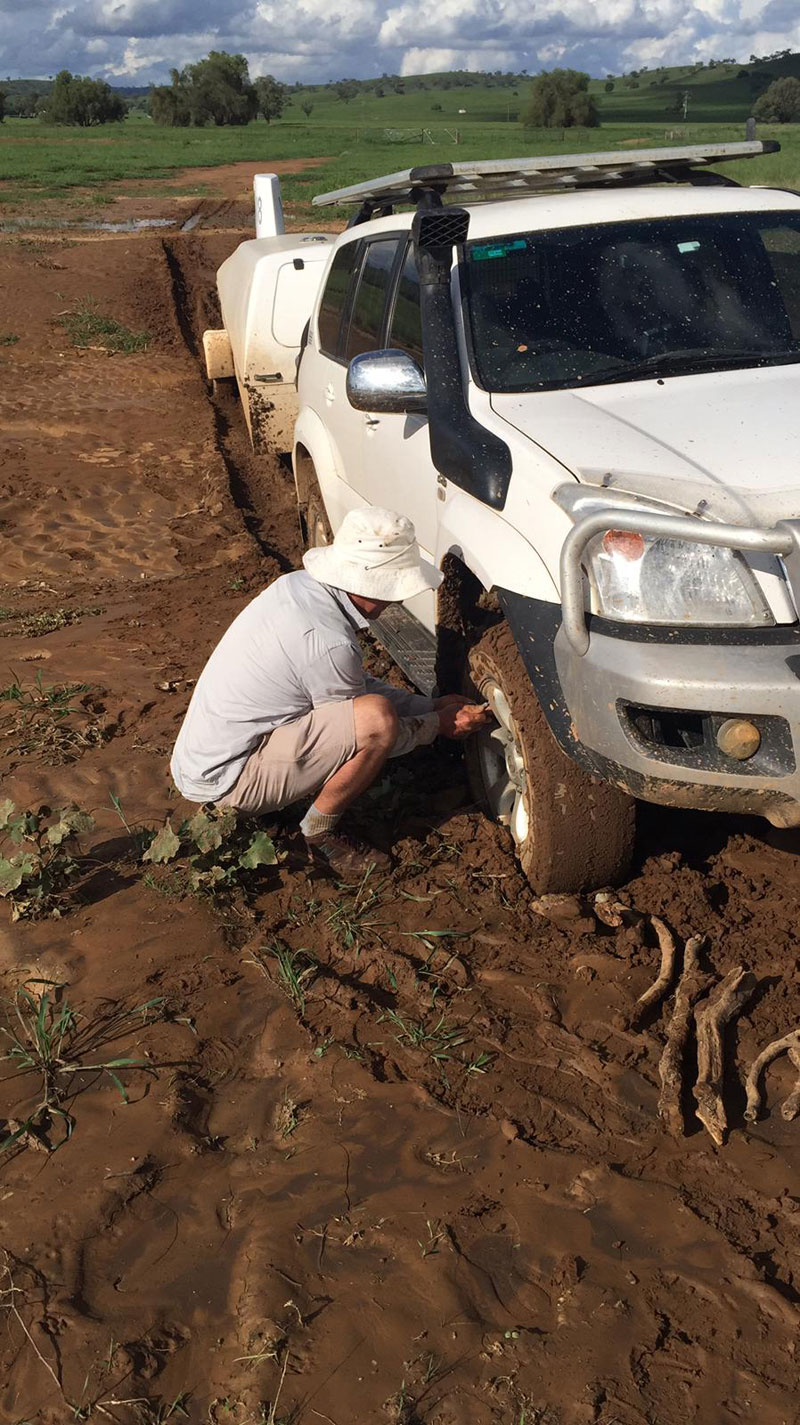 Bogged! Matthew Atkinson retrieving WUS (photo: Kerry Kline)