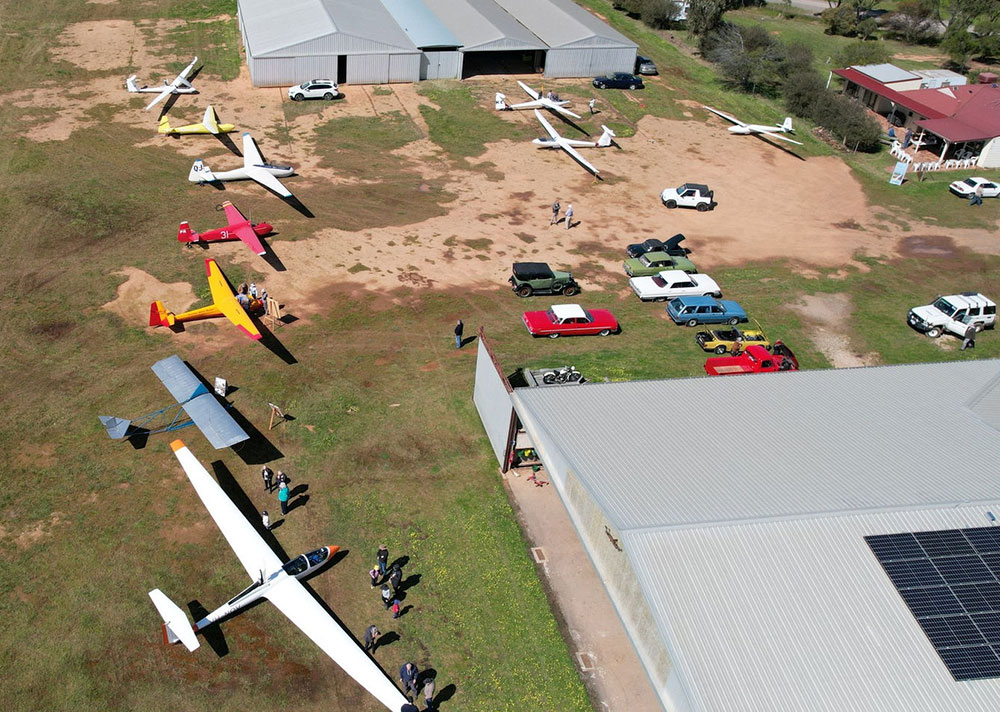 Overhead the airfield by Gordon Trollip
Bendigo Gliding Club Open Day
Bendigo Gliding Club has finally had a chance to run an Open Day for the public. The past couple of years have been challenging for all clubs, faced with restricted social interaction and now, uncertain weather events. With the opportunity to showcase a couple of museum gliders, the club put on an event that exceeded all expectations. The weather contributed greatly to our success in providing what was to be a brief window of respite over several weeks of uncertainty.
Having members who are also involved in classic car and vintage motorcycle clubs was a boon in attracting these enthusiasts to the event. They too were eager to stretch their wings on the day, get out and about, and embrace the opportunity to display their vehicles and share their and our passion. It was great to see the how members of each group engaged in the diverse classic cars, motorcycles and gliders, learning a little more about each other's interests.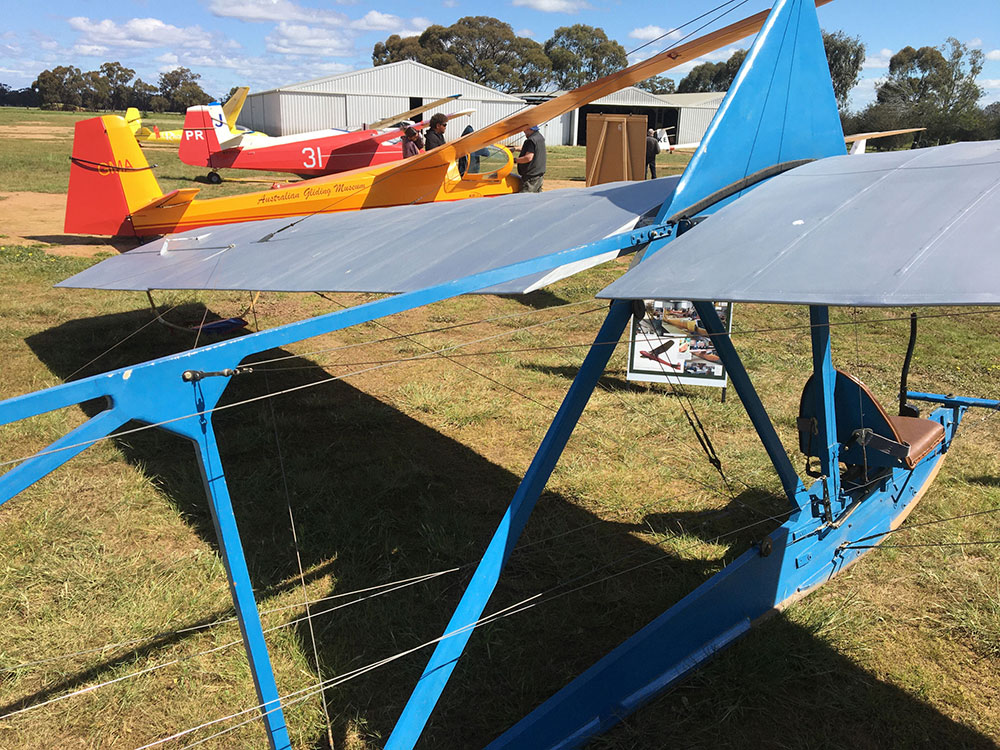 Through the club members' regular attendance at the Raywood Hotel, and tour involvement in community events and social media, the club was able to attract the interest of the local community. A number of families with children came along to enjoy the sausage sizzle and simulator. By the end of the day we had distributed 12 dozen sausages!
Operations were limited to AEF's due to the delicate condition of the runways after heavy rains, but we were still able to conduct eight flights and sign two new members, with additional public interest in future rides.
On the vintage display line were the Northrop Primary, K8b GMA, both from the AGM, Hall Cherokee GPR, Bocian 1D GQJ and Ka6CR XFF. Representing the modern gliders were the ASK-21M, LS8, DG 400, SZD-55 and Standard Libelle.
This is by far the best Open Day the club has run and, buoyed by this success, the club has resolved to make this an annual event. It will be even better next time!
Peter Raphael
AGM Fabric Course
Australian Gliding Museum, Bacchus Marsh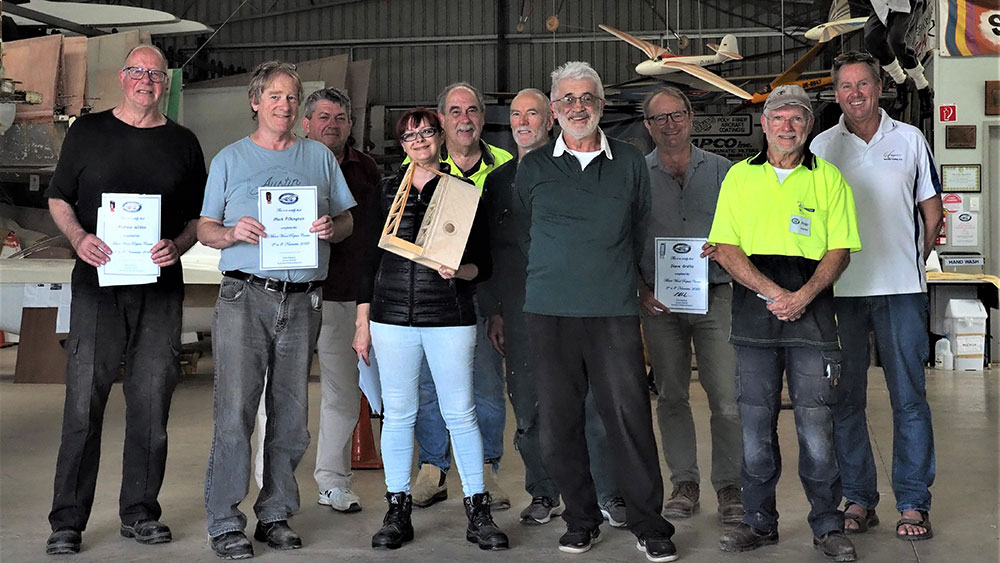 Phot by Hal Hopkins
A very successful Wood Course was conducted over the five days from 2-6 November 2022, Wednesday through Sunday. Eight students attended with three instructors – a summary report has been issued separately. The Fabric Course followed over the next five days from Monday 7 November to Friday 11 November 2022, with 9 students. This article gives some details of that course.
Scope
The course was launched with an introductory talk by Russell Darbyshire on the long history of fabric covering of aircraft, the fabrics, fastenings and sealing systems used, the development of dopes, the Randolph and Stits systems and the more recent Stewart, Blue River and Orotex systems.
As the previous Australian agent for Consolidated Aircraft Coatings, an experienced fabric worker and a widely-travelled visitor to the world's aviation museums, Russell has a host of interesting stories and photos. A demonstration followed with participants helping with the fabric covering of an Auster elevator.
AGM volunteers had earlier prepared the following airframe parts for covering:
Hall Cherokee wing – This large piece was allocated to Steve Griffin and Brian Gilby. Eight under-cambered ribs required stitching, so each class member was given a turn at gaining this experience. Reflecting Steve's extensive previous fabric work with balloons, this piece was covered and completed to a very high standard.
Schneider Grunau Baby II rudder – This was allocated to Mark Pilkington and Sharon Carpenter, who achieved a very satisfactory result. The small but tricky job of covering the Hall Cherokee wing-tip plate was largely completed in the remaining time available on the course and again, quite a satisfactory result was achieved.
SZD-30 Pirat rudder – This AGM piece was allocated to Jeff Farrow and Spiro Mallia as it represented some of the issues to be faced in re-covering the syndicate SZD-30 Pirat. This item was very satisfactorily completed in the first two practical days, so Jeff and Spiro moved on to complete, again very satisfactorily, the AGM's SZD-30 Pirat elevator in the second two practical days.
Prototype ES60 Boomerang rudder – This piece was allocated to Gerry Elliott working with Bryan McGrath as it represented issues similar to those to be faced by Gerry in his ES60 project. This item was very satisfactorily completed in the first two practical days so Gerry and Bryan moved on to complete, again very satisfactorily, the AGM's SZD-30 Pirat tailplane in the remaining two days.
Hutter H-17 rudder – Jenne had earlier removed the doped cotton fabric and had her H17 rudder structure inspected. No repairs were found to be required, so just some filling, sanding and varnishing with EV-400 had completed the preparation required. The rudder was substantially covered in the first two practical days before Jenne needed to leave to attend to some family commitments. This work has since been very satisfactorily completed in two subsequent work days at AGM so the item is now complete and ready for painting.

The Stits system, the only system used and taught at AGM, was applied utilising Poly-Fiber Uncertified Light fabric for all components. Procedures used followed the CAC Manual and are summarised in a separate note. The course has been expanded to 5 days to provide more experience in the finishing tasks of taping, patching, fitting drain holes and Poly-Brushing.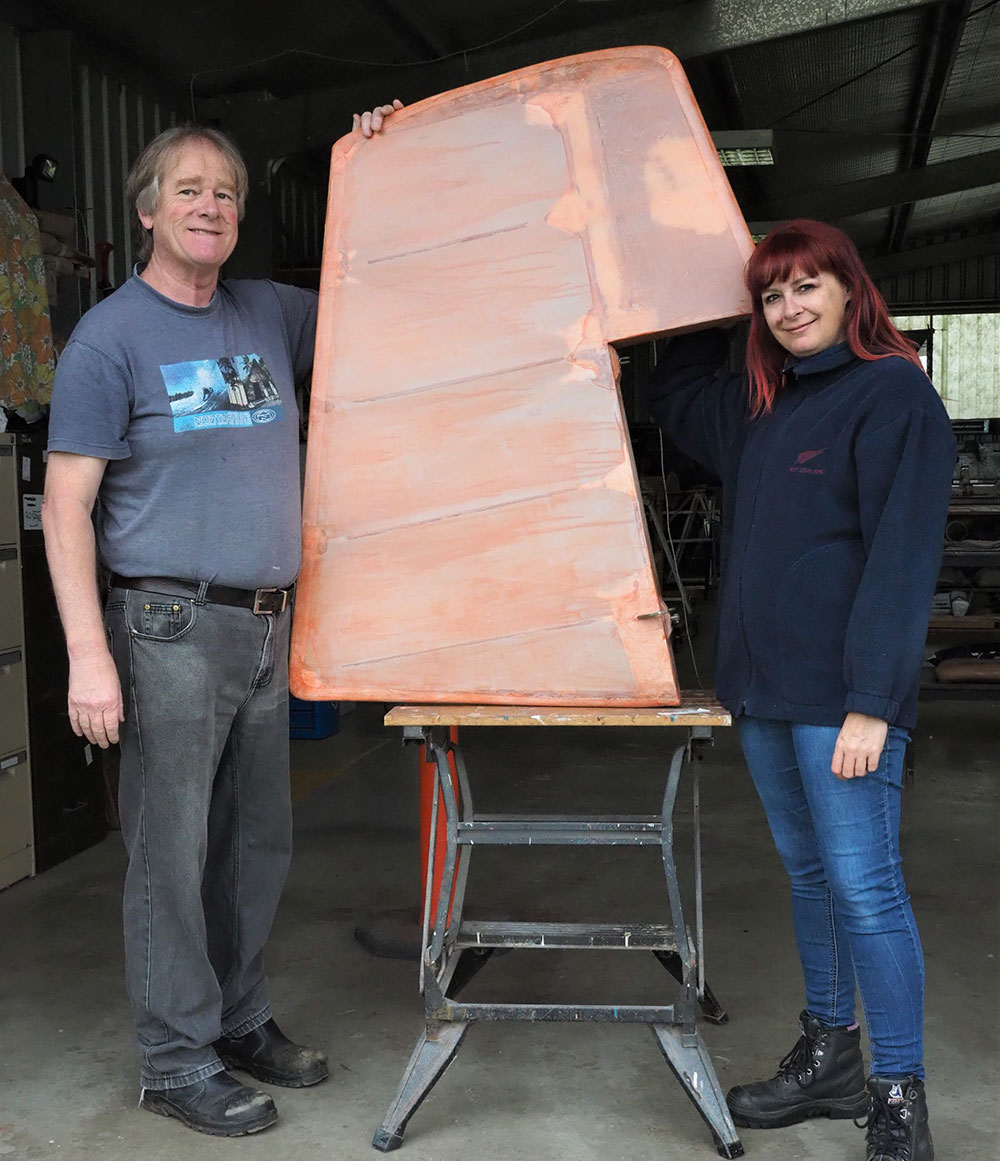 Warwick Vintage Week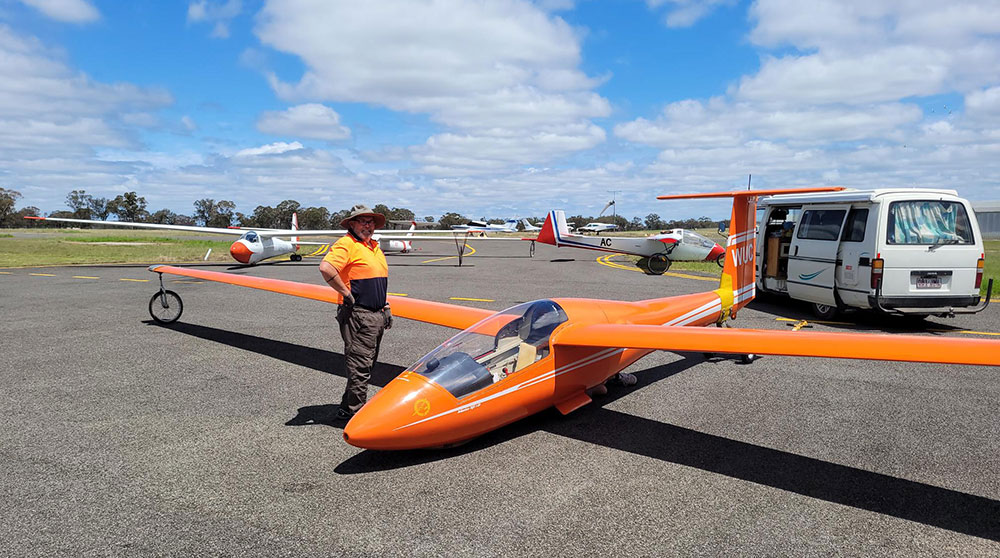 Warwick Vintage Week was held from 2 to 8 October and attracted an interesting line-up of gliders to the local area, southwest of Brisbane. Aircraft attending during the week included a CARMAM M-200, Hutter H28, Cherokee, ES57 Kingfisher, BG12A, Foka5, ES60 Boomerang, Schweizer SGS 1-35, a Puchatek and two Ka6CRs. There was even a visiting DG202, flown in by the M200 owners who alternate between the fibreglass DG202 and the wood-construction M-200.
Some good flying was accomplished, despite the weather! Peter Rundle actually went home to Lake Macquarie, south of Newcastle, a day early because of forecast rain. Nevertheless, pilots were flying on the Monday and Tuesday in great weather, with climbs to 7,000 to 8,000ft.
Laurie Simpkins