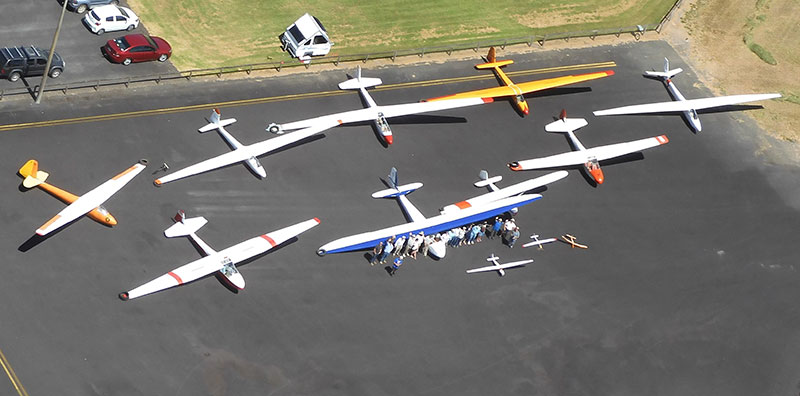 Dave and Jenne Goldsmith
The first VGA Annual Rally at Millicent continued the tradition of flying vintage gliders just for fun. Generally, the weather for the week did not encourage long distance flights, leading to a more social atmosphere throughout. Local facilities are excellent, and club members went out of their way to ensure a good time was had by all – many thanks to their efforts!
Launching was carried out with the club's two-drum self-laying winch. The airfield was under a lucerne crop, so care had to be taken to stay within the mown cross-strips. It is very close to town, which includes a fabulous horse drawn buggy museum, and a ten minute drive to the local Tantanoola limestone cave and other attractions – well worth the trip!
A Fine Start
Saturday 7 January brought fine weather as arriving VGA members rigged their gliders. Those out of winch currency were revalidated – many by visitor Ged Terry on his annual trip from England. Ged had warmed up to Millicent thermals on Friday with a 2 hour solo in the K7. Dave Goldsmith flew the family Ka6e in from the Geelong Club's Christmas Camp at Horsham, an enjoyable 234km flight that included a trip to the beach, at up to 8,600ft.

David and Rosie Howse's T21b Sedbergh made a spectacular arrival on Sunday in its open trailer on the back of a very long flatbed tow truck! David and Rosie arrived a shortly afterwards. Unfortunately, the trailer's coupling had detached during the journey, but luckily the T21b was undamaged.
In addition to the Ka6E GEA and T21b GUC mentioned above, gliders and pilots attending included –
Olympia Yellow Witch GFJ, JR Marshall
Schleicher K7 XJV, Millicent Gliding Club, owned by Mike Renahan
Schleicher K8B GMA, Peter Raphael, owned by the Australian Gliding Museum
ES52B Kookaburra GRN, Cooper Pedy Gliding Club.
ES52 Mk 4 Kookaburra GNZ, Brian McIntyre
ES 60B Boomerang GTL, Michael Renahan
Hutter 17 'Fleetwings' GXV, undergoing a survey at Millicent, JR Marshall
Other members and visitors to attend included Ruth Patching, Geoff Hearn, Leigh and Sue Snell, Colin Collyer, Peter Bannister, who provided his usual highly accurate weather forecasts, George and Helen Buzuleac, Brett Renehan, Peter Champness and June, Stephen Kittel, Emilis Prelgauskas, Peter Brookman, Peter Weissenfeld and Michael Sudholtz.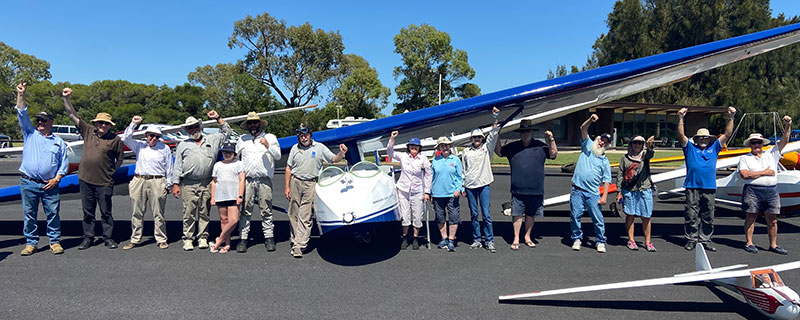 Local Flying
Local flights on the first Saturday included Ged with another 2 airborne hours, this time in the Olympia 'Yellow Witch'. Leigh Snell with JR Marshall in the K7, and Peter Raphael in the K8, completed flights of about one hour.

On Sunday, 13 flights were flown, mostly fairly short as new arrivals renewed their winch currency. On Monday a large team of members enthusiastically set about getting the T21b Sedbergh rigged. Only eight flights in fairly weak southerly conditions were flown, however, Ged was on a run with 1 hour 43 minutes in the K7!
Conditions on Tuesday continued to be weak. Even Ged only managed 13 minutes for the longest flight of the day. Many members spent the day visiting local attractions. Wednesday saw 11 flights, the longest lasting 15 minutes – by Ged. He made two unsuccessful attempts to try to improve on that! Thursday brought winds of up to 24 knots from the SSE, only a few flights were made but Ged did manage 1 hour 48, reaching 2,300ft.

Friday the 13th brought another day of circuits – enough said. However, that evening following a delicious dinner, including local fresh crayfish provided by Michael Renehan, the Vintage Gliders Australia Annual General Meeting was held.
Congratulations
Saturday, the last day of the rally, featured 11 flights and some nice thermals but also a gusty change late in the afternoon. Peter Raphael took the longest flight of the day in the Australian Gliding Museum's newly refurbished K8B, flying 68 minutes. The Wind-up Dinner of roast beef, turkey, vegetables and pudding was a magnificent presentation by local club members.
VGA President JR Marshall presented the trophies and awards, including the Concours D'elegance Trophy awarded to the Australian Gliding Museum for the K8B GMA, accepted by team leader Peter Raphael. David and Rosie Howse receivd the Best Two seater award for the Slingsby T21b Sedbergh GUC. Best Maintained Schneider Glider, the Schneider Trophy, was awarded to Michael Renehan for ES-60B Boomerang GTL. The Geoff Gifford trophy for the longest flight between rallies was awarded to Laurie Simpkins for 408kms in the Foka 5 at Warwick, Queensland

Special Guest Leigh O'Connor, founder of O'Connor Airlines, gave a fascinating speech after dinner about the successes and eventual closing of O'Connor Airlines, which at one time served up to eighteen destinations in South Australia.
Once again, the Vintage Gliders Australia Annual Rally presented a wonderful vintage gliding experience to members and friends, and we look forward to many more.
Wings and Wheels airshow
The Australian Gliding Museum attended the Bacchus Marsh Wings and Wheels airshow on 5th February 2023, with the Slingsby T31b on display (see photo below). There has been an increase in visitors to the museum in recent times, especially from car clubs, and many attendees to the Airshow expressed an interest in gliding and visiting the museum.